What are the best coffee shops in Miami?
Answers from Our Experts (1)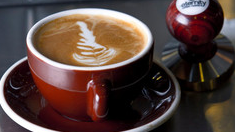 Eternity Coffee Roasters

Need a caffeine pick-me-up? Well, Miami is known for some killer Cuban coffee, but it also provides tons of other caffeine-filled beverages to everyones liking. Here are the top best coffee shops that the city has to offer, for every palate.

Eternity Coffee Roasters
A downtown coffee house staple, Eternity Coffee Roasters offers some seriously unique drinks, including Columbian estate farms and Micro-lots made in-house, and green coffee beans that everyone is talking about; all found in a charmingly cool espresso bar.

Panther Coffee
You'll know when you get close to this Wynwood coffee shop because you can smell the aroma of Panther Coffee miles away. Inside this laid-back hipster roaster, you'll find specialized small-batch coffee bean roasting and tasty treats too (think: huge, gooey chocolate chip cookies).

Nespresso
Sitting pretty along Lincoln Road, Nestle Nespresso offers a modern style coffee shop right smack in the middle of ample foot traffic. If you're looking for a great cup of premium blend coffee in a swanky setting, this spot is the place of choice.