What are the best neighborhoods in Miami?
Answers from Our Experts (2)
The city of Miami is as diverse as its people. Every neighborhood in the area has its own unique offerings and distinct vibe. With beautiful beaches, South Beach's lively night life, historic Art Deco architectural wonders, and an eclectic selection of restaurants, bars, and boutiques, Miami Beach adds a mix of fun and culture to the area. The tropical island escape of Key Biscayne is a quiet mostly residential area where you will find lush parks, wonderful beaches and plenty of waterfront activities. Downtown and Brickell has become a popular spot for trendy restaurants and bars, also nearby are American Airlines Arena and Bayside Market Place. Close by, the Wynwood neighborhood is home to galleries with edgy artwork and funky bars. In the Design District, there are more high-end fashion and décor boutiques and shops. Nestled in the quiet, quaint neighborhood of Coral Gables, you will find charming shops and boutiques on Miracle Mile, plenty of restaurants and galleries, and some of the area's most gorgeous homes overlooking tree-lined streets. The Coconut Grove area has a relaxed vibe and features great shopping with Coco Walk and an array of restaurants and bars and entertainment, this is also a good location for sailing on the bay. Little Havana is the place to go for authentic Cuban food and pastries, hand-rolled cigars, and Domino playing, and the famed Calle Ocho is also here. The affluent area of Bal Harbor is known for its exclusive buildings and waterfront homes, and high-end luxury shopping at its famed outdoor Bal Harbour Shops. And, in the more residential Sunny Isles and Aventura, you will find a good selection of restaurants and great shopping at the Aventura Mall.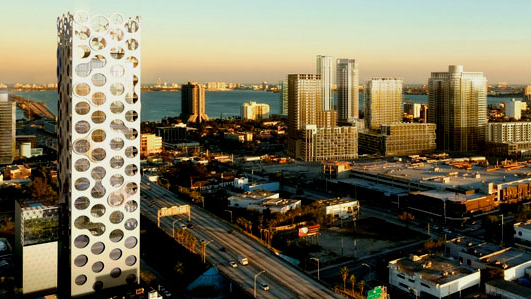 Whether you're visiting Miami or you're a local, there are many cool neighbors to check out in this city. Naturally, everyone thinks about South Beach when they hear "Miami," but this city has so many other locations that are definitely worth the time to see.

Key Biscayne: A perfect home-away-from-home for the local Miamians, Key Biscayne has beautiful beaches, parks, and outdoor sports, all located in a quaint community that's far enough to feel like you're on vacation even if you live here.

Wynwood: Art lovers, hipsters, and people simply looking for an edgy vibe, Wynwood provides some cool bars, funky contemporary artwork, and a killer coffee house that you can smell for miles.

Design District: While Wynwood is the area for all the art galleries, the Design District shells out some amazing cuisine, high-end designer boutiques, and fancy home decor studios.

Little Havana: For premium Cuban food, hand-rolled cigars, and a game of dominos, Little Havana is the place to go, giving out a very authentic feel that both tourists and locals can appreciate.

Downtown/Brickell: Noted as the business part of town, the Downtown and Brickell area is also known for its massive happy hour scene where most young professionals can be found after hours.

Coral Gables: Shady, tree-lined streets and historical landmarks make up just part of Coral Gables charm, along with their infamous Miracle Mile providing lots of decent restaurants, bars, and shops.

Coconut Grove: In a relaxed setting made up of several restaurants, bars, shops, and bookstores, Coconut Grove is in a world of its own that offers its visitors a low-key feel with ample foot traffic.

Bal Harbour: A small well-groomed area that thrives in the finer things, Bal Harbour is known for its swanky outdoor mall with high-end designer brands and beautiful manicured landscaping.

Miami Beach: We can't leave out the historical Art Deco buildings, beautiful sandy beaches, and non-stop partygoers that Miami Beach is known to bring to this city.