What are the best seafood restaurants in Miami?
Answers from Our Experts (1)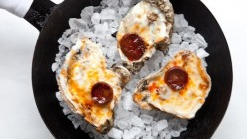 Seafood here in Miami is a must, so if you're hunkering for some sauteed scallops, baked lobster, or even a good batch of oysters, this city has just the places. Here are the top three seafood spots to get your fish fix.

Monty's
An old staple to the Miami food scene, Monty's is one place that has been around for years and still offers some of the best seafood today. It provides a simple, beachy-type setting with impeccable views and tasty food, including the famous conch chowder, fried clams, and popcorn shrimp.

The River Seafood & Oyster Bar
A hot spot for many locals, The River Seafood & Oyster Bar never disappoints its awaiting fans with mouthwatering seafood inside its cozy Brickell location. Everything from the snapper tartare with crispy wontons to the gnocchi and blue crab with shaved black truffles is always solid.

Joe's Stone Crab
You can't really get away from talking about Joe's Stone Crab when discussing top seafood spots in Miami. Although the expected wait time is about 45 minutes or longer (unless you know a person) the food is usually worth it, including the stone crabs themselves when in season.