What are the best places to stay in Nashville?
Answers from Our Experts (5)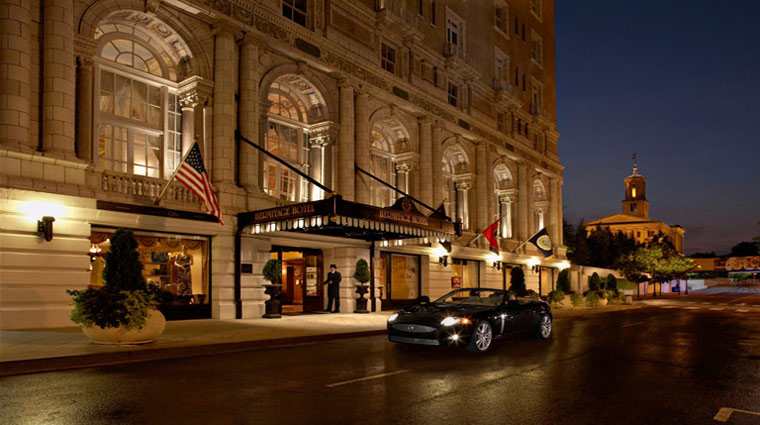 ©TheHermitage
If you're looking for luxury, Nashville's best is The Hermitage Hotel in downtown. The hotel was opened in 1910 and reopened in 2003 after an extensive renovation. It is Tennessee's only Forbes Travel Guide Five-Star hotel and if you're looking for relaxed luxury, as befits Nashville, this is the place to stay.

Four-Star Hutton Hotel, one of the more recent additions to Nashville's hotel roster, also claims a spot as one of Nashville's best places to stay. Featuring art by local college students in its lobby and tons of green features in guest rooms and throughout the hotel, Hutton Hotel is conveniently located on Nashville's busy West End Avenue.

Gaylord Opryland Resort & Convention Center is another Nashville favorite, especially for families since the resort has a little bit of everything. In this massive complex, you'll find everything from lush enclosed gardens to more than 20 restaurants and shops, and even the world's largest indoor river which flows through the resort's nearly seven acres of gardens in the Delta Atrium.

The Wyndham Union Station Hotel is housed in a historic 1897 train station and is registered as a National Historic Landmark. None of its rooms are alike, so you'll feel extra special when you stay in this beautiful hotel.

Another great place to stay in Nashville, especially for fans of Art Deco style, is Hotel Preston. It's located near Nashville International Airport and offers guests such quirky amenities as rubber duckies and lava lamps.
I've heard there are some pretty rad Airbnb options. There are a lot of people working on new things, too, such as The 404 Hotel and Kitchen, which opened this fall. The 404 is our first true boutique hotel here in Nashville and also boasts a great new restaurant headed up by our friend chef Matt Bolus.
To stay in the 12 South neighborhood, I would say the Linden Manor Bed & Breakfast. I've stayed there a good bit, and my family has stayed there, too. The location of Linden Manor is right between 12th Avenue South and Belmont so walking either direction leads to restaurants and cafés. The owner is terrific, and there's always a full breakfast complete with good conversation, and all at a reasonable rate. There is a separate "apartment" with a living room, separate bedroom and bathroom. There are books and games, plants and flowers, great soap and nice towels. It feels close to home. And then I would say [Forbes Travel Guide Five-Star] The Hermitage Hotel because there is so much history there.
Nashville has a long way to go when it comes to luxury hotel options. But thankfully, with the creation of the Music City Center, downtown developers saw the new convention site as an impetus to creating excellent hotel accomodations.

The Hermitage Hotel, Hutton Hotel and Union Station are all within a short distance from Nashville's main downtown attractions, and hold some of the highest standards in luxury.

For a more quaint experience, check out Little House Nashville. This 19th century servants' quarters has been updated to a LEED certified status, and offers visitors their own private kitchen and garden.

Happy sleeping!
The Hermitage is easily the top choice for lodging in Nashville - and has been for over a century. It is rare for a city this size to have a Forbes 5-Star hotel, yet the Hermitage is just that, the only one in Tennessee, and ideally located in the heart of downtown. It also is a bargain for a luxury hotel of this stature with weekend rates often under $300. Its Capitol Grille restaurant is unrelated to the steakhouse chain of the same name, with a focus on Southern-style fine dining, its Oak Bar is one of the coziest and most traditional in town, and its staff oozes Southern hospitality. At the much newer end of the spectrum is the wonderful Forbes 4-Star Hutton Hotel, a contemporary boutique hotel, but more upscale than the Ws or Kimptons it resembles, and another fantastic value, often under $200, complete with free courtesy cars, well-appointed rooms and the wonderful 1808 Grill, a casual yet elegant eatery featuring everything from crispy Quail to the best gourmet burger in town. It's also dog friendly.