Where are the best places to hear live music in Nashville?
Answers from Our Experts (5)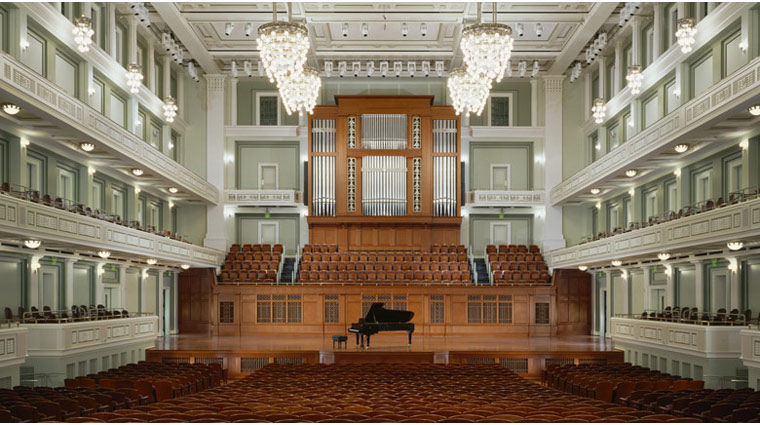 ©SchermerhornSymphonyCenter/SteveHallofHedrichBlessing
Nashville has earned its nickname of Music City, USA. Chances to hear live music abound in Nashville, but here's a list of a few of the best venues:

• The Schermerhorn Center, the home of the Nashville Symphony, is a beautiful building with state-of-the-art acoustics and multiple concert spaces. Any show you can catch here will be a treat.

• Bluebird Cafe is one of Nashville's most loved and most legendary live music venues. It's small and is tucked into a little strip of shops in Nashville's Green Hills, away from the hubbub of downtown Nashville, but that hasn't stopped it from launching more than one star's career.

• Nashville isn't a one-genre music town, and the Station Inn will make sure you remember that. Located in the Gulch, it's the best place for bluegrass and roots music in Nashville.

• Dan McGuinness Irish Pub is located on the Music Row roundabout and is a local favorite. It features live music nightly.

• The Listening Room Café is a more recent addition to Nashville's live music line-up, and it's quickly becoming one of the city's favorite venues for listening to up-and-coming artists as well as to Music City's veteran songwriters.

• The Mercy Lounge opened in 2003 as a cozy club that showcases the best buzz-bands and renowned national acts. It's now one of Nashville's go-to music venues. While a diversity of artists play here, shows are likely to be more rock than country.

• If you can make it to a show at the historic Ryman Auditorium or join the audience of the Grand Ole Opry during your stay in Nashville, then we have two words for you: Do it.
Robert's [Western World] is one of my favorite places. There's nothing pretentious about it. It's very laid-back, loud, crazy and crowded. It's one of a kind. Also Springwater [Supper Club & Lounge] — I'm sure there will be plenty of people who'll make fun of me for this but it's just that hole-in-the-wall rock 'n' roll place that doesn't even serve liquor, just beer. It's a lot fun. You can act like you don't have to have any manners. I love places like that — the divey places. The Ryman [Auditorium] is pretty standard. You can't come to Nashville to see live music without going to the Ryman. I've been to Mercy Lounge/The Cannery Ballroom/The High Watt so many times. That's one of the great places around town.
Gosh, there are so many. Music City Roots is a good place, and obviously The Bluebird [Café]. The 5 Spot, which is right near my house in East Nashville, is a pretty good place. In terms of honky-tonks, my favorite spot is Robert's. I got to Mercy Lounge, Cannery Row and The High Watt a fair amount. There's always music going on there. Just about anywhere you go, there's going to be music and probably some pretty good dang musicians playing.
Looking to tap your toes? Well, you've come to the right city. Now, it's about choosing the right music venue. And that's no easy feat in a city that you can find music every night of the week in every corner of town. Here are a few local favorites:

1. 3rd and Lindsley: Home to a weekly show "Nashville Sunday Night," hosted and broadcasted by Nashville's independent radio station, Lightning 100. Tickets for Sunday night shows are just $10, and the venue boasts an open stage that's close to the floor. You'll mingle with the musicians, since all they'll do once the set is over is take one step down, grab a beer, and watch the next group step up. Intimate, cozy, always a good show.

2. Marathon Music Works: This venue opened in November 2011 in Nashvlle's Marathon Village neighborhood. A much larger venue, MMW can host 1,500 music lovers at a time, and typically sells tickets in advance for around $25, and on the day of the show for $28. Booking is handle by one of Nashville's best audiophiles, and the lineup offers a range of sounds. Large, loud and fun.

3. The 5 Spot: Want to know the bands before they get famous? Check out the 5 Spot, a part sports bar part music venue that opens the stage for Nashville's newest up-and-comers. It's made a regular appearance on ABC's "Nashville," and rightly so—the 5 Spot consistently keeps a lineup that's entertaining, interesting and surprising.

Happy listening!
People come from all over the world to hear shows at the Grand Ole Opry, which hosts the nation's longest running radio show, since 1925, broadcast live each week. The Opry consists of two venues: The Grand Ole Opry House hosts shows each weekend, and on Tuesday evenings spring to fall, consisting of eight or more different artists, rather than a typical concert, usually anchored by a headliner like Amy Grant, Josh Turner or Keith Urban. The2,300-seat Ryman Auditorium, originally built as a church in 1893, and now a National Historic Landmark, is one of the nation's best concert halls and features more traditional concerts by big names, with less purely country focus, including Peter Frampton with Robert Cray, Vince Gill and Hall & Oates. Then there are the famous "honky tonks," countless bars through Nashville that feature live music every day, often from morning to late night, with one aspiring act after another, some of the best bar scene live music on earth. These can be found all over but several line Broadway downtown, including Robert's Western Word, Legend's Corner and Bluegrass Inn.