Where are the best places to hear live music in New Orleans?
Answers from Our Experts (2)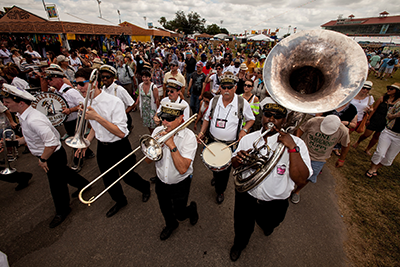 Photo by Douglas Mason, courtesy of The New Orleans Jazz and Heritage Festival
New Orleans and live music go together like beignets and powdered sugar. If you're in town for the last weekend in April, then plan to venture south for the infamous New Orleans Jazz & Heritage Festival, AKA Jazz Fest. Rolling into town the last weekend of April each year, Jazz Fest takes over the Big Easy. With 12 stages devoted to music and two to food, you'll get your fill of live music (and tasty local grub). Showcasing everything from gospel to headliners such as Lionel Richie, this festival of soul is the epitome of live music in New Orleans — so much so that you can't even mention one without the other.

Of course, we understand that not everyone can plan trips around music. That being said, you can still experience some fabulous live music in the Crescent City. Strolling through the French Quarter (arguably the city's most happening area), you can hear all kinds of music, whether it's on the street or coming from the inside of a bar. Make your way to Irvin Mayfield's Jazz Playhouse on Bourbon Street for some real New Orleans jazz, which had been missing from this famous street for years. Thanks to Grammy award-winning Irvin Mayfield and his club, you can catch some of the area's top talent. Mayfield himself graces the stage with his presence every Wednesday night alongside members of the New Orleans Jazz Orchestra. Young or old, shy or outgoing, you'll be on your feet and grooving to the beat by the end of the night.

Toward Tulane University, off of St. Charles Avenue, lies one of the best venues for live music. Named after one of the classic New Orleans sayings, Le Bon Temps Roule (translation: let the good times roll), has a great atmosphere with live music. On Thursday nights, Soul Rebels graces the bar with its presence. Trust us, it's a great band.

While most local musicians won't be found on Bourbon Street, you can certainly find them on Frenchmen Street. Mosey on down this street in the Faubourg Marigny near the Quarter and let your ears do the rest. You'll be drawn in by the melodies spilling out onto the street — from jazz R&B, funk, blues, reggae, and rock n' roll. Whether it's Snug Harbor, D.B.A, the Blue Nile Nightclub or La Maison de la Musique, you won't be sorry you wandered down this musical street.
Mahalia Jackson Theatre is the best place to hear concert-level live music in New Orleans. The New Orleans Arena brings stadium rock to town, but the acoustics aren't at theater level and the Superdome is also not the optimum place for concerts.

For more intimate venues, Irvin Mayfield's Jazz Clubs in the French Quarter are well designed and feature top New Orleans jazz and rhythm and blues talents. Snug Harbor on Frenchmen Street also books top level musicians. Look for clubs with a cover and you'll know the management is supporting the musicians they book. The House of Blues primarily sticks to national touring bands so it's worth a look to see if your favorite band is in town. Uptown, Carrolton Station is a cozy location for roots rock.

An online search and a few questions to your favorite locals and you'll easily find a musician worth venturing out to hear.