What are the best Oahu food experiences?
Answers from Our Experts (2)
Oahu has a diverse population, and this cultural mix is reflected in the foods around town. Here are our Forbes Travel Guide editors' picks for the five must-eat food experiences on Oahu:

1. Eat a freshly made malasada from Leonard's Bakery. The Portuguese dessert — fried dough doused in white sugar — is a Hawaiian specialty and a favorite among residents and visitors alike.

2. Try a shave ice. Hawaii's version of the snow cone is an iconic local treat of finely shaved ice flavored with syrups and other toppings. Matsumoto Shave Ice, Ailana Shave Ice and Waiola Shave Ice are great spots that serve uniquely tropical flavors such as lilikoi (passion fruit), lychee, green tea and coconut in addition to traditional flavors. Try your shave ice topped with sweetened condensed milk or paired with mochi balls, vanilla ice cream or red azuki beans.

3. Get a plate lunch. One of the most common yet unique meals offered in Hawaii, a plate lunch consists of two scoops of white rice, macaroni salad and a meat entrée; many restaurants serve a form of it. For a twist on the classic plate lunch, try Pioneer Saloon, which offers a Japanese-style version of this local staple.

4. Go to a saimin stand. In this holdover from Hawaii's plantation era, curly egg noodles are served in a salty broth garnished with green onions. To sample this noodle dish that's unique to the Hawaiian islands, head to Shige's Saimin Stand in Wahiawa. .

5. Indulge in a loco moco. There are many variations of this dish created in Hilo and now found everywhere on Oahu, but a typical loco moco consists of white rice topped with a hamburger patty, a fried egg and brown gravy. Some high-end restaurants also serve upscale versions of this very basic dish.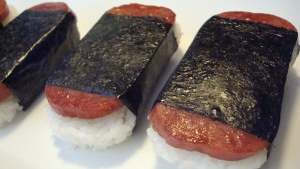 Hawaii offers unique food experiences, from traditional Hawaiian food to dishes that showcase the blend of cultures in the islands. There are Portuguese malasadas, Chinese manapua and the ubiquitous plate lunch.

But one of the most unique food items only found in the Islands — and just about everywhere on Oahu — is the Spam musubi.

Spam has a long history in the Islands. The luncheon meat was served to GIs during World War II, and it quickly became part of the local culinary culture in Hawaii. More Spam is consumed per person in Hawaii than in any other state. Almost 7 million cans of Spam are eaten every year. There's even an annual festival — the Waikiki Spam Jam — that celebrates all things Spam.

The Spam musubi is, by far, the most popular way residents eat the canned meat.

A slice of Spam — typically fried and often flavored with a teriyaki-based sauce — is placed on a brick of white rice and wrapped with nori (seaweed). It's sold at convenience stores like 7-Eleven across the state.

One of the best Spam musubis can be found at Tanioka's Seafood & Catering (94-903 Farrington Highway, 808-671-3779) in Waipahu.