What are the best places to eat on Oahu?
Answers from Our Experts (2)
Oahu's food choices are just as diverse as its population, with just about every ethnic group represented in the island's culinary scene. Our choices for the best places to eat on Oahu will tempt your palate:

1. La Mer. Tucked into Waikiki's Forbes Travel Guide Four-Star Halekulani hotel, Five-Star La Mer serves French cuisine from oceanfront tables. Befitting its location (set back from Waikiki Beach), the restaurant's doors open to welcome tradewind breezes.

2. Chef Mavro. Helmed by James Beard Award-winning chef George Mavrothalassitis, this Forbes Travel Guide Four-Star Honolulu restaurant melds French technique with fresh Hawaiian ingredients. But don't expect to see a wine list — each dish is accompanied by a glass of wine that best complements its flavors.

3. Alan Wong Restaurant. This is the epitome of Pacific Rim cuisine — and a sure hit for any palate. The upscale eatery features a farm-to-table menu with items such as crispy wonton-wrapped ahi poke, pan-steamed opakapaka with a shrimp pork hash, twice-cooked short ribs and macadamia nut-and-coconut-crusted lamb chops.

4. Rainbow Drive-In. Plate lunches are an indelible part of Hawaii's historic culinary landscape, and the most iconic ones are served at Rainbow Drive-In. For more than 50 years, this local favorite has served island-style plate lunches — two scoops of rice, macaroni salad and a meat entrée — and sandwiches. Its chili and fried rice are also popular menu items.

5. He'eia Pier General Store & Deli. For a truly unique dining experience, head to the end of He'eia Pier, where a small shack serves surprisingly upscale versions of local classics. Try their popular barbecue chicken topped with a sweet guava marinade or a "Cheekeater" burger, made with local beef, three meat toppings and an over-easy egg.

6. Morimoto Waikiki. It seems fitting that a contemporary Japanese restaurant with a menu that boasts modern twists to classic Asian dishes would open in the lobby of one of Honolulu's hippest, newest hotels, The Modern Honolulu. This Forbes Travel Guide Recommended eatery, owned by world-renowned chef Masaharu Morimoto, debuted in late 2010 with an innovative approach to fusing traditional Japanese dishes with Western ingredients.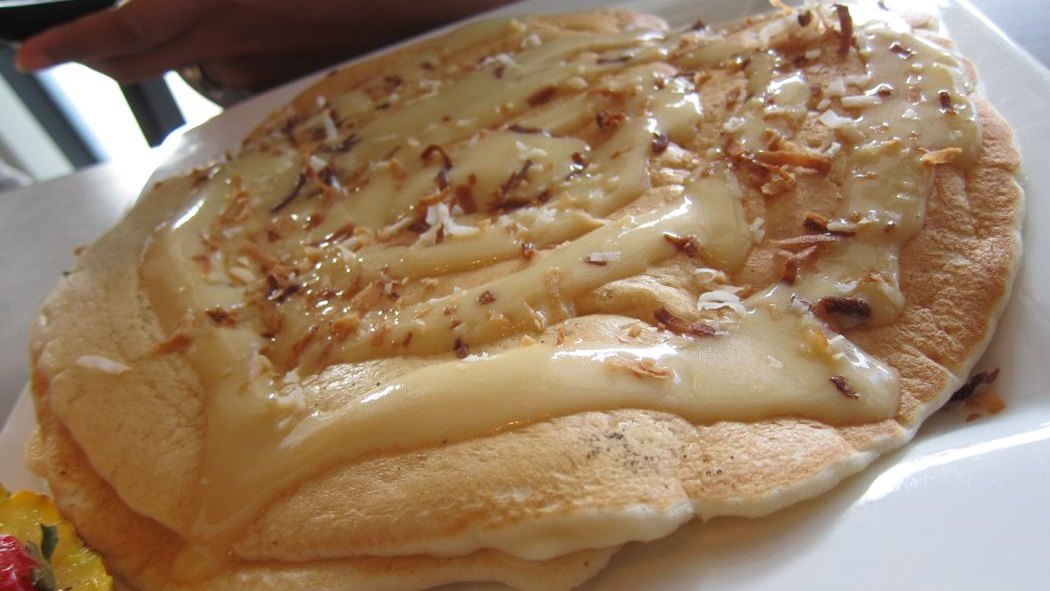 Whatever you're craving, you'll find it on Oahu. This island's got everything from Vietnamese pho shops to vegan cafes to world-class steakhouses.

Here are suggestions for your major meals next time you're on Oahu — and yes, it's a bit all over the island map:

Breakfast at Moena Cafe (7192 Kalanianaole Highway, Hawaii Kai, 808-888-7716), where you can feast on a Hawaiian-style omelet with kalua pig and onions or banana chantilly pancakes (shown above). Prices range from $7 to $14.
Late-morning snack at Hank's Haute Dogs (324 Coral St., Kakaako, 808-532-4265), a hip little hot dog shop in the emerging neighborhood of Kakaako. Get a classic Chicago dog or a grilled chorizo topped with brown mustard and grilled onions. Or get the daily special, which can range from a buffalo brat (Thursdays) to a lobster sausage (Friday and Saturday). The duck fat fries are incredible, too.
Lunch at The Alley in Aiea Bowl (99-115 Aiea Heights Drive, 808-488-6854), where you can get local favorites like the award-winning Tasty Chicken, a classic loco moco with fresh-made gravy, or its famous oxtail soup served with ponzu sauce. Be sure to order a slice of the popular lemon crunch cake.
Afternoon snack at Coffee or Tea? (1960 Kapiolani Blvd., McCully, 808-942-4357), where you can order an Asian-style milk tea and desserts.
Dinner at Prima Kailua (108 Hekili St., #107, Kailua, 808-888-8933), a modern Italian-American restaurant that boasts kiawe wood-fired brick-oven pizzas and dishes that showcase local ingredients. Get the pappardelle with curry bolognese or the slow-roasted pork belly with king trumpet mushrooms.