What are the best places to hear live music in Oahu?
Answers from Our Experts (1)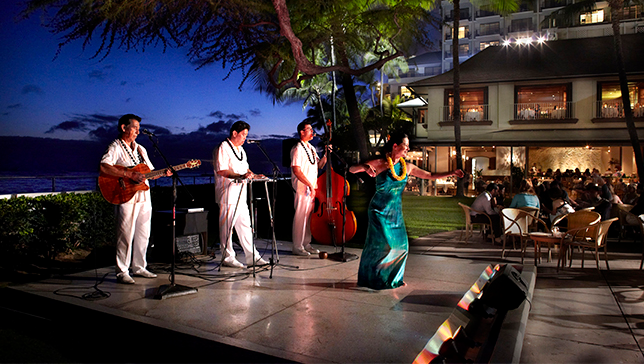 Halekulani Hotel
There's no better place to listen to Hawaiian music under the stars than in iconic Waikiki.

Here are my three favorite spots:

Duke's Waikiki, Outrigger Waikiki

One of the most popular spots to listen to Hawaiian music right on Waikiki Beach is Duke's Waikiki, a bustling restaurant and bar right on the beach. Every night there are local bands and artists like Henry Kapono and Maunalua playing everything from traditional Hawaiian music to contemporary reggae-inspired fare on the sands of Waikiki. Enjoy fresh island poke or fish tacos while listening from the restaurant or nurse passion fruit daiquiri or lava flow from the Barefoot Bar.

House Without a Key, Halekūlani Hotel

There's nothing better than lounging under the century-old kiawe tree at the posh Halekūlani Hotel in Waikiki, sipping on a tropical mojito and enjoying some of the best live Hawaiian music around. This casual dining spot has featured live music nightly for years, making it a beloved tradition at the upscale hotel. Watch the sunset, dine on coconut-crusted shrimp and beef curry puffs, and watch some of Hawaii's finest hula dancers take the stage fronting the lawn. Up next: House Without a Key features live music nightly, from 5:30 to 8:30 p.m. Don't miss the Sunset Serenaders — a duet featuring Kanoe Miller dancing hula — who plays on Friday and Saturday nights.

Kani Ka Pila Grille, Outrigger Reef on the Beach

Imagine listening to live music while relaxing poolside in Hawaii, drink in hand. This imagination can be a reality at Kani Ka Pila Grille at the Outrigger Reef on the Beach in Waikiki. In addition to entertainment by some of Hawaii's best artists such as Weldon Kekauoha and Cyril Pahinui, indulge in the restaurant's pūpū (appetizer) menu, which features ahi poke, a creamy spinach-artichoke-crab dip, deep-fried calamari, edamame dressed in a shoyu chili sauce, or coconut shrimp served with a sweet orange-chili dipping sauce and pineapple wedges. The music — and menu —are served nightly. Entertainment runs from 6 to 9 p.m. Up next: Award-winning artist Sean Na'auao plays on Monday nights and popular Mānoa DNA headlines Saturdays.