What is the best way to see Oahu in one day?
Answers from Our Experts (2)
One of Oahu's best traits is that there's always something to do, from sunrise to sunset — so to best see Oahu in one day, we recommend starting early. Begin by hitting the surf — early morning is the best time to catch a wave, as the breaks aren't crowded. Head to Kuhio Beach Park in Waikiki to rent a surfboard from any of the concession stands or book a surf lesson with a professional instructor. Either way, this experience won't cost you more than $40.

Refuel at Bogart's Café & Espresso Bar near Diamond Head with its signature Hawaiian waffle — a fluffy Belgian waffle topped with fresh fruit and haupia (sweet coconut cream) sauce. Take your coffee on a scenic half-hour drive along Kalanianaole Highway to Kailua Beach, where kayaks (available for rent at the beach entrance) are the perfect vehicle for exploring the seabird sanctuary of Popoia island, just 400 yards offshore and offering great coastline views. The nearby Kalapawai Market is within walking distance and is a popular spot to grab sandwiches before strolling to world-famous Lanikai Beach, a great lunching spot with views of Mokulua Islands offshore.

After lunch, Oahu's Chinatown is worth a visit, offering fragrant lei stands on Maunakea Street and art galleries throughout the district, or head to the Ala Moana shopping center for some serious retail therapy. Definitely make a reservation for dinner: Forbes Travel Guide Four-Star Halekulani offers French cuisine and fine dining at La Mer. It's the state's first Five-Star restaurant.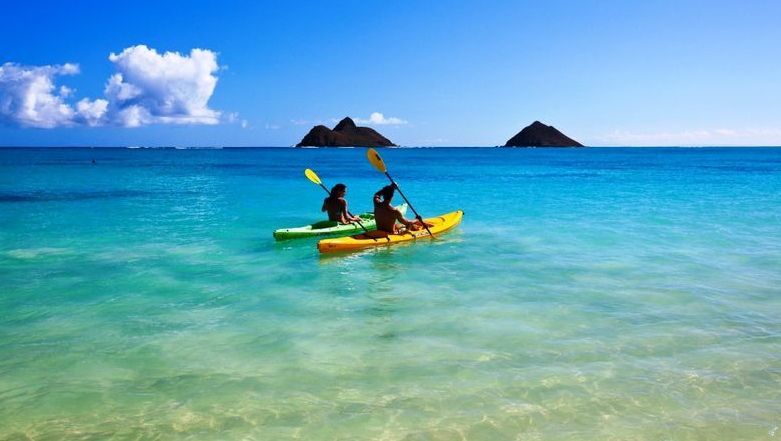 The best way to see Oahu in one day is to get up early, grab a rental car and go.

First, get in some exercise — so you can eat later. If it's your first time to Oahu, you'll want to hike up Leahi, more commonly known as Diamond Head, the iconic volcano on the eastern edge of Waikiki. The hike up is less than a mile and it ascends 560 feet to a lookout with sweeping views of the island's coastline. The park opens at 6 a.m., so get there early. Parking costs $5 per car, with the money going toward improvements and maintenance at the park. (If you've done this hike before, consider Manoa Falls, an easy trail in the back of Manoa Valley that twists through a lush rainforest and bamboo trees and ends at a waterfall.)

Next, indulge in a plate of blueberry stuffed French toast or eggs Benedict at Sweet E's Cafe (1016 Kapahulu Ave., 808-737-7771), a charming little cafe tucked away in Kilohana Square. Pop next door to South Shore Paperie (1016 Kapahulu Ave., 808-744-8746), a custom stationery studio, for some handcrafted notecards. It's open from 10 a.m. to 4 p.m., Tuesday through Friday, and 9 a.m. to noon on Saturday.

It will probably be close to 10 a.m. when you leave Kapahulu, giving you two choices: you can book it to the North Shore, about a 45-minute drive from Waikiki, or head to Kailua Beach Park on Oahu's Windward side, which takes less than half an hour. If you choose Kailua Beach Park, take Pali Highway and stop at the historic Pali Lookout, a lookout with panoramic views of the Koolau Mountains and the Windward Coast. Cost is $3 for cars.

At Kailua Beach Park, you can rent kayaks and paddle to either Flat Island or the farther Mokulua Islands. Here, you can frolic in the water, walk the half-mile of soft white sand or find a quiet spot and just lounge. When you start to feel those hunger pangs, walk across the street to Bob's Pizzeria (130 Kailua Road, 808-263-7757) for a slice of Boston-style pizza. Walk around the bustling little beach town filled with boutiques and specialty shops. Grab a malassada from Agnes's Portuguese Bake Shop (46 Hoolai St., 808-262-5367), easily one of the best on the island, and hop back in the car to drive back to Honolulu.

For dinner, go simple at an izakaya, a Japanese-style tavern that serves small plates. Try Sushi Izakaya Shinn (2065 S. Beretania St., 808-946-7466) in Moiliili for first-rate sushi and other specialty items. Then finish your meal with mochi ice cream from Bubbie's Homemade Ice Cream & Desserts (1010 University Ave., 808-949-8984) in the University area.

It was a big day, so get some rest. Tomorrow, there's always more to explore.

Don't forget to bring:

Snacks and water for the drive
Sunscreen, lip balm and other sun protection
Camera
Towels
Jacket or sweater in case it gets cold at night