What are the best clothing boutiques in Rome?
Answers from Our Experts (2)
Being one of the most popular fashion hubs in Italy, Rome is a true feast of clothing, shoes and accessories stores.

Take a walk in the city center, starting from legendary Via dei Condotti, right in front of Piazza di Spagna, then heading towards Via del Babuino, Via del Corso, Via Frattina, and if you want a more complete shopping experience for nice but less expensive buys, head to Via Nazionale near Stazione Termini, and Via Cola di Rienzo, in Prati area near the Vatican.

Via dei Condotti can be considered a huge boutique, with names of the likes of Dolce & Gabbana, Valentino and Trussardi among the others showcasing their best creations, but all around Piazza di Spagna clothing boutiques are the big feature, and between Via Frattina and Via Borgognona you can find both haute couture and prêt-à-porter, with popular brands such as Laura Biagiotti, Giorgio Armani, Alberta Ferretti and Gianfranco Ferré.

Along with clothes go shoes and accessories, and staying in the same area, in Piazza di Spagna you can also find an excellent choice of footwear, from boots to sandals to stilettos of the most popular brands such as Albano at the 92, Casadei at number 82 and Sergio Rossi at the number 98, wth prices ranging from 100€ up to 1000€.

If you are a fan of handbags, wallets, belts and all kinds of accessories, around Piazza di Spagna you will certainly find something you like. In 55/56 Via dei Condotti, Furla is one of my favorite for its gorgeous purses, but also Coccinelle at the Galleria Alberto Sordi, in Via del Corso, sells beautiful accessories.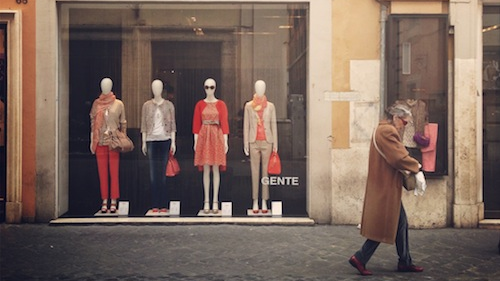 Rome has several clothing boutiques that, depending on what you are looking for, can be considered the very best. The city is choc-a-bloc with shops my grandmother has been going to since she was a child along side the very contemporary concept shops that the 21st century birthed. My suggestion is to head to the Piazza di Spagna area which has been undergoing urban renewal in both the side streets and the square itself.

While enjoying the windows of stores like Prada and Miumiu, make sure to walk into the smaller shops of the area, especially Alexander, Galassia, Eleonora and Gente. These boutiques are full of very fun eye candy and stock unique pieces from Italian and international designers including Rick Owens, Azzaro, Balmain, Chloe, Krizia, Kenzo et al. Along the same streets keep your eyes open for tiny traditional shops that harken days of yore. Via Frattina's Luisa Venier is known for her lace and Brighenti is a favorite for lingerie and swimwear. On via Babuino, be on the look out for C.I.R Corredi, a boutique full of delicious hand-made wonders such as smocked blouses and linens. Nearby via Fontanella Borghese has the very old favorite Schostal, a boutique specializing in traditional shirts, ties, socks and undergarments for men, as well as some items for women.