What are the best farmers markets in Rome?
Answers from Our Experts (2)
Photo by Angela Corrias
Whenever I'm able to devote the right time to my precious grocery shopping, I love wandering about the colorful stalls of Rome's farmers markets.

Only in the city center and in its surroundings you can find several open markets where local producers sell fresh season produce. For a bit of a tourist experience, head to Campo de' Fiori, where every day early morning you will find possibly the oldest farmers market in the city showcasing fruits, veggies, cheese, sausages, fish and also ready-to-eat local specialties on the go such as pasta cacio e pepe, carbonara (with pancetta bacon, egg and cheese) and amatriciana (spicy tomato sauce with cured pig cheek).

Another great market, also well-known among tourists, is Mercato Testaccio, in Via Galvani, in Testaccio neighborhood. Here, apart from groceries, cheese, meat and fish, you will also find stalls making sandwiches and even a pasticceria (pastry shop), Dess'Art, where Sicilian-born Costanza prepares delicious cannoli, a traditional dessert from her region.

In the very heart of Trastevere, Piazza San Cosimato, every morning Monday to Saturday from 6am to 1pm takes place another lovely farmers market, Mercato di Trastevere, selling anything from local produce to French cheese and sausages to second-hand books and even pets' food.

While all neighborhoods have their own markets, two are my very favorite: Nuovo Mercato Esquilino, replacing former Mercato Vittorio, near Piazza Vittorio, certainly one of Rome's most multicultural areas where all foreign communities go shopping and where, apart from fruits and veggies from all over the world, you can find a great variety of beans, cereals and international herbs and spices; and Mercato Trionfale, in Via Andrea Doria, Rome's biggest market and one of the largest in Italy. Here you can find anything from fresh and dried fruits, season veggies, meat, fish, freshly baked bread and pastries, organic products, cheese and even some stalls selling clothes.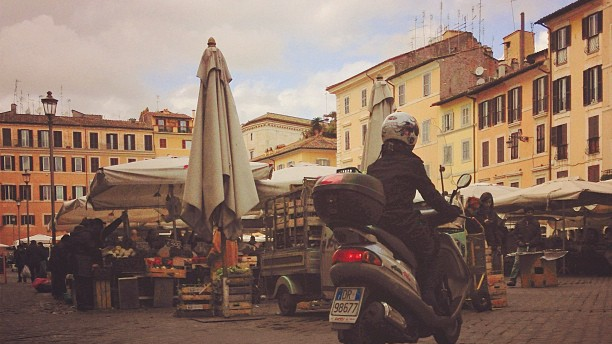 Photo by Erica Firpo
Every neighborhood in Rome has a local market, whether open-air like Campo de' Fiori or covered like the large Mercato Trionfale nearby Vatican city. Markets traditionally are hubs not just for food but for social life. At the market, you will learn the wheres, whys and whens of season produce like Settembrini figs, Ovuli mushrooms and artichokes, discover new recipes, and meet new and old neighbors. Essentially, the market is the heart of Italian culture as the day begins and ends around food. Rome's markets have decades and centuries of history and personality, as well as some contemporary history.

The archetype Roman market is open-air Campo de' Fiori, in the heart of the city. Though not the most economical, the morning market has fresh produce, spices, flowers and knicknacks. The square itself has several great butchers to accompany your morning shopping. Rome foodies favorite the weekend only Circus Maximus Farmer's Market. A recent addition to Rome's food scene, the market resides on the renovated grounds of an ancient fish market and showcases organic and non-organic products from Lazio and surrounding areas including vegetables, fruit, cheese, bread, wines, olive oiis, meats, honey, preserves and pastas. From August 1 through September 7, the market will be closed for the summer.

Across the river, Trastevere's Piazza San Cosimato market has great produce and an rock-and-roll cheese vendor whose selection includes non-Italian cheese along with local favorites.

Along with Farmer's Market Garbatella, there are many markets that rank top on the list for Rome foodies and are not in the historic center. The Monday-Saturday Mercato Trionfale (via Andrea Doria 3, adjacent to Vatican City), is one of the largest markets with an abundant amount of produce, meat, bread and cheese vendors, among others. If you do like fish and other edible sea creatures,Trionfale has the largest amount of fish vendors who in turn have the most diverse selection of fish, crustaceans, mollusks, et al. Take note, whether produce, meat, fish, bread or cheese, a great market lists origin of each product, along with price.

Testaccio's famous piazza market was recently moved just down the street to a new partially-covered structure. Most of the original vendors relocated to the new structure, which mixes covered and open-air design. Like other markets, Testaccio Market has fresh produce, meat, fish and bread, as well as lovely cheese, pastry and sandwich vendors. Additional great markets include Flaminio's Mercato Comunale, Via Guido Reni, which has excellent chicken butchers, fresh pasta and organic fruits and vegetables, and likewise the nearby and quite large market at Ponte Milvio. Monteverde's San Giovanni di Dio market has some of Rome's best butchers, bakers and fruit vendors. Near Termini Station, the weekday Piazza Vittorio market is sought out for its local and imported produce and other foods, as it is often considered the best place to find non-Italian produce and products like cilantro, durian, ginger and black rice.

Again, every neighborhood has its own market. It's just a matter of talking with your neighbors. Just remember the golden rule: do not touch the produce unless you are invited to do so.