What are the best local dishes in Rome?
Answers from Our Experts (3)
I always have to have the pizza bianca and cacio e pepe — I love those. Then right off il Campo de Fiori, there is a famous pig butchery store.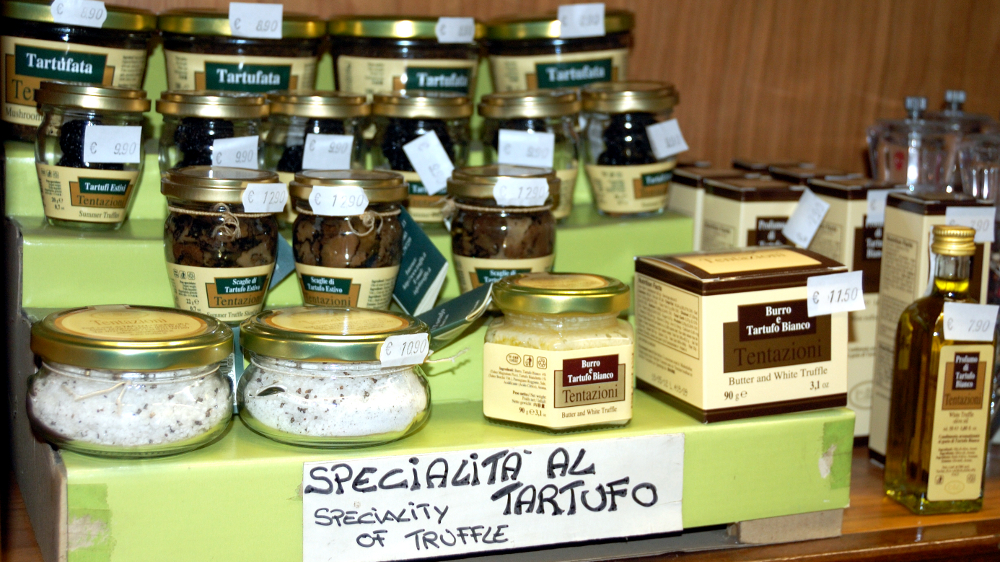 Photo by Angela Corrias
Rome's typical food comes from a tradition of simple, poor dishes. Very tasty and made with local produce, Rome's cuisine greatly matches its people's character, genuine, bold and full-bodied.

As Italian routine suggests, also in Rome you will have an antipasto (starter), il primo (a first main course), il secondo (second main course) and the dessert, il dolce.

As a starter, you can order from a wide range of sausages, often borrowed from neighboring regions, olives, small pies with different types of veggies, and bruschetta (toasted bread) with tomato or a topping of fava bean and chicory cream or porcini mushroom cream.

The most famous "primo" is bucatini all'amatriciana, a type of spaghetti served with a chilli sauce made with tomato and guanciale, the pig cheek. Apart from the amatriciana, Roman chefs suggest rigatoni con la pajata, dish of very ancient tradition made with rigatoni pasta in a sauce with tomato and veal intestines, and tonnarelli cacio e pepe, pasta with pepper and pecorino romano cheese.

As a second main course you can order saltimbocca alla Romana, pan-fried veal cutlets with a sage leaf on top, white wine and pepper, coda alla vaccinara, veal tail stewed with a mix of veggies, and abbacchio alla cacciatora, pan-fried lamb with rosemary, sage, pepper and vinegar.

Too much meat for vegetarians? Fret not, Rome has a wide choice of veggie-based dishes thanks to the huge array of season produce that colors grocery markets, from the green hues of the deliciously bitter cime di rapa (turnip tops), agretti, a type of vegetable with very thin, threadlike leaves to be eaten steamed or as a salad with oil and lemon dressing, chicory and Roman broccoli, to the orange shades of autumn pumpkins.

Some of the most famous, and my favorite, veggie dishes are the gnocchi with turnip tops, pasta with tartufi, truffle sauce, carciofi alla giudia, fried artichokes with salt and pepper, and carciofi alla Romana, braised artichokes with a filling of mixed herbs.

Roman culinary tradition also boasts delicious pastries, such as maritozzi, soft pastries filled with whipped cream, and frappe, crumbly, fried pastries typical of Carnival period.

For every meal, there's the perfect wine: Castelli Romani, Frascati, and wines from the Colli Albani are among the most appreciated.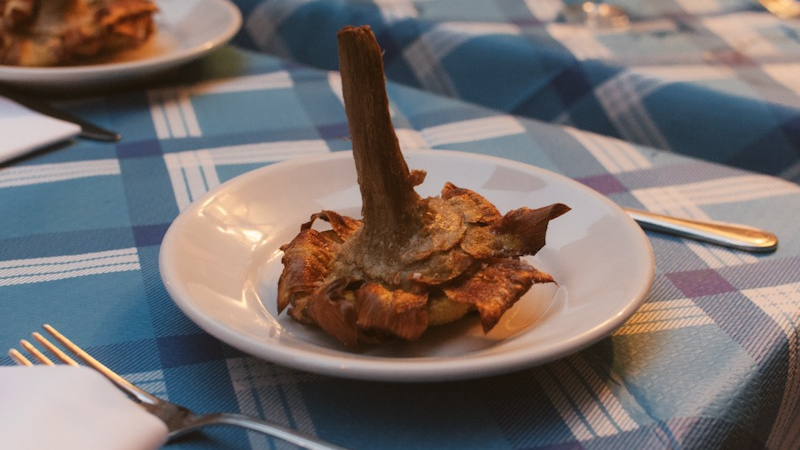 Photo courtesy of Eating Italy Food Tours
Rome's most beloved local dishes are the triumvirate of pastas: spaghetti alla carbonara— spaghetti with a sauce of pancetta (bacon), egg and pecorino cheese, the slightly piccante buccatini all'amatriciana- a long tube like pasta with a sauce of guanciale (cured pig cheek), tomato and pecorino cheese, and the simple and lovely caciopepe, pasta with grated pepper and pecorino cheese.

For main courses, Roma favorites are straccetti alla romana- thin strips of beef on a bed of arugula and shards of parmesan cheese, trippa alla romana- tripe cooked in a red sauce garnished with mint and pecorino cheese, and saltimbocca alla romana- thin medalions of veal and prosciutto garnished in sage and cooked in a light white wine. What should not be missed are contorni (vegetables) to accompany the meal—two favorites are the seasonal carciofo alla romana- braised artichoke, carciofo alla giudia- fried artichoke and puntarelle- wild chicory spears in an olive oil, garlic and anchovy dressing.