What are the best luxury hotels in Rome?
Answers from Our Experts (1)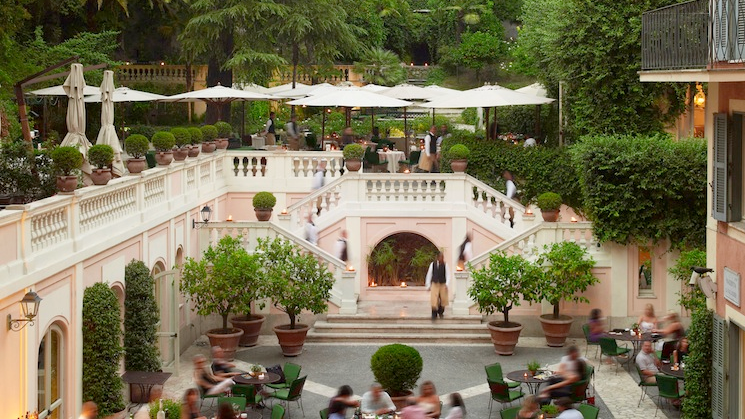 Photo by Hotel de Russie
There are many different kinds of luxury hotels in Rome. My list for the very best in luxury refinement always starts with the Hotel de Russie, an oasis by Piazza del Popolo. I love everything for its central location, garden courtyard, neo-classical design and amazing concierge service for its high-quality, customer service and positive response to any question put forth.

My number two (and often numero uno in the hot Roman summer) is Parco dei Principi whose design is a mix of lavish classical and cutting-edge modern. Parco dei Principi is slightly off the beaten path as it is situated on the edge of the large Villa Borghese park which means it has a quietude that other hotels lack, as well as a lovely Gatsby-inspired outdoor pool.

For old school opulence, the Residenza Napoleone III is my choice. Located in the very center of the city in a 16th century palace, Residenza Napoleone III is named for notable guest Emperor Napoleon III. Recently renovated, the residence is comprised of two substantially-sized apartments, luxurioulsy decorated in mid-19th century refinement. Included in the residence are personal majordomo and a major amount of history both inside the palazzo and at its doorstep.

Special mention goes to Roma Cavalieri, high on Montemario hill to Rome's northwest. Part of the Waldorf Astoria collection, the Cavalieri lavishes a very different kind of luxury on its guests. Along with its lovely suites and its Michelin three-star restaurant, the Cavalieri has a gorgeous deck, three pools, and helipad. It also offers pet pampering, gladiator lessons and special art tours. The hotel is decorated with its own private collection of Renaissance and Baroque art. Personally, I really enjoy the hamburgers at poolside.