What are the best places for espresso in Rome?
Answers from Our Experts (2)
When you order a coffee in Rome ("un caffè"), you should know you are going to get an espresso. Coffee in Italy is such a big deal that it's probably what Italians miss the most when they travel. Of course our love for coffee has made us evolve the product into different versions and flavors, and now if you go to any bar in the country you can hear orders of any types, "lungo", "corto", "con schiuma", "macchiato", "marocchino" (espresso with milk foam and chocolate), and many others.

Rome has many great places for espresso, and some of the very best are Sant'Eustachio Il Caffè in 82 Piazza Sant'Eustachio, that serves a great variety of coffees strictly made with high quality ingredients, Ciampini in Piazza San Lorenzo in Lucina, near the Pantheon, and, close to Via Veneto, Bar Gino, in 52 Via San Basilio, where you can also try some of their excellent pastries.

Among the best coffee places in Rome, Sciascia Caffè 1919 (80/A Via Fabio Massimo) is definitely worth a stop for its espresso but also for the other coffee-based products and the pastries they serve, and not far from there, in 234 Via Cola di Rienzo, is Cantiani, patisserie adored among locals that serves also an excellent espresso.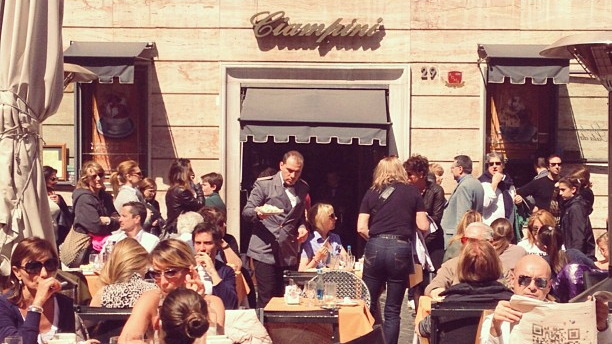 Photo by Erica Firpo
The local bar (downstairs, down the street, around the corner) will be the best place for espresso in Rome. Standing up at the corner and ordering an espresso is much-loved experience in Italy as much for the coffee as for the people watching. Great caffes in Rome include: Caffe Sant'Eustachio in Piazza Sant'Eustachio and Tazza d'Oro on via degli Orfani, both located near the Pantheon in Rome's historic center, Ciampini in Piazza San Lorenzo in Lucina (Centro) and the Castroni shops in Prati, Centro, Flaminia, Parioli and Via Nazionale.

The Illy chain of chicly designed coffee shops is the best place to taste the vast variety of coffee drinks from espresso and macchiato, to corto, lungo and corretto. Best Illy caffes include Espressamente Illy on Via Urbana (Monti), Galleria Sordi (Trevi) and Via degli Uffici del Vicario (Parlamento), and Illyshop on Via Due Macelli (Spagna).