What are the best places for gelato in Rome?
Answers from Our Experts (2)
Eating a gelato in Rome is not just a sensory feast, it's a ritual, very much cherished by tourists and locals alike. You can find a good ice cream all over the city, however, there are some heavenly places that will make your treat a memorable experience.

After you visit Piazza Navona and the Pantheon, stopping at Giolitti is almost inevitable. This gelateria is one of the oldest and most popular in Rome, and their gelato is delicious. They showcase a huge array of flavors and the line of waiting customers is ever-present, any season, at any time of the day.

But it's not the only, nor the best, ice cream shop in the capital.

If you are a fan of artisan gelato that can almost be compared to an art masterpiece, head to Procopio, either its shop in Piazza Re di Roma, near the metro station, or its new opening in Via Avezzana, near Piazza Mazzini in Prati area. Here, apart from always new flavors, you will have season treats coming from local produce.

Great places for gelato are also Gelateria dei Gracchi, in 272 Via dei Gracchi, famous for its zabaione, cioccolato fondente (dark chocolate), pistachio, apple and cinnamon flavors, and the Old Bridge, in 5 Viale Bastioni di Michelangelo, just across the Vatican Walls, selling a good artisan gelato.

Worth a mention is GROM, a new chain making bio ice cream. They have shops all over Italy and six only in Rome, the most central being in 53 Via dei Giubbonari, near Campo de' Fiori, 30A Via della Maddalena and 3 Via Agonale, near Piazza Navona. GROM's gelato is made with very high quality products, only fresh, season fruit, spring water, fresh milk, no artificial color nor chemical additive. Some of their most popular flavors are lemon from Amalfi, peach from Leonforte, pistachio from Bronte.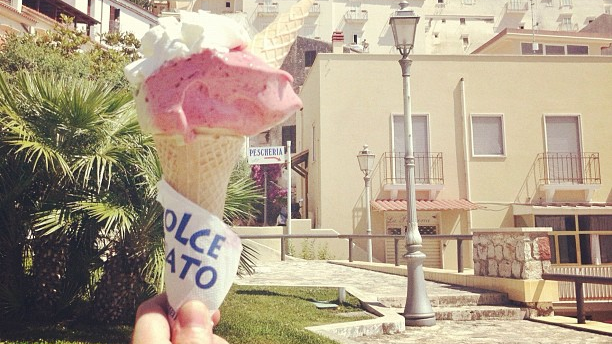 Photo by Nicolee Drake @Cucinadigitale
The great gelato question always inspires a lively debate Rome. I think labeling a gelateria as "best" is very pesonal. As a faithful choco-holic, I have only two gelaterie that I frequent, especially when in need of fondente (dark chocolate): Ciampini at Piazza San Lorenzo in Lucina (just off of via del Corso) and Gelateria al Teatro on Via dei Coronari near Piazza Navona, as well as a second location along the Tiber river, Lungotevere Vallati, near Ponte Garibaldi and Largo Argentina . Both make superb dark chocolate, and I am told their other flavors are heavenly as well, made from all natural products.

With Rome's recent gelateria-a-go-go, there are now many more spots to choose from. A close friend swears by every unique flavor that Fatamorgana invents. This bewitching gelateria has several convenient locations including Prati (Via Bettolo 7), Monti (Piazza degli Zingari) and Trastevere (Piazza San Cosimato). Another gourmet chain is Vice Gelateria with several locations including the centrally located spot between Largo Argentina and Campo de' Fiori on Corso Vittorio Emmanuele II 96, and nearby the Vatican Museum's in Prati on Via Fabio Massimo 64. My sister will never tire of the unending list of flavors Giolitti and Gelatera della Palma (Pantheon area). And when chocolate is too much for me, my favorite fruit flavors are found at the tiny Corona Gelateria in Largo Argentina whose cocomoro (watermelon) quenches the summer thirst.