What are the five best places to eat in Rome?
Answers from Our Experts (1)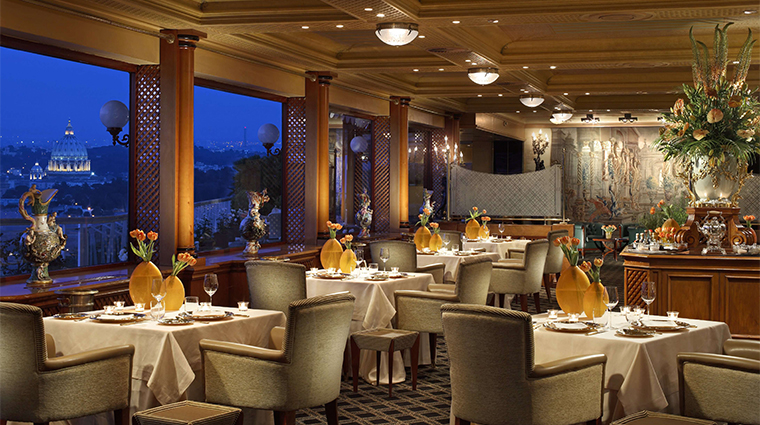 Photo Courtesy of Rome Cavalieri
The best food in Rome is simple yet full of flavor and based on seasonal ingredients. Make the most of the city's famed food by eating at these five places:

1. La Pergola. Helmed by chef Heinz Beck, this highly acclaimed restaurant serves exquisite and innovative Italian dishes. From a wine cellar with more than 53,000 bottles to 29 choices of water, every detail of La Pergola is seeped in luxury and refinement.

2. Flavio al Velavevodetto. The location alone makes this restaurant worth a visit. It is built into Monte Testaccio, a hill that was originally created to be a landfill in ancient times. Look through the restaurant's glass walls to see the ancient pottery buried there. The food complements its storied history, dishing out traditional Roman fare, from amatriciana to saltimbocca.

3. Armando al Pantheon. We don't usually recommend eating next to a major tourist site, but Armando's at the Pantheon is an exception. Since 1961, the trattoria has served traditional and mouthwatering Roman dishes. Don't miss the delicious torta antica Roma (ricotta pie with strawberry filling) for dessert.

4. Palatium. This chic restaurant near the Spanish Steps only serves food made from local ingredients. The frequently changing menu features Italian favorites with a creative twist. Just be sure to top off any meal here with a selection from the long (and local) wine list.

5. La Gatta Mangiona. A Roman foodie favorite, La Gatta Mangiona serves both classic (tomato and mozzarella) and creative (black-pepper ricotta with mortadella and black truffle) pizza pies with a light chewy dough. The menu changes frequently, and there are some pastas, too.