What are the five best Rome food experiences?
Answers from Our Experts (2)
Italian food varies greatly from region to region, so when in Rome, make the most of your time and eat as the Romans do. Here's how:

1. A classic carbonara. Of the "holy trinity" of Roman pastas — amatriciana, cacio e pepe and carbonara — carbonara is the one we'd most recommend trying. The only ingredients are diced guanciale (pork jowl), egg, pecorino Romano, olive oil and pepper. The result is much lighter (and we think, more delicious) than the heavy carbonara that's made with cream and butter in places far from where it originated.

2. Roman artichokes (when in season). Artichokes are a Roman side dish, and you can eat them in one of the two traditional ways: alla romana (steamed and melt-in-your-mouth tender) or alla guidia (fried to a delicious crisp). Either way, the most important thing to remember is to only eat them when they are in season, which is from February to May. Some restaurants will still serve them outside of these months, but they aren't Roman — they're imported and simply not the same.

3. Coda alla vaccinara. Rome has a tradition of cucina povera, which often means making meals out of offal. If tripe is a little too much for you, then try coda (oxtail). Slow-cooked in a tomato stew until it's tender, this is one of the most delicious Roman secondi (second courses) out there.

4. Gelato. You'll fine gelaterias on nearly every block, but some of our favorites include I Caruso (Via Collina 13-15), Il Gelato di Claudio Torcè (Piazza Monte d'Oro 91/92) and Fatamorgana (Piazza degli Zingari 5).

5. Top-notch coffee. Coffee is a huge part of the Roman food ritual, as locals generally have just a coffee and a pastry for breakfast, and then espresso pick-me-ups throughout the day. (Note that Romans only drink coffees with lots of milk before noon). Taste Rome's best beans at a cafe like Sant'Eustachio or Tazza d'Oro, which are both near the Pantheon.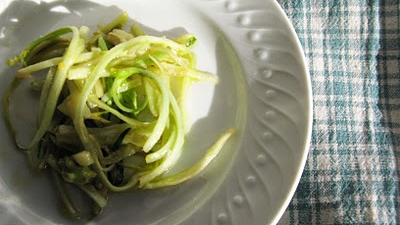 Photo by Giovanna Cozzi, burroealici.net
Rome's five best food experiences can easily be organized into a brief day's itinerary of feasting.
Shakerato- when the days are warm, the shakerato is the perfect and frothy start to the day. A pre-sugared, very cold espresso, the shakerato is like a morning espresso martini but without the gin and olive. A good (read: well-equipped) bar should offer the shakerato, so walk out if it doesn't.
Trapizzino- essentially a triangular pizza pocket filled with classic Roman dishes, the trapizzino is a great snack at any time of the day. Testaccio's 00100 perfected the trapizzino and fills it with braised oxtail, meatballs with in a red sauce and chicken alla cacciatore and other delicious dishes.
Carbonara- when in Rome, you must taste spaghetti alla carbonara, a pasta dish of pancetta (bacon), pecorino (cheese) and egg. To me, it is the perfect comfort food. Word on the street is that Roscioli and Pipero al Rex make the best carbonara. Best to try both.
Carciofo alla Giudia and/or Puntarelle- there is nothing that brings a smile to my face more quickly than the cruch of a well-made carciofo alla giudia, fried Roman artichokes, to describe it simply. Artichoke season, late November through May, peaks in February, so avoid eating out of season. When in need of a something more piquant and even more local, I'll order puntarelle, the crispy points of chicory in an anchovy, lemon and garlic dressing. Like the artichoke, puntarelle are seasonal with autumn as best.
Gelato- gelato in Rome has increasing become more en vogue and specialized, with gelaterie offering bespoke flavors along with traditional favorites like Stracciatella, Cioccolato and Fragola. For gelato recommendation, review the best places for gelato question where Forbes expert voice their opinions.