What are the five best things to do with kids in Rome?
Answers from Our Experts (2)
Some people say Rome is not a good place for kids but we think little gladiators and any kid who likes pizza, pasta and ice cream will love it. There are so many great ways for art, archaeology and history all to come to life for your little ones on a Roman holiday. Our Forbes Travel Guide editors pick the five best things to do with kids in Rome:

1. Visit the catacombs. Few things are spookier than Rome's catacombs, the ancient, underground cemeteries that run multiple stories deep. Kids will love exploring the dark tunnels and hearing the stories of how and why bodies were kept there. Since many ancient Roman frescoes and inscriptions remain, they'll get insight into ancient times, too. And adults can relax — since you can only explore the catacombs on a tour, you don't have to worry about getting lost.

2. Go for a bike ride on the Via Appia. Do your kids need to burn off some energy? Rent bicycles and take a leisurely ride down the Via Appia, a road built by the Romans in 312 B.C. The road is still covered in its ancient Roman pavement, and on your ride you'll see tombs, mausoleums, monuments and catacombs.

3. Explore Rome's food scene. Kids will love the hands-on aspect of Rome's food markets, where you can chat with locals and taste the goods. Although there are several options in Rome, the Walks of Italy tour is especially kid-friendly. It includes numerous tastings (there's even one at a gelateria), as well as a hands-on pizza-making class.

4. Go back in time at Palazzo Valentini. Two opulent ancient villas were recently discovered beneath Palazzo Valentini, which is in the heart of Rome. But what kids will love is how the ruins are presented. Thanks to skillfully done light shows, the villas are recreated to their former glory.

5. Enjoy the entertainment at Piazza Navona. This piazza — the most famous in Rome — is always full of street entertainers like jugglers and caricaturists. Kids will love to see all the action.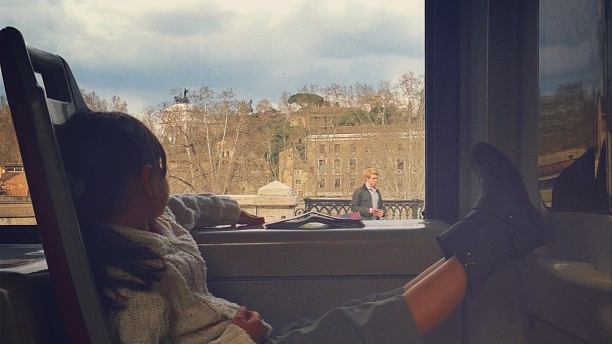 Photo by Erica Firpo
Rome is a city for kids of all ages, though some think it is not quite that easy to entertain the little ones who easily can get tired and weary in a nearly 3000 year old city. The best thing to do with kids in Rome is to get them involved, whether with history, art, culture or simply the city.

Ancient history is more palatable when interactive- take the kids to the Roman Forum (avoid high noon) and let them enjoy walking on the ancient Via Sacra or meandering around the Palatine hill. For older kids, send them to school- Gladiator school, where they will learn how to fight like a Roman. If needing to entertain all ages and the Forum doesn't suffice, head to Villa Borghese, the center's largest park which has pony rides, carousel, bikes, boats and bouncy castles, along with the vast green expanse. The park also has Casina di Raffaello for elementary-school age edutainment and BioParco, Rome's century-old zoo.

Gelato tasting is always a hit with kids, whether comparing chocolates from Ciampini and Gelateria al Teatro in the historic center, or sampling more clever flavors at Fatamorgana in the Monti, Prati and Trastevere neighborhoods. For a bit of a thrill, visit the Cripta dei Cappuccini in the church of Santa Maria della Concezione on Via Veneto. The monks' cript includes an informative museum visit, but you're really going for the bones.