What is nightlife like in Rome?
Answers from Our Experts (2)
Rome's nightlife scene is as diverse as the city's neighborhoods, and fortunately for locals and tourists alike, there's enough to please everyone.

For the youngest, or the most free-spirit ones, Testaccio area boasts a plethora of nightclubs and discopubs playing all sorts of beats, from hip hop to electronic, till late night.

However, for the ones of you who want to go traditional even at night, don't miss Campo de' Fiori after the sellers of the open market dismantle their stalls, when pubs and restaurants, lined up all around the piazza dominated by Giordano Bruno statue, light up their signs and welcome their guests. From Campo de' Fiori, Trastevere is only a stone's throw away, and after crossing scenic Ponte Sisto you are in one of the most vibrant places Rome can boast by night.

All sorts of pubs, live music shows, trattorie, bars and open-air gatherings animate Trastevere area that seemingly never sleeps. This old gentrified neighborhood at night becomes the city's pulse where the young, the less young, the classic and the punk meet and share their leisure time.

Apart from Campo de' Fiori and Trastevere, recently Piazzale Ponte Milvio has been imposing itself as a place of gathering, especially among the youngest, thanks to its cafeterias, bars and gelato shops such as the famed "Mondi" or "Pompi" pastries' shop, famous for its tiramisu.

The romantic souls don't even need to look for particular places to go, they can just walk along one of the many bridges across the Tevere river and enjoy the view of Saint Peter on one side and Castel Sant'Angelo on the other, with the city lights flitting on the calm waters.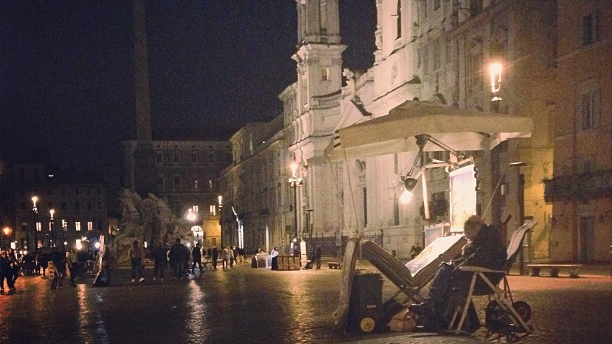 Photo by Erica Firpo
Roman nightlife is never easy to pin down. Most will be quick to tell you that Rome is all about hanging out in restaurants, bars, piazzas and neighborhoods. But others will extol the Fellini-like pleasures of late night dancing and boisterous caravans through the city. The common denominator is that no matter what you want to do in the evening, you know you will always have a scene. Rome , itself, is entertainment enough.

The key to nightlife is the weather and whether or not you want dance or listen to music. Rome's warm climate can often dictate where you want to spend the evening hours. In the wintertime, those looking for dancing flock to via Galvani in Testaccio which is known for its wide range of nightclubs (discoteche). Clubs can be themed to music or style, and are often open late into the evening. There are also live music venues all over the city , from jazz clubs to performing arts centers such as Monti's Charity Café, Villa Celimontana jazz and ballet and opera at the Baths of Caracalla, nearly 2000 year old archaeological site.

Traditionally, Rome is not an indoor city and when the city warms, its nightlife heats up too. From mid-April through mid-October everyone heads to a piazza, rooftop, riverbank or beach. Cocktail bars and rooftops such as the de Russie's Stravinskij bar, The First Hotel's terrazzo and Trastevere's Freni e Frizioni are buzzing with life. Neighborhorhoods with a piazza of any size off the best places for al fresco dinners and street life parties. Piazzas will be busy until the early hours of the morning such as Campo de' Fiori, Monti's Piazza della Madonna dei Monti, Trastevere's Piazza Santa Maria in Trastevere and Ponte Milvio. Clubs will close at the end of May, only to temporarily re-open on the banks of the Tiber as part of Lungo il Tevere, a summer evening events program, or in Fregene, a beach community about 30 minutes from the city center. There is also the city-sponsored Estate Romana program of summer time cultural and music events. Fortress-tomb-national monument Castel Sant'Angelo stays open for evening visits, which includes a walk through the Passetto del Borgo - the infamous above ground passage way that connects the fortress to the Pope's chambers at the Vatican. For those looking for something more romantic, an evening walk through any piazza (aside form Campo de' Fiori) and over any bridge will be perfect.