What is Rome Termini train station like?
Answers from Our Experts (2)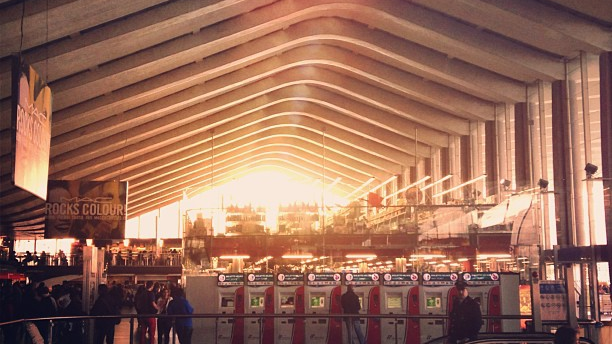 Photo by Erica Firpo
Termini Station is Rome's central station for all regional and local train traffic, and is the busiet, most trafficked train station in Italy. All throughout the day and almost all night, Termini is busy with travelers, buskers and shoppers as it is not only railway center, but the complex and surrounding piazza host shops, several car rental offices, main hub for Rome's metro lines, tram connection, non-stop airport train, regional buses, and is one of the city's largest bus depots. Essentially, from Termini you can get to anywhere in Italy which is why the Trenitalia ticket office is open from 6:30 am to 10pm. But if you can't stand the lines, there are several automatic ticket booths- remember to have small bills and change.

Thanks to the intense foot traffic and some recent renovations, Termini is easy to maneuver and a shopper's paradise. It has local and intertational chain shops for clothing, apparel and make up (like Sisley, Nike, Mango and Sephora), a non-stop, late-night grocery shop and pharmacies (open on Sundays as well), bookshops, barbershop, caffes, department stores, electronic stores and restaurants. In addition, there is an ever-changing group of pop-up shops in Termini's main hall-- summer time means bikini and ice cream pop-ups.

Keep your eye on your belongings. Termini can be chaotic with all of the traffic from arrivals and departures, along with shoppers. Don't let the chaos distract you from watching your wallets-- remember, pickpockets love the trainstation.
Termini is Rome's main train station, connecting the city with the rest of Italy and serving as a hub also for many buses, connecting point of the two metro lines and airports' and extra-urban coaches. The station's main entrances are in Via Giolitti and Piazza dei Cinquecento, where is also the departure point for several buses. The interior of the station has been recently renovated, and now it really is a glamorous state-of-the-art building.

With almost 500 thousands visitors daily and 150 million a year, Stazione Termini is the biggest and busiest train station in Italy and the second one in Europe for size and traffic, after Paris' Gare du Nord.

Apart from the ticket office of Trenitalia, Italian railroad company, open daily from 6am to 10pm, the many ticket machines and almost 30 platforms, three-storied Stazione Termini hosts also a plethora of restaurants, cafeterias, bars, pizza places, supermarkets, clothing, shoes and accessories shops, book and music shops, newsagents, cosmetics shops such as Sephora, L'Occitane en Provence and Bottega Verde, pharmacies, a post office, and even a gym, HealthCity.

From Stazione Termini you can reach every area of the city, including both airports, Fiumicino, for which there is a direct train leaving every half an hour, and Ciampino, connected through different buses.