Where are the best cocktails in Rome?
Answers from Our Experts (1)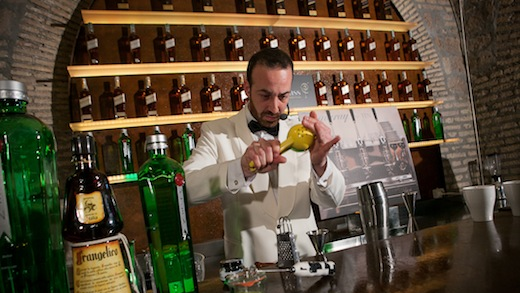 Daniele Gentile, Micca Club, Photo by Diageo
Hands down, my favorite place for a cocktail in Rome is the Hotel de Russie's Stravinskij Bar. Though higher priced than most Rome bars, the Stravinskij Bar is the gold standard for both atmosphere ~ a lovely hidden garden in the center of Rome~ and extraordinarily made cocktails. French Mojito, anyone? Across town, near Campo de' Fiori is the quieter PierLuigi restaurant. Hidden to the side, PierLuigi's has a tiny, design bar with an excellent bartender whose Manhattans make me feel like an Uptown girl. Around the corner and open only from midnight to 4 am is the Jerry Thomas Project, a speakeasy inspired by Boardwalk Empire, with cocktails to match the Jazz Age. Reservations are required.

When on the other side of town, Caffè Propaganda, a restaurant near the Colosseum, wins for the most stylish bar with lovely stemware and beautiful chandeliers. The bartenders are not afraid to make anything with flair. One friend swears by their Cosmpolitans. Micca Club in the nearby Piazza Vittorio/train station area, has boasting rights to southern Italy's best bartender. Daniele Gentili won this January's Diageo Reserve World Class bartending semi-final and will be hopefully representing Italy for the July 2013 World Championship. His signature drink? Frankie loves Rome- a cappuccino-inspired cocktail of Tanqueray No. 10, meringue, lime and Frangelico.

Some of Rome's best cocktails are old school where bartenders make their own bitters and finesse historic drinks like the Martinez. Hosting the center ring for cocktails lately is Barnum Cafe, near Campo de' Fiori. A slightly more casul setting, Barnum serves up delicious cocktails. Its bartenders have also just opened The Gin Corner at the Hotel Adriano near Piazza Farnese. The specialty? Gin of course.

Look out for Misceliamo, a new entry to Rome's cocktail scene and located at the First Art Hotel by Piazza del Popolo. Misceliamo is all about mixology, and intends on making the best cocktails in Rome. The all-white lounge bar has a slightly Clockwork Orange vibe, but I have my eye on summers at the rooftop terrace.