Where is the best architecture in Rome?
Answers from Our Experts (2)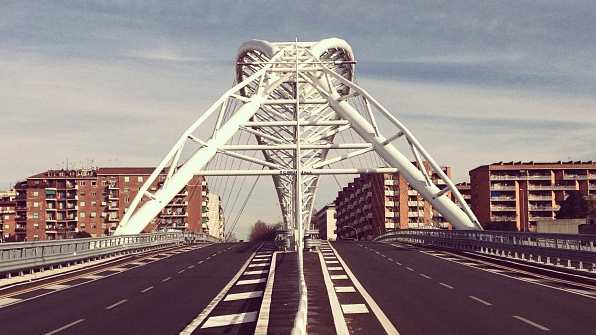 Photo by Erica Firpo
Rome is a palimpsest of amazing architecture. Its seems that every piazza, alley and corner has something beautiful and architecturally mind-blowing while at the same time utterly different from the next, so it would be impossible to list the very best. However, I've come up with a chronological list of what I like this month:

1. Repubblican: Temples of Hercules, the charming round temple by the Tiber river is the earliest extant temple made of marble
2. Imperial: Pantheon, the dome is truly awesome, by very definition.
3. Late Antiqute: Arch of Constantine, slightly pompous and very monumental
4. Early Christian: San Stefano Rotondo, the hard-to-find church is beautiful in its roundnes, yet slightly horrific with its frescos of suffering martyrs
5. Medieval: Torre delle Milizie, 50 meters high, this tower is the tallest still standing in Roe
6. Renaissance: Palazzo Farnese, a beautiful example of Renaissance architecture
7. Baroque: Palazzo Barberini, though the art collection is heavenly, it's Borromini-designed eliptical stairwell is divine
8. Risorgimento: Altare della Patria, often known as the Wedding Cake or Typewriter, this mega-monument has a lot going on, but take a closer look, each detail is beautiful
9. Liberty: The Coppedè buildings in Rome's north-eastern area are enchanting and architectural homages to fairy tales
8. Fascism: EUR, lovely and austere lines of the Fascist architecture make this neighborhood perfect for photos, movie settings and even a Di Chirico painting
9. Modern: Villagio Olimpico and Palazzetto dello Sport, built for the 1960 Rome Olympics,
10. 21st Century has already seen a lot of new architecture (from big names) in Rome like Renzo Piano's Auditorium, Zaha Hadid's Maxxi, Richard Meier's Ara Pacis and Massimiliano Fuksas's Nuvola but lately I am captivated by Rome's newest bridge, Ponte Settimia Spizzichino in the Ostiense neighborhood.
Photo by Angela Corrias
Being Rome such an ancient and big city, it goes without saying that it boasts several architectural styles. Century after century, the layers of different cultures, traditions and art styles have built up a diverse city where every neighborhood has its own personality, yet maintaining the eclectic style that defines Rome's beauty.

Exploring the city's different architectural designs is a way to delve into its history, from its inception up to now. So you have the architecture belonging to the imperial age, ranging from public spaces such as fora and arenas, leisure time places such as amphitheaters like the Colosseum, baths and ancient spas, and private houses, such as the "domus", among which the Domus Aurea, former Nero's residence, is the most exceptional example.

Even though there is the belief that Rome kept next to nothing from medieval age, a stroll around many of its neighborhoods downtown, such as Trastevere or Campo de' Fiori, will reveal much of this period. While most of the medieval architecture certainly dates back to the Vatican rule and mainly comprises of churches and basilicas (Santa Maria Maggiore and Santa Maria in Trastevere are beautiful examples), it's also possible to see private residences, piazzas and monuments from the Middle Ages, such as Palazzo dei Cesarini in Salita dei Borgia (Rione Monti), Piazza di Santa Cecilia in Trastevere and Arco degli Acetari near Campo de' Fiori.

Getting to a more modern period, near Piazza Fiume is Quartiere Coppedè, an outlandish experiment of the Liberty style expressing the Art Nouveau of the Belle Époque bourgeoisie. This style, however, has also less extravagant examples in the Parliament building, Galleria Colonna, today named Galleria Sordi, in Via del Corso, and Palazzina Calzone, designed by architect Vittorio Mascanzoni in proper Paris style.

In a more modern style, Eur area is a complex of buildings dating back to the Fascist period, commissioned by Mussolini to celebrate the twentieth anniversary of the March on Rome in 1922. Started in 1935, the launch mega event should have taken place in 1941-42. According to the fascist ideology, the architectural style reproduces in a modern way the classical elements of Imperial age.