What are the best activities to do in Salt Lake City?
Answers from Our Experts (2)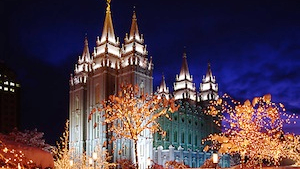 Salt Lake City CVB
The largest attraction in Utah is Temple Square, home to the World Headquarters of the Church of Jesus Christ Of Latter Day Saints. There are many activites to do at Temple Square, in addition to admiring the Great Mormon Temple. The Tabernacle, right next to the Temple, is where the Mormon Tabernacle Choir sings on Sunday, and rehearses on Thursday nights at 8pm. The public is welcome. The Church History Museum has an interactive exhibit for children, and tours can be taken of the historic Beehive House, home to one of the famous 19th century Church leaders, Brigham Young. The Family History Library is also a fascinating place, where you can actually discover more of your personal family history, through the voluminous collections of birth and death records. In the spring and summer, you can walk around the gardens that surround the 35 acres of Temple Square. There are 250 flowerbeds, with more than 700 varieties of plants that have collected from all over the world. If you visit around Christmas, the light and nativity displays are dazzling.

Tracy Aviary and Liberty Park
This is a place where you can be educated about birds, though it is occasionally a bit noisy with birdcalls. With eight acres of aviary home to 135 species of birds, peacocks walk through the public areas, as if they owned the place. Oh, wait — they do! Liberty Park is where Tracy Aviary is located, and many activities are available in its 80 acres. The children can enjoy the water features, or play in one of the parks. There are some live shows that include some of the birds, and also a lake with paddleboat rentals.

The Hogle Zoo
More than 800 animals live at the Hogle Zoo, on 42 acres, at the mouth of Emigration Canyon. Some great exhibits are the Elephant Encounter, featuring a family of elephants and Asian Highlands, home to leopards, tigers and other large cats. There is a carousel ride and interactive animal shows for children, also.

Mill Creek Canyon

For those who like to hike, there are trails at Mill Creek that suit professionals, beginners and families of hikers. The Pipeline Trails is an easy hike, about six miles, and has great views. In winter, there is exceptional skiing and snowshoeing. There is also Grandeur Peak, that rises to 8,299 feet, and at the end, has a panoramic view of the Salt Lake Valley. Mill Creek Canyon is dog friendly: even numbered days dogs can be on leash, odd numbered days, dogs can be off-leash on trails only. There are 10 major picnic areas, and a mountain Yurt. In winter, The Yurt can be rented, and proves a primitive winter camping experience for between four and eight people.


Ray Mathis
With Salt Lake City's proximity to the mountains, many of the area's activities revolve around the outdoors. In fact, there are 21 national parks and monuments with a few hours' drive of Salt Lake, which makes it easy to see some of the Rocky Mountains' most stunning geological landmarks in one day.

Adrenaline-fueled activities can be found in the Wasatch Mountains, just 25 miles from downtown. Drive up the winding Little Cottonwood Canyon Road to Snowbird Resort, which offers year-round activities in the mountains. Rent skis or snowboards in the winter to carve through Utah's notorious "Greatest Snow on Earth"; zip down the alpine slides in the summer or ride the Tram to 11,000 feet for a 360-degree view; imbibe in local beers during Oktoberfest in September and October; or simply indulge your muscles with a treatment at the Cliff Spa.

For less adventurous visitors, The Leonardo tickles your senses with its interactive exhibits of art, science and technology. Yes, it's great for families and children, but its creative workshops, classes and displays are equally as fun for adults who are curious about innovation and creation.