What are the best bars in Salt Lake City?
Answers from Our Experts (2)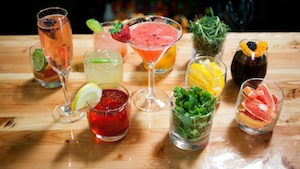 Zest Organic Cocktails from Zest Kitchen & Bar
The Zest Kitchen And Bar
This spot is one of the newer eateries in downtown Salt Lake City. It is an interesting combination of organic, locally and regionally sourced lunches and dinners, and has a farm to table mission/vision. It also has one of the largest selections of organic wines in Utah, and has unusual, great tasting cocktails. Here are a few below — tried and tested!
The Jalapeño Margarita is made with cucumber with jalapeño, Patron, Patron Citronage and Agave.
Prosecco is served with with fruit and rosemary.
The Nutty X is a mix of almond milk, vanilla vodka, frangelico and coffee liqueur.
The Speakeasy at the Avenues Bistro On Third
The Speakeasy is in the basement of Avenues Bistro on 3rd Avenue in Salt Lake. It is an intimate, slightly gritty, small place that was originally constructed in 1905, and the story goes, used to really be a speakeasy. Drinks are excellent, the The Blues Jam on Monday Night is fun…and the Bee Hive Martini is fabulous. It doesn't have a website, but it does have a Facebook page.
The Red Door
This is a non-smoking lounge that serves wine, aperitifs, whiskies, and martinis (which are categorized as 'medium' and 'high octane' on the menu). The experience was unique and fun, as were the martinis. Here are some samples: under the 'high octane' nomenclature, there is the Pomegranate Martini, the Carmel Apple Martini, the Antifreeze Martini (!); under 'medium octane', there is the Carrot Cake Martini, the Death By Chocolate Martini and the one-of-a-kind Butterscotch Sundae Martini. There are many, many more flavors and colors.
The Red Door
Utah may have a reputation for being a dry state, but some of Salt Lake City's best bars are out to prove just how untrue that rumor is.

The Bar X is a modern twist on the speakeasy vibe of Prohibition-era libations. In fact, Bar X opened its doors the same year the law was repealed in 1933. As a tribute to its past, this ambient bar is big on fresh ingredients and handmade cocktails. The concoctions may take a while to create, especially on weekend nights, but they're well worth the wait when you take a sip of some of their classic drinks that pop with flavor, like a Sazerac, a Dark and Stormy or a Blood and Sand.

Beerhive Pub is one of Salt Lake City's newer bars, but its popularity precedes itself thanks to its sister bar, The Bayou, which is known for more than 300 bottles of obscure beers and a savory menu of Cajun-inspired vittles. Tall ceilings and cozy booths welcome you to relax with one of the 200+ beers served at Beerhive, and an ice bar at the counter will keep your brew chilled to perfection.

It's hard to find a good martini in Utah, but The Red Door masters the art of cocktail craftsmanship. This intimate, upscale lounge in the downtown area is as smooth and mellow as its approachable martini menu and list of craft whiskies, bourbons, aperitifs and wines. To help induce the martini mood, The Red Door brings in live jazz music every Saturday night.

Dueling pianos take center stage at the Tavernacle Social Club, an ode to Salt Lake's famous Mormon Tabernacle Choir. From duets to karaoke and plenty of improvised lyrics in between, come prepared to sing along with the pianists and your fellow patrons to tunes from the likes of Lady Gaga or Rolling Stones. While the drink menu is nothing fancy, the all-request piano format brings out plenty of laughter and entertainment.