What are the best restaurants in Salt Lake City?
Answers from Our Experts (2)
The Roof Restaurant - This spot is located at 15 Temple Square on the 10th floor of the Joseph Smith Memorial Building, what used to be the old Hotel Utah. It is a buffet restaurant — we have been there many times. The food is exceptionally good, and the dessert table is, well, unbelievable. Actually it's one of the largest and most complete we have ever seen anywhere. The view is also amazing, in that it is right across the street from the Temple, the view of the Temple spires is breathtaking. The only thing that might be an issue to some is they do not serve wine, liquor of any kind or coffee. $40.00 prix fixe adults, $18.00 for youth 7-11, $9.00 for children.

Red Iguana and Red Iguana 2 - Both Red Iguanas are in mid-town, and both have sensational Mexican food. Their specialty is Mole, a handmade sauce that can be used in rice and with tortillas, or on chicken or pork. There's Mole Verde, Coloradito, Negro (with Mexican dark Chocolate) Red Pipian (pumpkin seed sauce) and Mole De Almendras (almonds, two types of chiles, yellow zucchini). You can have a smaller sample plate of all of them with a plate of warm tortillas.

Plum Alley - The Southeast Asian fusion cuisine has been sourced from local and regional farms that grow vegetables, fruit and meats. The owners and Executive Chef of another excellent SLC restaurant called The Copper Onion, opened Plum Alley recently — and communal dining is what happens here. Some like this, some don't. We did! The food is exceptional: kimchi stew, house steamed buns, Plum Alley ramen and green curry, can make the most diffident person very friendly indeed.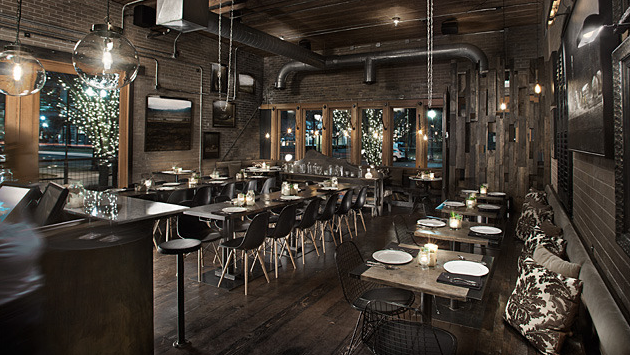 Courtesy of Pallet/Eric Russell Photography
1. Pallet
As a relatively new restaurant, Pallet has brought an ambient buzz that compliments Salt Lake City's downtown revitalization. The restaurant's heritage (as an early 20th century loading dock) is woven throughout the modern industrial décor, illuminating the setting for the real star: its food. Like many restaurants, the menu at Pallet is inspired by global victuals and travels, but Executive Chef Zachary Willey pulls from the local food purveyor scene and juxtaposes simple yet multi-layered flavors, like its Sweet Gnocchi Pillows or Apples & Bacon, that entice the taste buds.

2. The Copper Onion
Small plate dining meets contemporary comfort food at The Copper Onion for a crowd-pleasing favorite in Salt Lake City. Modest entrée portions might not satisfy the pangs of a hungry diner, but the savory bites are sized just right for sampling your way through a shareable feast. Artisan vittles like marbled Creminelli salamis and creamy Snowy Mountain feta are made locally and perk up a charcuterie platter. Casual fare (think golden steak fries or tender Brussels sprouts) are cleverly designed as posh side dishes that are best accompanied by one of Copper Onion's meaty entrees.

3. Takashi
When you're 800+ miles from the nearest ocean, it's hard to believe that a landlocked state can tempt you with coastal-fresh sushi. But Takashi's popular vote speaks highly of its reputation that rivals sushi hubs like Seattle or San Fran (so plan accordingly on weekends). Sip on premium sakes, Japanese ales and artful cocktails while your chopsticks cut into delicate sashimi slices of buttery, ocean-to-table fish. Creative rolls and fusion tapas are garnished with aesthetic touches from the hands of its mastermind sushi chefs, including owner Takashi Gobi. Takashi's ambiance is as vibrant as the food, so you might just find yourself lingering here a little longer over dinner than you planned.