What is the best shopping in Salt Lake City?
Answers from Our Experts (3)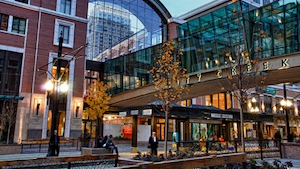 City Creek Center/Taubman Associates
City Creek Center in downtown Salt Lake City, opened on March 22, 2012. The $1.5-2B City Creek Project is one largest mixed-use developments in the U.S. City Creek is a sustainably designed, walkable, urban community of residences, offices, and retail stores on 20 acres of land spread across three blocks in downtown Salt Lake City. City Creek Center has been Silver LEED Certified. City Creek Center is south of Temple Square, and features more than 90 stores and restaurants, one third are new to Salt Lake. Porsche Design, Tiffany, Michael Kors, Anthropologie, and Brooks Brothers are just a few. City Creek has a fully retractable skylight roof, a skybridge over Main Street connecting the east and west sides of the Center. There are six acres of green space, two 18 foot waterfalls, the 1,200-foot namesake creek, three electronically controlled fountains, and a 5,000-space underground parking structure. Shops and restaurants are closed on Sundays, with the exception of the Cheesecake Factory and Texas de Brazil restaurants.

The Gateway is another excellent shopping center, with 125 retail shops and 23 restaurants. It also has the Clark Planetarium, a 12-screen multiplex theater, and the Discovery Gateway Children's Museum. The East entrance to the Gateway is the historic Union Pacific Depot, built in 1908-1909. It still has high arched ceilings and a Grand Hall. The Depot opens out to the Gateway, which features The Olympic Plaza and Olympic Fountain, commemorating the Salt Lake 2002 Olympic Winter Games. The fountain has water jets that shoot different size streams, often choreographed to music. Children love this in the summer.

Here are some excellent specialty stores, not in shopping centers or malls:

The Chalk Garden Co-Op
Right up the street from City Creek, still on the Main Street block is The Chalk Garden Co-Op. This store sells unusual one of a kind antique and designer jewelry, art prints, clothing, and shoes — it is a 5,600-square-foot store that was formerly a bank. It has 16-foot ceilings, marble floors and dressing rooms that were once bank safes.

TP Gallery

The T.P. Gallery first opened in 1974, and carries only authentic Native American items. Most of the items in the gallery are from local Utah artists, and other Native American artists from neighboring states. The Gallery carries turquoise jewelry, sand paintings, baskets, rugs, beadwork. It is located at 252 S. Main, Salt Lake City. Call 801-364-2961 for more info.

The Old Flamingo
This shop is an actual artist collective, with 17 local artists showing their specialized work in furniture and home accessories. Each piece of furniture is a work of art in itself, and if there is a piece of furniture at home that you just can't get rid of, you can commission one of these artists to transform or refurbish it. 




Roundy Boots

Don Roundy has been crafting handmade leather boots, dress shoes, and sandals for over 30 years. He custom builds the boots to your feet. He also makes saddles. No matter how your foot is shaped, Roundy can make a comfortable, colorful (or not) pair of boots that will last a very, very, long time.
Without a doubt, the best shopping in Salt Lake can be found at the new $2 billion City Creek Center, which just opened last year in the heart of downtown. Each of its two long wings has a high, atrium-style retractable glass roof, and with so many sunny days, the mall is usually open, for a dog friendly, park-like experience, including a trout filled stream through its length. Anchor stores include Nordstrom's and Macy's, it's home to the city's Apple store, high-end offerings run the gamut from Tiffany & Co to Porsche Design to Tumi, and there is an emphasis on local, both in restaurants and shops like the country's first Salomon concept store –the respected outdoor gear and clothing manufacturer has its North American headquarters in nearby Ogden, UT. The one other notable shopping experience here is the factory outlet store of the popular Sundance mail order catalog, which is located in the suburbs just outside the city center.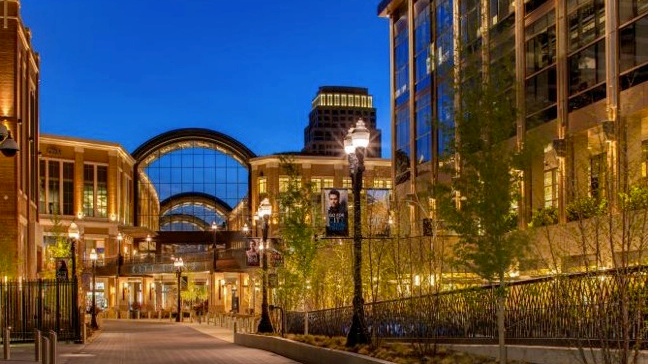 City Creek Center
Small businesses are thriving in Salt Lake City and make for exciting shopping trips when you're on the hunt for something fun and different. Quirky neighborhoods are becoming a shopping destination for unexpected delights and treasures, but even the larger shopping centers are setting a trend with boutique stores and retailers.

1. City Creek
Making its debut in Spring 2012, the City Creek shopping district is part of a multi-million dollar renovation to the downtown area. Independent and specialized boutique shops and restaurants make up the majority of this outdoor mall, which features a retractable roof that is employed on particularly stormy days.

2. The Gateway
Once home to the Union Pacific Railroad Depot, The Gateway has transformed into an outdoor shopping center with urban flair and more than 100 shops and restaurants. The open-air mall is refreshing on a hot summer day, especially with its dancing water fountain, a tribute to the 2002 Winter Olympics in Salt Lake City, which is particularly fun for children. You'll find many recognizable shops at The Gateway, from Urban Outfitters to Sur La Table, while the Clark Planetarium and IMAX theatre, Discovery Gateway children's museum and The Depot concert venue offer alternative indoor activities.

3. 9th and 9th Neighborhood
The 9th and 9th neighborhood is a quaint residential and shopping district that boasts a number of independent, locally-owned stores and restaurants. Sidewalks are lined with brick bungalows and Victorian homes, but the proximity to the University of Utah fills the neighborhood with a youthful ambiance. Stop at Hip and Humble for vintage treasures and home décor and nibble on local provisions at the farm-to-table restaurant, Pago. If you're visiting in September, be sure to stroll the neighborhood's free annual street fair for local entertainment, food and activities.

4. Trolley Square
Originally built to house Salt Lake City's streetcars, Trolley Square has since been converted to a mall of high-end shops like Williams-Sonoma, Whole Foods, Black Chandelier and many smaller, local boutiques.

5. Broadway District
If you have a soft spot for second-hand or antique shopping, be sure to visit the Broadway District in Salt Lake, located along 300 South. You'll be sure to find lots of vintage and retro goodies along this strip of eclectic shops, as well as a few indie-owned stores that feature handmade art, accessories and clothing.