What's San Diego's dining scene like?
Answers from Our Experts (1)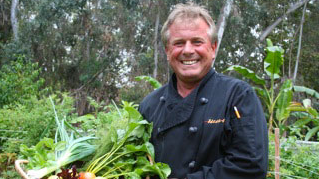 Photo courtesy of West Steak and Seafood
San Diego is blessed with prime weather for growing fruits, vegetables and herbs. These temperate conditions are also ideal for raising livestock. As a result, the area is home to a vast array of farms, fields and other agricultural enterprises. With this bounty so readily available, San Diegans have come to expect their favorite restaurants to source their ingredients as close to home as possible. Most do so by visiting the myriad of local Farmers Markets or by forming close working relationships with organic suppliers such as Suzie's Farm.

Some Chefs take it a step further, however, and plant their very own garden of eatin'. Executive Chef Eugenio Martignago of Bistro West and West Steak and Seafood in Carlsbad is a prime example. Located just a few miles from the restaurants, The West Produce Farm is Chef Eugenio's culinary pride and joy. He often begins and ends his day at the farm where he tends and observes the organic crops that inspire his seasonal menu creations. Artichokes, broccoli and bok choy are among his fall plantings while spring sews crops such as snow peas, beets and pumpkin.

Gourmet field greens such as escarole, endive and arugula are other gems of the field along with rows of delectable herbs such as rosemary, tarragon and lemon verbena. Chef Eugenio recently added fruit trees, berries and fruiting vines to his plot. His harvest finds its way from to farm to fork quickly to create the fresh locally sourced menu items San Diegans have come to expect. West's clever mixologists are getting in on the trend, too. Watch their cocktail menus for new stem-to-stem aperitifs made with just-picked fruit for farmstead freshness with a kick.