Where is the best shopping in San Diego?
Answers from Our Experts (2)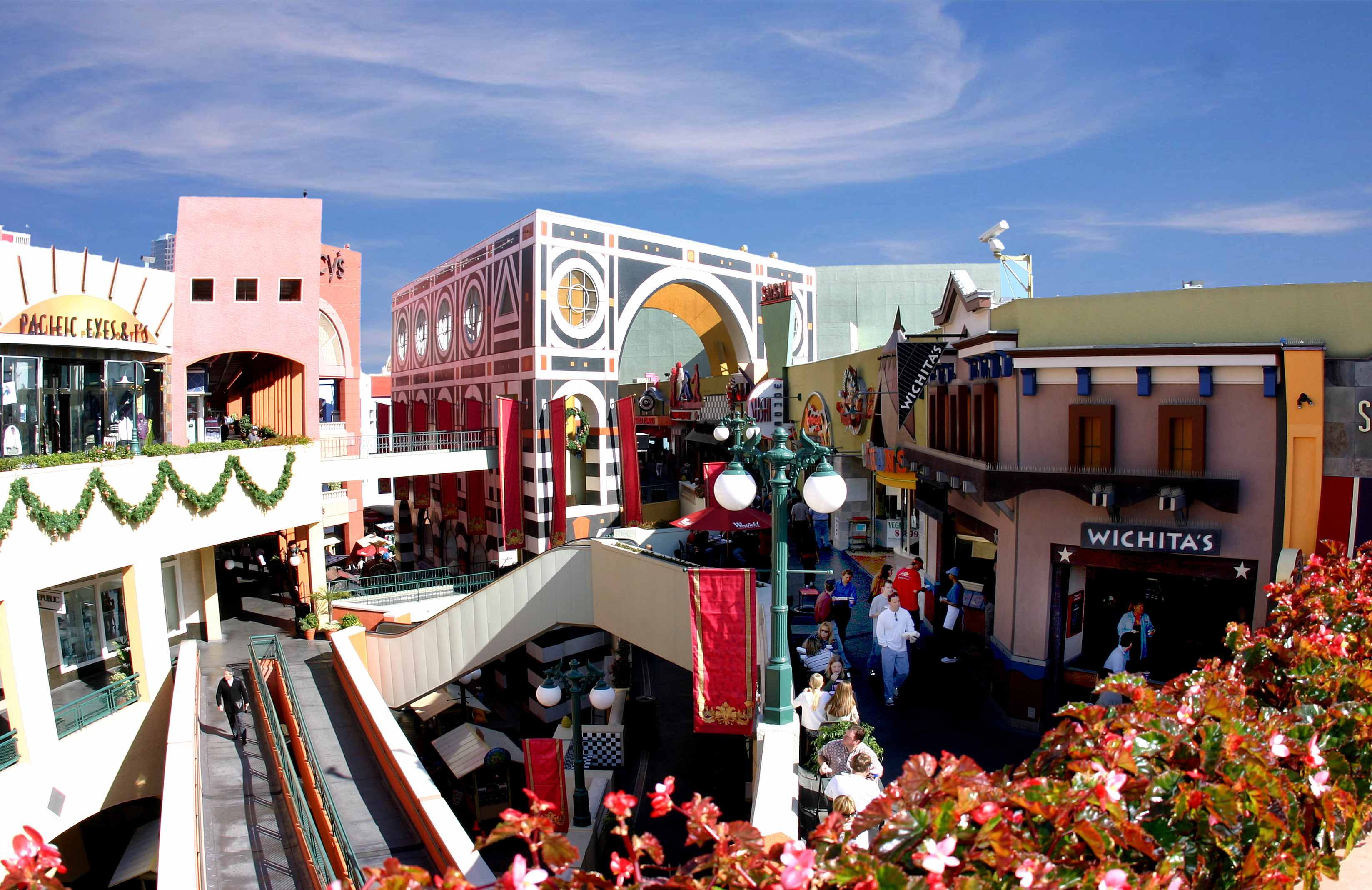 Photo by Joanne DiBona, courtesy of SanDiego.org
If you want to do some serious shopping in San Diego, you'll have to hit a mall. Alfresco malls are as common here as sun-bleached hair and tan bodies. Two of the city's most popular malls, Westfield Mission Valley Shopping Center and Fashion Valley, sit only two miles away from each other in Mission Valley. The Mission Valley mall is home to more than 130 stores, including staples like Macy's and Nordstrom Rack. About 200 shops are found in the more upscale Fashion Valley. Go there to peruse designer brands like Tiffany & Co., Louis Vuitton, Tory Burch and Henri Bendel.

Downtown, you'll find Westfield Horton Plaza, with an almost Alice in Wonderland-type maze layout that will leave you lost and stores that sport brightly colored facades. While you try to figure your way out of the rabbit hole, shop in Bebe and Gap. Stay downtown to visit favorite stores in the Gaslamp Quarter like Puma; Goga by Gordana, from Project Runway season-six contestant Gordana Gehlhausen; and G-Star, the denim emporium.

Travel 13 miles north of downtown San Diego to La Jolla for some more shopping. La Jolla's main mall, University Towne Centre, is full of 120 stores, including Tumi, Lucky Brand Jeans and Restoration Hardware. If you prefer less cookie-cutter shopping spots, duck into downtown La Jolla. It's lined with jewelry shops like Skova Soul, which sells world-travel-inspired baubles, and independent boutiques like Mimi & Red, which offers stylish women's clothing.

Outlet shoppers can bring their credit cards to Carlsbad Premium Outlets, which is about 30 miles north of downtown San Diego, where you can score discounts on items from Barneys New York, Lacoste and Calvin Klein. After you outfit yourself with a new wardrobe, all you have to do is work on that sun-bleached hair and tan.
For the latest collections from the hottest designers seize your savviest shopping pals and head to Fashion Valley Mall. Located in San Diego's sun-soaked Mission Valley, this upscale shoppers' mecca spans 1.7 million square feet and offers more than 200 stores to choose from. Take advantage of valet parking then stroll the breezeways in search of haute couture from famous names like Burberry of London and Hermès of Paris. Don't forget to grab a bag from Coach and a haute pair of Jimmy Choo shoes while your there.

Have the whole family with you? Gap Kids and Gymboree has your wee ones covered. Meanwhile hip brands like H&M and Holister keep tweens and teens happy. When you're bags are overflowing settle down at California Pizza Kitchen for a respite and some So Cal-style pie. Afterwards you can head to The Cheesecake Factory for a slice of something sweet. Fashion Valley Mall is located at 7007 Friars Rd, San Diego, CA 92108. Hours are Monday to Saturday: 10am - 9pm Sunday: 11am - 7pm.

*****

Thanks to a glamorous head-to-toe makeover, the once slightly shabby Westfield UTC in La Jolla is now over-the-top chic. The breezy, open-air mall is also brimming with cool features like luxurious lounge areas scattered throughout the property. Some include cozy chairs clustered around fire pits while others feature plush sofas set under shady cabanas. Perhaps the hippest, however, are the nest-like daybed pods that offer a semi-private place in which to perch.

Anchored by Macy's and Nordstrom, the mall boasts a wide array of stores that range from high-end merchants like Rolex, Coach and Tiffany & Co. to fun and affordable retailers such as Charlotte Ruse and Forever 21. Specialty stores like Sun Diego Boardshops and Brighton Collectibles are also in the mix, as is Williams Sonoma, and Chuao Chocolatiers where you can sample artisan chocolate bars laced with surprising ingredients like maple bacon.

For luch stop by Tender Greens and savor a gourmet salad made with locally sourced ingredients, or grab a fro yo from Yogen Früz then head to the sunny Palm Plaza for a live music performance (12pm – 2pm Wed – Sun). Other onsite entertainment and activities options include ArcLite Cinemas, the UTC Ice skating rink and a 24 Hour Fitness Super-Sport Club.


Westfield UTC
4545 La Jolla Village Drive,
San Diego, CA 92122-1212

Center Hours:
Monday – Saturday 10am – 9pm
Sunday 11am – 7pm

*****

For serene shopping in a seaside-setting visit Del Mar Plaza in the village of Del Mar. The al fresco marketplace has plenty of gems to uncover. Peruse the inspiring art photography at Michael Seewald Gallery or shop for canvases brushed with ocean-inspired shades of acrylic at the Erik Scholdberg Gallery.

Discover fine additions for your wardrobe at classic clothiers such as Chico's and Banana Republic, or search for edgier styles like a leather Muubaa biker jacket, or a trendy jumper by LA designer Eva Franco at Peaches en Regalia.

Take a break from browsing with a meal at one of the Plaza's many ocean-view dining venues. For dim sum and then some choose Del Mar Rendezvous. Enjoy modern Chinese cuisine such as crispy duck wraps or walnut shrimp complemented by sake or a glass of wine.

Del Mar Plaza is located at 1555 Camino Del Mar and is open Monday through Saturday from 10am to 9pm, and Sundays from 11am until 6pm.

*****

For a truly unique shopping experience head just a few miles northwest of downtown San Diego to the Ocean Beach Antique District. Located on Newport Avenue, the district spans two pedestrian-friendly blocks and was named "best antique shopping" by San Diego Magazine. The assortment of malls and shops offers an exciting mecca for treasure hunters and collectors alike. It is also a coveted source of vintage décor and unique furnishing for local high-end interior designers.

Visit Vignettes and be transported to Paris of yesteryear. Shop for French sofas and settees clad in faded satin or curvy serpentine dressers awash in peeling pastel paint. Among the shabby chic finds you'll discover glitzy gilt mirrors and glamorous chandeliers draped with glittering crystals. More than 24 dealers of European antiquities contribute to Vignette's alluring collection. The inventory is ever changing and is always beautifully staged.

For classic collectables such as old-timey toys, retro estate jewelry and vintage dishes look no further than the Ocean Beach Antique Mall. This is the oldest antique mall in Ocean Beach and is home to an almost overwhelming stock of unique nostalgia. Peruse the assortment and come away with intricate silverware, one-of-a-kind oil paintings, and whimsical hats adorned with rhinestones and feathers. Plan to spend a good chunk of time here, as there is plenty to see.

The district has plenty of parking and is open seven days a week. Plan to spend an entire day exploring this unique bevvy of boutiques, shops and malls. Nearby cafes and coffee shops will keep you fueled for the adventure.

*****

Shoppers in search of high fashion at low prices will be thrilled to discover San Diego's treasure trove of outlet malls. Top-end designers and leading brand-name stores can be found conveniently clustered together in San Diego's South Bay and Coastal North County. Fashionistas who shop these stylish centers are rewarded with haute couture at discounts between 25 - 65%.

An excursion to the Carlsbad Premium Outlets in Coastal North County is well worth the drive. The outlet mall, located in the serene seaside town of Carlsbad, offers a lovely al fresco shopping experience complete with lush landscaping, beautiful storefronts and occasional live music. Enjoy the ocean air as you stroll the breezeways seeking steals from designers such as Salvatore Ferragamo, Michael Kors and Elie Tahari.

Las Americas Premium Outlets in San Diego's South Bay is another gorgeous outdoor outlet mall. Savor budget-savvy shopping sprees surrounded by elegant architecture, statuesque sculptures and beautiful courtyards dotted by bubbling fountains. Visitors will delight in the vast array of discounted fashion from top-end brands such as Banana Republic, BCBG Max Azria and Nautica.

*****

The seaside resort town of La Jolla is arguably one of the best and most pleasant places to shop in San Diego. Often compared to Rodeo Drive, the La Jolla Cove neighborhood is an affluent area that is home to several hip shops and high-end boutiques. Stroll the stylish sidewalks and discover cutting-edge jewelry, one of a kind outfits and lavish labels from designers like Armani and Ralph Lauren. When you tire of hunting for haute fashion cool your well-heeled feet at one of La Jolla's open-air cafés.