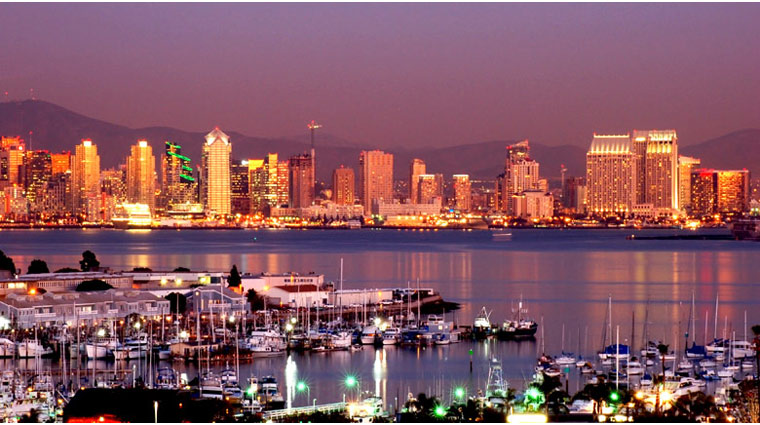 With a year-round average daily temperature of 70.5 F, there really is no bad time to visit San Diego — it boasts the best weather in the country, making it a vacationer's paradise. With day after day of continuous sunshine, locals often joke about San Diego meteorologists having the most boring job in the world, as the weather is either perfect or nearly perfect. Though you may want to avoid what locals call "May gray" and "June gloom," when the skies are more overcast than the city's other sun-drenched 10 months of the year. If you want a beach vacation, the water is at its warmest from June through early September; the rest of the time, you'll likely need a wetsuit if you want to surf or do stand-up paddleboarding. You'll notice cool temperatures in late spring and early summer in America's Finest City, but if you're coming from a humid climate, a trip to San Diego during this time might be just what you were dreaming of.
On June 25, 2013

Julia Weiler answered the question:

What is the weather like right now in San Diego?

It's hard to beat San Diego's beautiful weather, especially during the long, luminous days of summer. Solstice ushers in plenty of sizzling sunshine and chases away the last traces of coastal fog known to locals as "May grey" and "June gloom." This along with warmer temperatures – both on land and in the sea – makes summer the perfect time of year to hit the beach. Turf temperatures reach the mid 70's in July then climb to 80 or so in August and early September. Meanwhile, the surf warms up to the mid 70's.

Although I surf year-round, summer is my favorite time to hit the breaks. I trade out my full wetsuit, gloves, and booties for a simple lightweight spring suit, and I can stay in the water all day without catching a chill (even if I'm not catching tons of waves). For those who want to learn how to ride the rollers, this is the season to do so. Lifeguards are on duty, surf camps are in full swing, and the board shops are stocked with sticks you can rent by the day or the week.

The beaches attract thousands of visitors in July and August, so whether you plan to play in the waves or just relax on the sand, be sure to get to your strand early. Prime spots fill up quickly, and if you want to snag a picnic area, hitch your volleyball net, or score a spot around a fire pit then plan to arrive in the morning while everyone else is still at breakfast. Don't forget to bring some portable shade and plenty of sunblock. Summer is San Diego's sunniest season so you'll be catching plenty of golden rays.

On June 25, 2013

Julia Weiler answered the question:

Are there any walking food tours in San Diego?

If you're looking to sample some delicious diversity in San Diego then dust off your stretchy pants and get ready to stroll the streets for sustenance with Dishcrawl. The fun and flavorful foodie forray explores a new neighborhood with each new tasting tour. No two are ever alike, and organizers throw in an element of surprise by keeping the restaurants a secret from participants. 48 hours prior to the event, the name and location of the first restaurant is revealed via email while the other venues remain a mystery.

On the appointed evening Dishcrawl guests gather at the initial meet and eat location for their first taste of the night. They then follow their Dishcrawl ambassador on a guided gastronomic adventure similar to a progressive dinner. During the tour participants get to sip, sample, and savor local food specialties and enjoy the opportunity to mingle with San Diego chefs, restaurateurs, regional food producers, and fellow food enthusiasts. Dishcrawl is a great way to explore a nieghborhood's eateries, just be sure to come hungry. Elastic waistbands and comfy shoes plus.

For tickets and further information about upcoming Dishcrawl tours, check out: www.dishcrawl.com/sandiego

On June 25, 2013

Julia Weiler answered the question:

Where can I go for a unique Sunday brunch experience?

When I'm looking for a healthier alternative to the standard champagne brunch, I head to Veladora at the Forbes Travel Guide Four Star-rated Rancho Valencia Resort and Spa. The lavish resort is located in the pastoral Rancho Santa Fe community, and is nestled on 45 lush acres dotted by verdant foliage, blooming shrubs, citrus trees, and olive groves. The drive out there puts me in a mellow mood, and by the time I arrive I feel as serene as the setting itself.

The relaxed yet elegant ambiance at Veladora reminds me of a modern hacienda. Plush banquettes (complete with fluffy throw pillows), soaring open-beamed ceilings, a flickering fireplace, and huge windows overlooking the bucolic landscape perfects the scene. As for the cuisine, Executive Chef Eric Bauer incorporates much of what I see in the gardens around me into his menu. He uses locally grown, freshly picked ingredients including herbs, olive oil, and honey sourced directly onsite at Rancho Valencia.

Inspired by the setting, I'll often begin my meal with sense-based slow juices such as Wellness Journey. This slightly sweet juice is a refreshing combination of apples, kale, and celery that makes me feel as good as it tastes. I love to pair this with the Acai Breakfast Bowl, which includes bananas, house-made granola and nutrient-rich bee pollen. For my main I choose the Mediterranean Spinach & Roasted Chicken Salad intertwined with herbed couscous, kalamata olives, pickled onion, cucumber and marinated feta.

My husband enjoys heartier meals such as the San Danielle Prosciutto & Egg Breakfast Flat Bread made with truffle chive cream cheese, shaved asparagus, and eggs served sunny side up. For a sweet finish he selects the pillowy Belgian Beer Waffle complemented by farm-fresh berries, creamy apple butter, and a light dusting of powdered sugar. He likes to pair this with a Valencia Protein Smoothie that combines chocolate, bananas, and peanut butter with a protein boost for a rich and creamy shake that keeps him fueled up and feeling great for the rest of the day.

Veladora is located within Rancho Valencia Resort & Spa at:
5921 Valencia Cir
Rancho Santa Fe, CA 92067
Ph: (858) 756-1123

On June 25, 2013

Julia Weiler answered the question:

Where is the best shopping in San Diego?

Thanks to a glamorous head-to-toe makeover, the once slightly shabby Westfield UTC in La Jolla is now over-the-top chic. The breezy, open-air mall is also brimming with cool features like luxurious lounge areas scattered throughout the property. Some include cozy chairs clustered around fire pits while others feature plush sofas set under shady cabanas. Perhaps the hippest, however, are the nest-like daybed pods that offer a semi-private place in which to perch.

Anchored by Macy's and Nordstrom, the mall boasts a wide array of stores that range from high-end merchants like Rolex, Coach and Tiffany & Co. to fun and affordable retailers such as Charlotte Ruse and Forever 21. Specialty stores like Sun Diego Boardshops and Brighton Collectibles are also in the mix, as is Williams Sonoma, and Chuao Chocolatiers where you can sample artisan chocolate bars laced with surprising ingredients like maple bacon.

For luch stop by Tender Greens and savor a gourmet salad made with locally sourced ingredients, or grab a fro yo from Yogen Früz then head to the sunny Palm Plaza for a live music performance (12pm – 2pm Wed – Sun). Other onsite entertainment and activities options include ArcLite Cinemas, the UTC Ice skating rink and a 24 Hour Fitness Super-Sport Club.


Westfield UTC
4545 La Jolla Village Drive,
San Diego, CA 92122-1212

Center Hours:
Monday – Saturday 10am – 9pm
Sunday 11am – 7pm

*****

For serene shopping in a seaside-setting visit Del Mar Plaza in the village of Del Mar. The al fresco marketplace has plenty of gems to uncover. Peruse the inspiring art photography at Michael Seewald Gallery or shop for canvases brushed with ocean-inspired shades of acrylic at the Erik Scholdberg Gallery.

Discover fine additions for your wardrobe at classic clothiers such as Chico's and Banana Republic, or search for edgier styles like a leather Muubaa biker jacket, or a trendy jumper by LA designer Eva Franco at Peaches en Regalia.

Take a break from browsing with a meal at one of the Plaza's many ocean-view dining venues. For dim sum and then some choose Del Mar Rendezvous. Enjoy modern Chinese cuisine such as crispy duck wraps or walnut shrimp complemented by sake or a glass of wine.

Del Mar Plaza is located at 1555 Camino Del Mar and is open Monday through Saturday from 10am to 9pm, and Sundays from 11am until 6pm.

*****

For a truly unique shopping experience head just a few miles northwest of downtown San Diego to the Ocean Beach Antique District. Located on Newport Avenue, the district spans two pedestrian-friendly blocks and was named "best antique shopping" by San Diego Magazine. The assortment of malls and shops offers an exciting mecca for treasure hunters and collectors alike. It is also a coveted source of vintage décor and unique furnishing for local high-end interior designers.

Visit Vignettes and be transported to Paris of yesteryear. Shop for French sofas and settees clad in faded satin or curvy serpentine dressers awash in peeling pastel paint. Among the shabby chic finds you'll discover glitzy gilt mirrors and glamorous chandeliers draped with glittering crystals. More than 24 dealers of European antiquities contribute to Vignette's alluring collection. The inventory is ever changing and is always beautifully staged.

For classic collectables such as old-timey toys, retro estate jewelry and vintage dishes look no further than the Ocean Beach Antique Mall. This is the oldest antique mall in Ocean Beach and is home to an almost overwhelming stock of unique nostalgia. Peruse the assortment and come away with intricate silverware, one-of-a-kind oil paintings, and whimsical hats adorned with rhinestones and feathers. Plan to spend a good chunk of time here, as there is plenty to see.

The district has plenty of parking and is open seven days a week. Plan to spend an entire day exploring this unique bevvy of boutiques, shops and malls. Nearby cafes and coffee shops will keep you fueled for the adventure.

*****

Shoppers in search of high fashion at low prices will be thrilled to discover San Diego's treasure trove of outlet malls. Top-end designers and leading brand-name stores can be found conveniently clustered together in San Diego's South Bay and Coastal North County. Fashionistas who shop these stylish centers are rewarded with haute couture at discounts between 25 - 65%.

An excursion to the Carlsbad Premium Outlets in Coastal North County is well worth the drive. The outlet mall, located in the serene seaside town of Carlsbad, offers a lovely al fresco shopping experience complete with lush landscaping, beautiful storefronts and occasional live music. Enjoy the ocean air as you stroll the breezeways seeking steals from designers such as Salvatore Ferragamo, Michael Kors and Elie Tahari.

Las Americas Premium Outlets in San Diego's South Bay is another gorgeous outdoor outlet mall. Savor budget-savvy shopping sprees surrounded by elegant architecture, statuesque sculptures and beautiful courtyards dotted by bubbling fountains. Visitors will delight in the vast array of discounted fashion from top-end brands such as Banana Republic, BCBG Max Azria and Nautica.

*****

The seaside resort town of La Jolla is arguably one of the best and most pleasant places to shop in San Diego. Often compared to Rodeo Drive, the La Jolla Cove neighborhood is an affluent area that is home to several hip shops and high-end boutiques. Stroll the stylish sidewalks and discover cutting-edge jewelry, one of a kind outfits and lavish labels from designers like Armani and Ralph Lauren. When you tire of hunting for haute fashion cool your well-heeled feet at one of La Jolla's open-air cafés.

On June 25, 2013

Julia Weiler answered the question:

What are the best neighborhood restaurants in San Diego?

Some of the best breaks can be found in Oceanside, and after a day of surfing I love to refuel at The Flying Pig Pub & Kitchen just a few blocks from the waves. Run by husband and wife team, Roddy and Aaron Browning, the power couple is no stranger to fine farm-to-fork cuisine. They've brought the slow food movement to the Pig where their fresh, locally sourced gourmet fare is presented in a truly friendly, not at all pretentious, and totally soulful way that I find refreshing.

The place has a rustic, quirky art gallery vibe with brightly painted mismatched walls adorned by vintage kitsch and rummage sale funk. Menus are pasted inside old album covers and none of the dishes or silverware are of the same pattern. It's the kind of place that I feel comfortable coming to with salty tresses and jeans paired with flip-flops. On at least two occasions I have spotted well-known celebrities at the Pig who were dressed much the same. It's that kind of relaxed yet hip place, and clearly the word has made it as far north as LA.

Perhaps what makes the Pig so popular is the friendly service. Roddy makes a point of getting to know his patrons and often greets them by name. Then again it could be the amazing cuisine, which – as the name would suggest – has a heavy emphasis on pork. The bacon mac-n-cheese is just such a dish. Served in a mini-skillet the top is golden brown and slightly crisp with creamy bacon-loaded goodness beneath it. I also dig the molasses glazed brussels and bacon, the fresh ground pork burger with tempura onion, molten cheddar, spicy '626' sauce, and (oh, yes) a fried farmers egg.

Being a pub, the Pig has plenty of San Diego craft drafts on tap to pair with all that pork. The selections of suds are ever changing and always delightfully diverse. Those who prefer lighter fare complemented by fine wine will be pleased with the wide of array of creative field-fresh salads and the impressive wine cellar. Vinos vary day to day and are served by the glass or by the bottle.

If you plan to visit the Pig be sure to arrive early (pub opens at 4:30 pm, kitchen at 5pm) or call ahead for a reservation. This fun neighborhood eatery is quite the hot spot and fills up rather quickly. It's not unusual for there to be up a 45-minute wait for a table, even on a slow Monday night. If you see Roddy while your there, please tell him I said hello. Oh, and eat some vinegar fries for me, too. You'll be glad you did.

The Flying Pig Pub & Kitchen
626 South Tremont St
Oceanside, CA 92054
Tel: 760 453 2940

On May 31, 2013

Julia Weiler answered the question:

What are the best water activities in San Diego?

If engaging in adrenaline-fueled water sports is on your San Diego bucket list then be sure to visit Manta Wind and Watersports on Fiesta Island for group or private kiteboarding lessons. The extreme sport is an exciting fusion of surfing and wakeboarding techniques combined with flying a controllable power kite attached by harness.

The kite works with the wind to pull and lift the pilot as they glide across the water and launch off of waves. While it sounds somewhat intimidating, the sport is relatively easy to learn. Sign up for Manta's "Discover Kiteboarding" package for a 4-hour introductory lesson with a certified instructor and learn the basics such as safety, set up, launch, hover and loop. Once you've mastered these techniques on turf you will advance to the surf to practice your skills on the calm waters of Mission Bay.

*****

Getting in or on the water is an absolute must and there are plenty of fun ways to take the plunge. Adventurous types can charge the sets on a their favorite wave weapon along San Diego's sensational surf breaks. For a similar but easier option try riding the inside whitewater on a boogie board or mellower yet, hit the lagoons and give stand-up paddle boarding a try.

For quests above the waterline charter a sailboat, catch the breezes and cruise San Diego Bay. Other boating options include whale-watching excursions where you can scout for the spout, commune with dolphins and giggle at barking pinnipeds. For something more romantic book a ride on a Venetian-style gondola and glide through the serene waterways of the Coronado cays.

On May 31, 2013

Julia Weiler answered the question:

What is one must-do activity when visiting San Diego?

Named "Top Beer Town" in America by Men's Journal, San Diego is quickly becoming as popular for its suds as it is for its sun, sand, and surf. The county is home to more than four-dozen microbreweries and new ones are popping up every month. Craft draft connoisseurs from near and far travel to the county to sample its collection of artisanal ales from world-class beer masters such as Stone Brewing Co. and The Lost Abbey.

Most microbreweries have onsite tasting rooms so you can tap into their excellent IPA's and killer kolcsh-style lagers straight from the source. Belly up to their bars for exclusive sips of limited edition or seasonal suds then take home your favorites by bottle or growler. Hit several hop spots in one day – and leave the designated driving to somebody else – by signing up for a San Diego Brew Tour. You'll get behind the scenes access to some of the microbreweries and will be able to safely sip and sample to your heart's content.

*****

No trip to San Diego would be complete without a visit to beautiful Balboa Park. The best way to begin your day is to stop in at the Balboa Park Visitors Center in the House of Hospitality. There you will find up to the minute information about the parks current activities and attractions as well as brochures, maps and just about everything you need to know about what to do and see. The Visitors Center is open daily from 9:30am until 4:30pm.

Balboa Park is rich in arts, history and culture. There are more than a dozen museums to choose from including the San Diego Air and Space Museum, the Timken Museum of Art and the Veterans Museum and Memorial Center. Highlights of the performing arts venues include such gems as Spreckels Organ Pavillion and San Diego Youth Symphony along with Starlight Theatre and Starlight Bowl.

Those in search of more playful attractions will appreciate the Balboa Park Carousel and Balboa Park Miniature Railroad. Meanwhile animal lovers will enjoy the exotic menagerie of the San Diego Zoo. A collection of beautiful gardens such as the one found at the famous Botanical Building will delight horticulture fans. The Japanese Friendship Garden is another favorite as is the Florida Canyon Native Plant Preserve where guests can get a glimpse of Balboa Park's original landscape.

For more information on this beautiful historic park and iconic San Diego landmark please visit:
www.balboapark.org

On May 31, 2013

Julia Weiler answered the question:

What are the best clothing boutiques in San Diego?

If haute bikinis or sizzling surf shorts are on your must-have list for summer then look no further than Sauvage Swimwear. Located at 1025 Prospect Street in the seaside resort town of La Jolla, this style-savvy beachwear boutique is home to an impressive assembly of bathing suits, cover-ups, and accessories.

Guys can get ready for a day on the sand with the men's line of swimwear. Stock up on classic trunks like the Oahu Solid Board Short, available in a rainbow of bright shades, or go with trendier styles such as the Italian Plaid Lowrise Squarecut, or the 70's vintage-inspired La Jolla Swim Short with contrasting color details. Complete the look with a sleeveless hoodie and a pair of water-resistant Tyvek® Civic Duty shoes.

When it comes to stunning swimwear, women have even more options to choose from. Shop the Sauvage Collection for sexy string bikinis like the strappy Neon Diva or the racy Spider one-piece with knotty side ties. For a bit of bling, peruse the Swarovski Collection for suits that sparkle with crystal embellishments. Add some gold bangles, hoop earrings and a mesh cover-up and you'll be ready to hit San Diego's beautiful beaches in style.

*****

If you're in the market for a haute pair of J Brand skinny jeans or a kicky spring dress from Trina Turk look no further than Mog + Rue in Encinitas. Located at 937 South Coast Highway in a sunny al fresco-shopping plaza, this hip boutique offers laid-back designer duds that are perfectly suited for the California lifestyle. Helmed by notable fashion and beauty writer, Christina Ablahad, this bastion of fashion carries cutting-edge apparel from established and up-and-coming designers alike. The boutique takes its clever name from the British slang word for cat (mog) combined with the French term for street (rue). A fitting moniker indeed as one stop at this upscale clothing shop can clad just about any woman in catwalk-worthy fashion.

On May 31, 2013

Julia Weiler answered the question:

What are the best beaches in San Diego?

La Jolla is home to some of San Diego's most picturesque beaches. Perhaps the most stunning of all is the petite strand of sand known as La Jolla Cove. Nestled between striking sandstone cliffs, this lovely little bay boasts spectacular scenery popular among plein air painters and photographers alike. The waves are generally calm and the gentle water is reserved for swimmers, snokelesr, and divers only. La Jolla Cove is located at 1100 Coast Boulevard.

The Children's Pool, also known as Casa, is another one La Jolla's little gems. The small beach is partially protected by a seawall and was originally meant to serve as a sheltered swimming area for families with youngsters. Over time the area filled with beach sand, then eventually sea lions and harbor seals. It's a great spot to watch the lumbering wildlife, or to walk along the seawall and enjoy panoramic views of the Pacific. The Children's Pool is located at 850 Coast Boulevard.

*****

Oceanside boasts some of the widest and most welcoming beaches in San Diego County. Access to these golden swathes of sand is plentiful and there is seldom any hassle when it comes to finding a place to park your car. There are plenty of pay lots to choose from and all are located conveniently close to the sand. Other facilities such as fire pits, volleyball courts picnic areas, restroom and showers are abundant as well. Dining options, gear rentals and surfing lessons are all in close proximity.

Visit northernmost Harbor Beach and relax on squeaky white sand that stretches for nearly a quarter mile from street to sea. Fire pits and picnic areas are abundant here but the shoreline is rarely crowded. The jetties, which flank the beach, create breaks that are perfect for surfing. Swimmers and body boarders can also enjoy the waves in areas designated just for them. The nearby harbor offers plenty of shopping along with several great dining options. Beach-close parking is only $5 for an all day ticket. RVs are welcome on a first come first serve basis for a mere $15 per night.

Further down the coastline Pier View North and Pier View South form the heart of Oceanside beaches. As the name suggests, the historic Oceanside Pier splits sea and shore right down the middle. Both sides boast excellent surf breaks as well as long golden strands or sand dotted by soaring palm trees. The south side is most popular and offers a wide variety of family-friendly facilities such as playgrounds, parks and recreation areas. Have lunch atop the pier at Ruby's and scout for pods of dolphin or dine beneath the boardwalk at The Tin Fish and enjoy the colorful beach scene. Nearby food carts vend a variety of street treats and Oceanside shops are just a stroll away. Parking is plentiful, accessible and easy on the wallet.

*****

Coronado's sparkling stretches of mica-enriched sand are consistently classed among America's top beaches. Mellow waves lap wide glistening shorelines and there are plenty of gorgeous views to enjoy from the seashore. Whether you wish to walk your pooch on North Beach, sea gaze from Glorietta Bay or stroll for sand dollars along the Silver Strand, there's an idyllic strand of sand for everyone in "The Crown City."

• Coronado Central Beach runs along Ocean Boulevard and boasts a backdrop of high-end beach homes and sweeping views of the Pacific. Visitors can relax on two miles of golden sand or explore interesting sea life in the tide pools during low tide. Lifeguards are on duty, which makes this a safe beach for families to play in the surf. Beach accessible wheelchairs are available gratis at the Central Beach Lifeguard Tower.

• Fido-friendly North Beach is popular among locals and their surf-seeking canine companions. Dogs must arrive on a leash but there is a designated free zone where pups can splash in the waves untethered. North Beach is located in the northernmost part of Central Beach at the end of Ocean Boulevard near Sunset Park and is the only section equipped with rings for a sunset bonfire.

• Situated near the iconic Hotel Del, Coronado South Beach is particularly picturesque and a popular spot for shutterbugs. It is also the seaside standard when it comes to saying, "I do" to the tune of ocean waves. Whether you're there to celebrate that special day, take advantage of a photo op or just sink your toes in the sand, South Beach is a lovely and scenic place to play by the sea.

• Glorietta Bay Park offers a unique peek of the city skyline and stunning views of the soaring San Diego-Coronado Bridge. While the beach itself is a tad on the petite side, there is a grand and grassy park area that is perfect for family picnics. Playground equipment, restroom facilities and fabulous water views dotted by passing sailboats makes this a great spot to spend the day.

• Silver Strand State Beach is one of Coronado's best stretches of shoreline with extensive beaches on both the Pacific Ocean and San Diego Bay. Surfing, boogie boarding and beach volleyball are popular activities on the Pacific side while the warmer waters of the bay side are perfect for sailing and swimming. Those who wish to walk the beach can stroll for miles along the surf and spot sand dollars, moon snail and cockle shells lying in the golden sand.


On May 31, 2013

Julia Weiler answered the question:

What are the best hotels in San Diego?

If your family craves non-stop theme-park action then consider staying at the new LEGOLAND California Resort Hotel in Carlsbad. The kid-centric hotel boasts 250 brightly adorned adventure, kingdom, and pirate themed rooms complete with surprise LEGO gifts, plus separate TV viewing and bunk bed-sleeping areas for wee ones. The resort stacks on more fun with interactive LEGO play areas scattered throughout the property and a heated swimming pool tailored to entertain youngsters.

Conveniently located within the LEGOLAND California theme-park compound, the resort sits just outside the amusement park gates. Resort guests receive park-related perks like early admittance, plus access to select LEGOLAND rides and attractions before general admission begins. When your brood is ready to refuel head to Bricks Family Restaurant for a wide array of buffet-style cuisine geared to please picky palates. From the hotel's disco-themed elevators (complete with tunes and mirror ball) to the 32-foot pirate's ship where children can raise the flag to the boom of simulated cannons, the new lodgings and the well-established theme park have everything families need to build a great LEGOLAND vacation.

*****

Embraced by the Peñasquitos Canyon Preserve in the charming seaside village of Del Mar, The Grand Del Mar is a luxurious Mediterranean-inspired resort and the recipient of the prestigious Forbes Travel Guide's Five Star rating. Not only did the resort win this hard-to-earn title for amazing quality and service but so too did The Spa and The Grand's fine-dining venue, Addison.

Visitors who indulge in a stay at The Grand can expect world-class accommodations seamlessly entwined with top-notch amenities. Lodging at the resort ranges from well-appointed guestrooms to generous suites and palatial villas overlooking serene landscapes such as the canyon preserve, the adults-only pool or the rolling fairways of the Tom Fazio-designed golf course.

Guests who spend time at the Spa will delight in the comprehensive menu of services. Highlights include treatments such as hot stone massage, herbal salt scrub or the Renaissance ritual which features a warm body wrap of aromatic oils and mineral-rich mud followed by a rosemary-infused Swiss shower and gentle touch therapy calibrated to relieve sore joints and muscles for thorough relaxation.

Dining at The Grand is another sublime experience. Discover culinary bliss at Addison, the resort's signature Five Star, Five Diamond dinner restaurant. Other options include Amaya, a posh Tuscan-inspired eatery serving breakfast, lunch, dinner and a sumptuous Sunday brunch. Both venues boast amazing menus and extensive wine lists. For more casual fare guests can visit the gourmet café Cent' Anni or relax al fresco while enjoying sips and nibbles from Poolside at the Grand Del Mar's main pool.

Other diversions include guided tours of Los Peñasquitos Canyon Preserve on foot or via horseback, complimentary fitness classes and gratis Grand Beach Service, which includes round-trip transportation to Del Mar's 18th Street Beach. Setup comes complete with umbrella, beach chairs, towels and bottled water.
Next