What are the best chocolate shops in San Francisco?
Answers from Our Experts (3)
San Francisco is a food lover's city and there are plenty of local artisanal chocolate shops to enjoy. The biggest and most well known chocolatiers are Ghiradelli and See's Candies. Ghiradelli Sqaure is home to the famed chocolate and ice cream shop, but you can pick up squares of their delectable chocolates all over the city and even at the airport. See's has several stand alone shops throughout the city and a box of their classic chocolates are a regular gift during the holiday season. If you're looking for chocolates by a cult San Franciscan producer, you can't go wrong with TCHO or Charles Chocolates. Both offer delicious confections in a variety of flavors that range from modern classics, like salted caramel, to inventive favorites like crystallized ginger. The best place to stock up on a variety of local chocolates is Fog City News. The magazine shop is located in the heart of the financial district and has hundreds of premium chocolate bars.
With the food-obsessed populous of this town, is it any surprise that San Francisco has many tempting options for delicious local chocolates? From Ghiradelli to local artisans, such as Recchiuti's at the Ferry Building and XOX Truffles in North Beach, chocolate is well respresented here. There are many fine choices but I want to celebrate a favorite amongst locals, See's Candies. This confectionary has served Californians since 1921 and continues to be the choice for many in the Bay Area. From Valentine's Day to the holidays, See's Candies is a long-standing tradition. For those raised here, Christmas and Hanukkah (yes, it's kosher) means a pound box of mixed chocolates or nuts and chews sitting on the coffee table to nibble throughout the holiday season. The free-standing stores are simply a delight, so visit this venerable grande dame of chocolate confectionaries that is truly a San Francisco treat.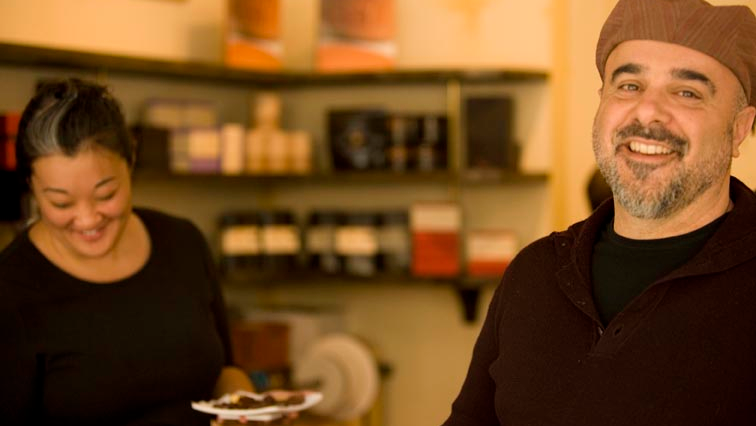 San Francisco has an embarrassment of riches when it comes to fine chocolate shops. The city is home to venerable chocolate makers Guittard and Ghirardelli, as well as dozens of small, artisanal chocolatiers.

When a chocolate craving strikes, the first name that springs to mind is Michael Recchiuti. The pastry-chef-turned-chocolatier has a knack for creating unique and crave-worthy confections made with ingredients sourced from around the globe. My all-time favoite at his shop in the Ferry Building is the Fleur de Sel Caramels. Enrobed in dark chocolate they have just the right note of salt and bitterness to make them thrilling. Those caramels are part of the Whiskey Pairing Sampler, there's also a delicious Red Wine Pairing collection. The truffle filled with rose caramel is stunning, as are the peanut butter puck and the sesame nougat. If you like bars, try the dark milk chocolate bar with toasted Oregon hazelnuts.

TCHO is an indie tree-to-bar chocolate maker on the Embarcadero that's had a sense of style since it was established in 2005. They're known for partnering with artists and museums to create graphic packaging for their chocolates, which highlight the way the place a chocolate is grown influences its flavor. If time allows, take one of their tours that explain the nuances of their style of chocolate-making.

Dandelion Chocolate based in San Francisco's Mission neighborhood is the new darling of San Francisco's chocolate scene. Discover the nuances of flavor in chocolates from different origins at this bean-to bar shop.