What are the best restaurants in San Francisco?
Answers from Our Experts (7)
There's a great little Korean restaurant called Namu, which is just delicious. Order anything off of their barbecue. Other favorites that I go to often are Tommy's Tequila, which has the best margarita and Yucatan-style food. The best dim sum is at Ton Kiang (order the pea shoot dumpling) and you have to go to The Slanted Door. Another place is NoPa (North of the Panhandle). It's really great California cuisine.
I like ethnic restaurants. Asian food in San Francisco is where it's at — Korean food, Chinese food, you name it. There's a place in Oakland called Casserole House, a Korean place that's just awesome. There's another place called My Tofu House. Within walking distance from my house is a place called Z and Y. The chef is Chinese-American, born in Chinatown, and it's totally amazing. It has tea-smoked duck, and it's so awesome. Other places that are really good are Dumpling King and R & G Lounge.

Everything is very Mediterranean in San Francisco, so all of the destination restaurants, including my own, are very Italian-influenced. Quince by Michael Tusk has awesome, really traditional Northern Italian food. His other place, Cotogna, is awesome. One of my investors is Italian, and he says the best Italian cooks are not Italian. Italians are all bored with Italian food, but Americans who are obsessed with Italian food and have cooked in Italy are awesome.

Camino is really my favorite restaurant in the world. The chef cooks everything over an open fire. Camino means "hearth" in Italian. He's about 50, and he's been cooking on the line, six days a week, for more than 20 years. You don't go to a place like that where a chef of that experience is on the line. You see him in the kitchen, literally working a station. It's just such a beautiful restaurant. There's always joints of meat hanging, and it's just awesome. It's really everything the Bay Area is about, in terms of that obsessive sourcing and really finding the best stuff out there. It's one of those places that's so simple and unpretentious and people end up thinking it's the most pretentious place in the world. We're really good at that in San Francisco.

In San Francisco, you eat Mexican food three to four times a week. Everyone has favorite tacos. La Taqueria is the place that I would recommend to people visiting. It's on Mission Street at 25th.
I really like the Delfina and Locanda family of restaurants — there's the original restaurant on 18th and Guerrero. It's also put a pizzeria next to that and then another one in Fillmore. Two or three years ago, it also opened Locanda on Valencia Street. I really like those restaurants — all various Italian. I think Locanda is meant to be Roman style.

Probably my favorite restaurant in this city is a German place called Suppenküche. I really like it because when I take people there, they think it must be three or four years old, but it's actually 20 years old. I feel like there's a dearth of restaurants that are old but still seem refreshed and new, and are constantly crowded. I really like everything that it has on the menu. It rotates beers and stuff like that — stuff that it was doing before it was necessity or standard.
Quince is amazing. SPQR, which is Roman-style Italian, is great. This one place called La Ciccia has Sardinian food, and it's unbelievable. And, of course, Acquerello, which has been around for many years. It's traditional Northern Italian and has a great wine list.

Another favorite is The Slanted Door, which is a modern Vietnamese place. And Coi is haute cuisine at its best. I mean, this guy forges his own stuff. He's unbelievable. It's some of the best food in the world. And of course, I like Nopa. I go to Nopa a lot. That's an awesome late-night place. It's the best late-night spot in San Francisco. I also eat a lot, of course, at my restaurant RN74.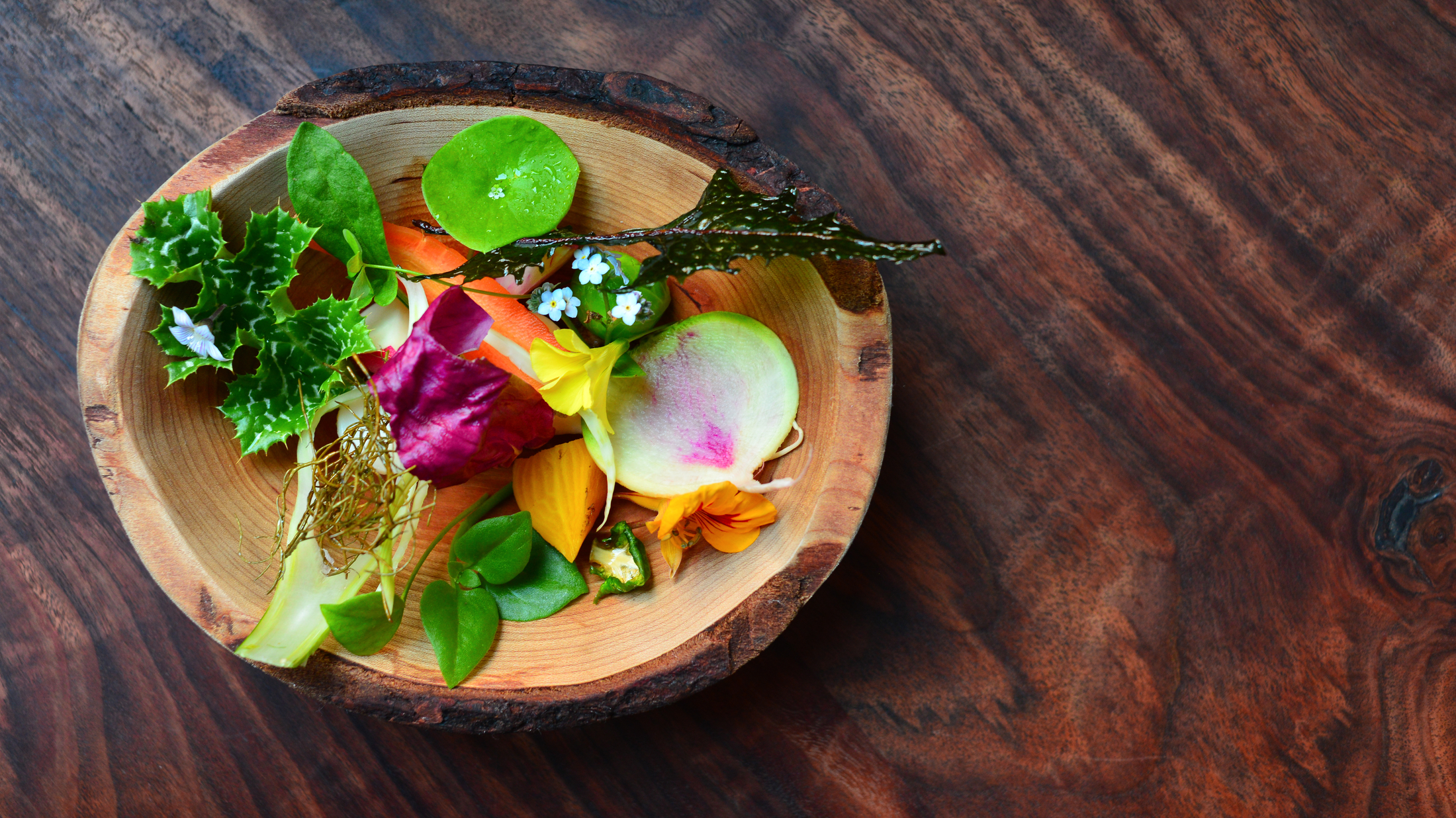 Saison seasonal foraged greens - photo by Bonjwing Lee
Trying to narrow the best restaurants in San Francisco down to just a few spots is not easy. The entire San Francisco Bay Area is blessed with gorgeous produce, creative food artisans and wonderful wines. Stellar and well-known restaurants that bring all those elements together include Chez Panisse in Berkeley, Manresa in Los Gatos and The French Laundry and Redd in the Yountville. Here are five places to dine now in San Francisco:

1. State Bird Provisions. Chef-owner Stuart Brioza and his wife Nicole Krasinski borrowed the dim sum concept for their unsassuming and friendly Fillmore District restaurant. You'll be presented with colorful dishes priced at $6 to $20: poached seafood salsa over whipped avocado with crispy tortilla, pillowy pancakes with ever-changing flavors, tangy eggplant and summer tomato salad, fresh Dungeness crab atop farro and the namesake dish: fried quail with tangy sweet-and-sour onions shaved cheese. They've just won the James Beard Award for the nation's Best New Restaurant of 2013. But despite all this, it's the warmth and spirit of hospitality that keeps guests coming back.
2.
Saison.
An exquisite evening awaits at Saison, the urbane and intimate restaurant in SoMa. Working in his open kitchen, chef Joshua Skenes crafts distinctive and visually stunning tasting menus from the best ingredients from all over the world.
Whether it's a morsel of sea robin, locally foraged greens you eat with your hands or a dish of caviar with sea urchin, all the dishes are kissed by fire in some way.
The experience starts with a pour of Krug Grande Cuvée and might include world-class white wines from the 5,000-bottle cellar or a seasonal cocktail if you prefer. Dining at Saison is dear, but so is the experience.
3.
Frances.
There's a quiet and feminine beauty to the décor and Melissa Perello's cuisine at Frances in the Mission. The greatest discoveries are the small plates like Cherrystone clams baked with kale brusssels sprouts and bacon, Black Venus rice with Dungeness crab or chestnut soup with apples, cipolline onions and hedgehog mushrooms. Plan ahead for reservations or make an adventure of snagging a seat at the bar.
4.
Benu.
French Laundry alum and James Beard-award winner Corey Lee has created an urbane and artistic temple of gastronomy. While à la carte menus are available on certain days, the full experience includes a progression of signature dishes like monkfish liver terrine, chicken velvet and 1000-year-old quail eggs on custom serving pieces.
5.
Cotogna.
This is the kind of Italian food that makes you feel like you're in country. Michael Tusk's hyper-seasonal, quirky menu bounces from wood-fired pizzas with exquisitely browned and poufy crusts to silky pastas to housemade porchetta with succulent meat and chewy skin. The golden, olive-oil soaked focaccia is one of the low-key delights; you'll eat every inch. Be sure to try a glass of wine or one of the cocktails with an Italian accent.
Asking what the best restaurants are in San Francisco is like asking which diamond is best at Cartier. Honey, they all sparkle---one of each please! Seriously, San Francisco is a food-lover's fantasy. We have a constellation of star-rated restaurants in the Bay Area, with big name chefs to boot, but don't count out the neighborhood gems that make San Francisco one of the best eating out cities in the world.

Those of us from California have guacamole in our veins and Mexican food is top-notch here. The Mission neighborhood is known for its ubiquitous taco shops and burrito dens, and you can't go wrong at places like La Taqueria or Papalote, where the food is freshly made, authentic, and a good value.

For Mexican outside The Mission (gasp), I like Nopalito. The food is organic and locally sourced and they have some of the best Carnitas I've ever had. Around the corner is Nopa (yes the restaurants are related) specializing in what they call " organic wood-fired cuisine." Think roasted chicken with cilantro and mandarin spiced chickpeas. They also have a killer wine list.

One of my most favorite neighborhood eats is Bistro Aix in The Marina. With a French brasserie meets California sass, this place just does it right. From the grilled fish and lamb to the pizza and pasta, and everything in between, Bistro Aix is still among my favorite tables. Ask for a table in the front room. The back room is kind of an afterthought.

The ever popular and James Beard award winning Zuni Café is still going strong over 30 years later and with good reason. Quality Mediterranean style food, lively and light dining room, nice wine list, and diverse crowd make coming back again and again a pleasure.

For something off, okay well off, the beaten path, head to The Sunset, almost to the beach, and stop into Outerlands. You won't mind the trek when you're sitting in this cozy wood-paneled (in a cool way, not 1970's rec room) outpost with well-priced, well-prepared comfort food in front of you. Grilled cheese sandwich and bowl of steaming hot soup on a foggy day? Oh yeah, this place might be the reason to leave your heart in San Francisco.

This "best" list is endless, and subjective, but these should whet your appetite.

There's so many amazing and award-winning restaurants in San Francisco that it's hard to say which are the best, but these five places stand out for their superb cuisine, exemplary staff, and inviting atmosphere.

AQ opened in late 2011 to much fan fare and for good reason. The inspired restaurant features a menu and interior decor that change each season.

Exceptional is the first word that comes to mind when describing Saison. Exceptional food, exceptional chef, exceptional wine list, exceptional design. With one high-quality menu served nightly, dining at Saison is an experience that is sure to heighten the senses.

SPQR offers haute Italian cuisine with an emphasis on hand-crafted pastas. While chef Matt Accarino's technique is refined, his food is homey, welcoming, and most importantly, wonderfully delicious. Throw in an excellently curated wine list, that features little known Italian grapes, and you're in for one memorable dinner.

Known for its modern Vietnamese cuisine, the Slanted Door has long been a beloved San Francisco restaurant. Chef-owner Charles Phan sets a national precedent with his use of fresh organic products, family serving style, and diverse relaxed atmosphere.

No best restaurant list pertaining to San Francisco is complete without a pizzeria. Toni's Pizza Napoletana, in North Beach, is hands down the best pizza in the city. Owner Tony Gemignani is the World Pizza Champion and his menu highlights every type of pizza imaginable.