What are the best Union Square hotels in San Francisco?
Answers from Our Experts (2)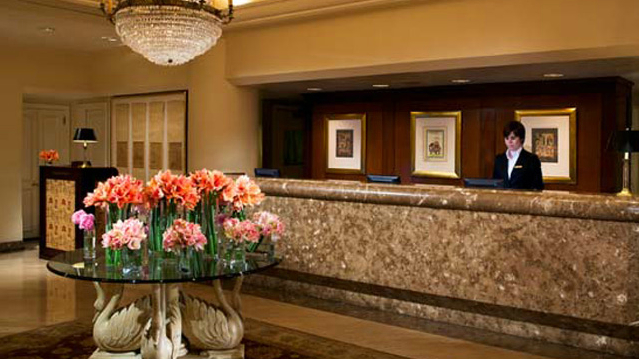 Union Square in San Francisco is a hub for all sorts of things, and marvelous hotels are no exception. Radiating from around the central square, you'll find all sorts of luxury hotels, from historic to hip. Here are a few of my favorites:

The first San Francisco hotel I fell in love with was the Hotel Palomar, a chic Kimpton boutique hotel just off Market Street. From the modern lightbulb cluster "chandelier" and the Escher 3-D cube parquet floor in the lobby to the modern Art Deco style in the rooms, Hotel Palomar has great style. Rooms are spacious with high-quality linens, granite bathrooms and Aveda bath products. I love the soaking in the large central bath in the deluxe suite and then curling up in one of the zebra-striped robes. And if you desire exquisite cuisine, just pop down to the Fifth Floor to enjoy creations by chef David Bazirgan paired with the best wines from around the globe.

Taj Campton Place, a Forbes Travel Guide Four-Star hotel, offers European charm and an ideal location just steps from Union Square. As soon as you step inside, you feel miles away from the noise of the city. The 110 guest rooms elegantly designed by Sylvia Chiang have a pale cream and gold feature color scheme with Frette linens, lots of high-tech touches like high-definition televsions and movies as well as surround sound. But the charm comes from features like window seats in some of the light-filled rooms and limestone baths with deep soaking tubs.

The Palace Hotel near Union Square is the grand dame of San Francisco hotels, dating back to 1875. The original building was destroyed by an earthquake and reopened in 1909 accompanied by much fanfare. The Beaux-Arts hotel that has hosted celebrities from Oscar Wilde to Teddy Roosevelt now boasts spacious guest rooms done in a traditional and opulent style. The most stunning features are glorious Garden Court, with its glass-domed roof, glittering chandeliers and gilt columns and the vivid Pied Piper mural by Maxfield Parrish in the bar. Hotel management recently considered taking down the treasured mural and selling it at auction, but after a public outcry, the plan was shelved. But we think it might be a good idea to go enjoy a cocktail under it as soon as possible.
Union Square, which is ground zero for tourists, is located in the heart of San Francisco. There's countless hotels surrounding the square but these are the best places to stay.

The Five-Star Four Seasons Hotel San Francisco is a fantasitc Union Square property that boasts large rooms and suites, a sumptuos atmosphere, an onsite spa, and of course the impeccable service you've come to expect from the Four Seasons name. Should you be unable to find a room at the Four Seasons during your stay in this popular neighborhood, try calling Taj Campton Place. Its Four-Star status is a major draw for discerning tourists who appreciate special amenities like Samsung flat-screen TVs, Frette linens and Molton Brown toiletries in every guest room.

Located directly on the square and first opened in 1904, The Westin St. Francis is the 'grand dame' of the city's historic hotels. However, the hotels amenities are hardly old school, it offers modern ground-breaking luxuries in an elegant landmark setting.

Another of San Francisco's historic hotels is the Sir Francis Drake, which is just off the square on Powell Street. It's contemporary regal style is inviting and the hotel's restaurant, Scala's, is a beloved local institution run by a former Top Chef contestant.

A little further up on Powell Street, is the Mystic Hotel, chef Charlie Palmer's culinary boutique destination. The hotel was recently remodeled and has a sleek minimalist look with food-centric amenities.

On the other side of Union Square is the Palomar Hotel, a luxury artful hotel with exceptional hospitality. The accommodations are sophisticated and although the hotel is on a bustling street, the rooms are quiet and cozy.