What is the best new attraction in San Francisco?
Answers from Our Experts (2)
Undoubtedly, the best new attraction in San Francisco right now is the brand new Exploratorium that reopened in April 2013. Considered one of the world's best interactive science museums, the Exploratorium moved from its historic site at the Palace of Fine Arts to a modern and shiny $300 million new home on San Francisco's Pier 15. You'll find a thrilling new glass observatory over the bay, and monitors that track the water currents, temperature and salinity. Discover the tiny mysteries of the ocean like plankton in the East Gallery or count the rings on a 330-year-old fir tree. Tickets are $25 for adults, $19 for students and seniors and free for children under 5. Bay-Area residents receive discounts.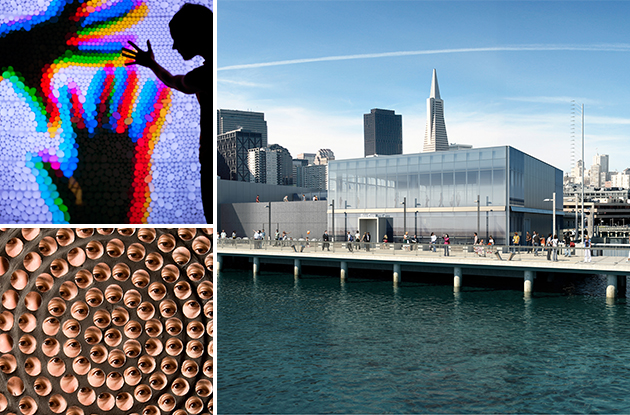 ZŪM, LLC, Exploratorium

San Francisco's monumental Palace of Fine Arts was built in 1915 for the Pan Pacific Exhibition, but for the past 43 years, residents and visitors alike knew it as the home of the Exploratorium, the city's most beloved hands-on museum and science center. But as of April 17, the San Francisco mainstay will have a new address at Pier 15, and it is destined to become one of the city's must-see attractions.

"The Exploratorium unleashed a bold revolution when it opened in 1969, leaving both classrooms and the museum field changed forever," says Dennis Bartels, executive director of the Exploratorium. "It was the first place that visitors could play with science and art to see, hear, smell and feel the world around them."

Though the Palace of Fine Arts remains a beautiful and historic landmark, the museum's 600-plus exhibits (and storeroom full of many more) simply outgrew the space, which precipitated the move.

The $220 million retrofit at Pier 15 location, on the Embarcadero at Green Street, is three times larger at 330,000 square feet, and it stretches out into the bay. Its prime tourist real estate will house many of the old exhibits, but added capacity means new items, too, such as an outdoor fog installation and a 330-year-old Douglas fir tree from Olema, felled by a storm. The new Exploratorium also plans to offer programs for the professional development of teachers through exhibits, Web content and classroom materials in the larger space.

The new Exploratorium will be divided into six different galleries: The West Gallery's Human Behavior exhibit encourages you to play with perception, memory, emotion and behaviors; Central Gallery's Seeing & Listening investigates physics, light and sound; the East Gallery's Living Systems invites you to interact with living organisms; the South Gallery's Maker Culture in The Tinkering Studio is where you can build, make, hack, create and invent; the Bay Observatory Gallery is an all-glass space and transparent lens onto the waterfront and the city; and the Outdoor Gallery teaches about the surrounding fog, water wind, rain and sun.

You will also find a museum store; the fine-dining Seaglass Restaurant from Loretta Keller of Coco500; a 200-seat cabaret-style space for lectures, films and performances; and, come summer, an updated version of the well-loved Tactile Dome exhibit that invites you to crawl through textured passageways in total darkness.

Not only will the exhibits entertain and educate as they have for the last four decades, the Exploratorium itself hopes to become America's largest net-zero energy museum, with solar panels and heating and cooling systems aimed at generating enough energy to sustain itself and its operations. Eventually, the goal is to create a surplus of power. When the museum reopens, these green technologies will also be highlighted as exhibits.

"When it opened in 1969, [the Exploratorium] inspired similar institutions around the globe and became — as it has been acknowledged by its peers — the leader in the science center movement globally, and the best science museum in the world," Bartels says. "Well, we are about to multiply our impact several-fold."