Where is Napa Valley in relation to San Francisco?
Answers from Our Experts (2)
The gorgeous Napa Valley is located roughly 60 miles north of San Francisco. Home to some of California's most sought after wineries, the Napa Valley, and its neighboring county, Sonoma, are the state's oldest wine making regions.

Wine aficionados should definitely make a trip to the valley where one can taste small production wines, take cave tours, and barrel sample young wine. Napa's also known for its food scene and world-renowned restaurants such as Thomas Keller's The French Laundry. Notable wineries include Chateau Montelena, Stag's Leap, Opus One, Domaine Carneros, and Trinchero Estates.

There's no direct public transportation route to Napa, but many bus and limo tours make the hour-long trip north. If you're renting a car and driving to the Napa Valley, your starting location is important. When closer to the Golden Gate Bridge, it's quickest to drive through Marin and Sonoma. When closer to the Bay Bridge, it's best to drive through Berkeley and Vallejo.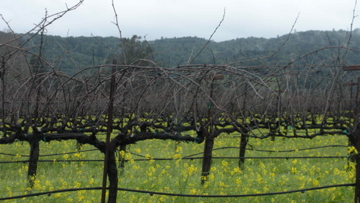 Maria C. Hunt
Take a scenic drive just about 60 miles north of San Francisco and you'll find yourself in the heart of the Napa Valley. The trip usually takes just over an hour, although that depends on traffic.

Unlike Sonoma's wine country, which is a straight shot north from San Francisco on U.S. Route 101, the most direct route to Napa requires crossing the Bay Bridge over to the East Bay. From there, you'll drive east on Interstate 80 and then take California Highway 37 heading west. You'll transition to Highway 29 north, which is the main artery that cuts through the Napa Valley.

If you're planning to spend most of your time in Napa, we suggest you fly into the Oakland International Airport — it'll get you to the tasting room faster.