What are the best farmers markets in Seattle?
Answers from Our Experts (2)
The best farmers markets in Seattle are undoubtedly the University District market and the Ballard Farmers Market.

The University District Farmers Market is Seattle's oldest and largest food-only market, and it's been running every Saturday since 1993. It's even gained national recognition: the Boston Globe named it #3 in their list of top farmers markets in the U.S. Vendors sell piles of beautiful produce, much of it organic. Heirloom varieties bring lots of color: rainbow chard, purple tomatoes, you name it.

My favorite is the Ballard Farmers Market, set in the historic Ballard neighborhood. The market runs year-round on Sundays, and you'll find some vendors other than produce here. You'll find jewelry, candles, and clothing, though the emphasis is certainly on food and produce.

Both markets are lively and festive, with musicians performing and families toting dogs and kids and carrying bundles of flowers and produce. These are true neighborhood gathering places, and the farmers are friendly and knowledgeable about their products. It's fun to ask them how they'd cook with a certain potato variety, for example, or advice on cooking a particular cut of meat.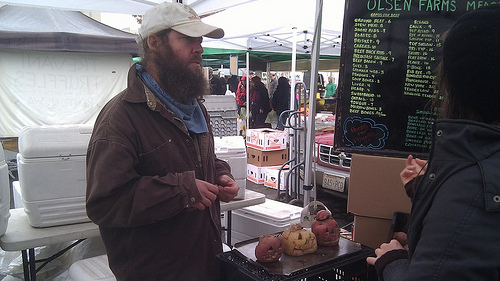 Josh Larios via Flickr
I may be biased since I live in the neighborhood, but my heart belongs to the University District Farmers Market. I wake up early every Saturday giddy with anticipation of what seasonal fruits and vegetables I may find. I love the apple and pepper selection at Tonnemaker Farms, plus their staff is super helpful in navigating in their vast inventory of fresh product. Even in the off-season, their dried peppers spice up my winter comfort dishes. I cannot visit the market without stopping at Skagit River Ranch to stock up on bacon, which is hands down the absolute best this lard-loving gal has ever had. (Full confession: I have a $30 a week habit - it's my favorite items to gift right now.) Other 'must' stops include carne empanadas at Pampeana. If they happen to have dulce de leche for sale, ignore your diet and buy it. It's that good. I'm still working my way through the potato selection at Olsen Farms, but haven't encountered a carb I haven't liked yet. Oh, and did I mention the music? There's always a great street performer providing the perfect backdrop for grazing and buying the very best of local, seasonal, and often, sustainable foodstuffs. Even on a rainy day, it's always a happy, lively scene.