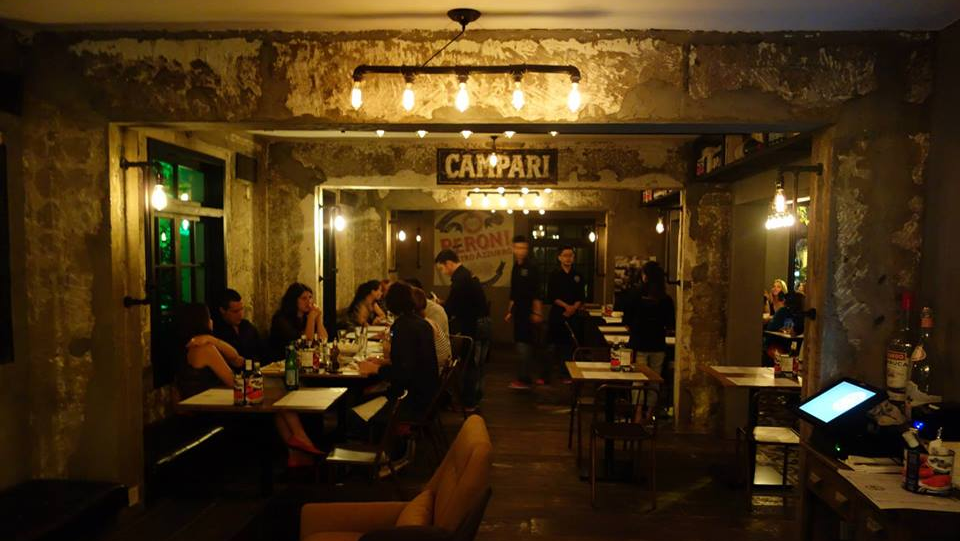 Restaurants
Even in the high heat of summer, new restaurants are firing up their kitchens and throwing open their doors to hungry hoards. Inside the new Jing'an Shangri-La is 1515 West Chophouse, a traditional steakhouse gone contemporary, with a film theme and top-shelf cuts. The steaks are the main attraction, but beyond that is a raw seafood bar and a cheese room packed with gorgeous hunks. Also within the hotel is Chinese restaurant Summer Palace, which serves delicate dim sum.

Down at the Bund, inside a gorgeous landmark building, deCanto serves superbly executed Italian food with an emphasis on top ingredients, either imported or made in house. The thick menu is packed with traditional dishes—buffalo mozzarella with tomatoes, an enormous beef shank, ricotta-filled ravioli—and a few more unique offerings like rosemary tiger prawns with mango puree. Pizzas, done in the restaurant's gleaming pizza oven, are thin and crispy.

For a slightly more low-key Italian meal, D.O.C. Gastronomia Italiana, in the heart of the French Concession, duly fits the bill. Pizzas include the summery Pizza Fontina, topped with pear, lemon, zucchini blossoms, gorgonzola, and mozzarella.

Nightlife
Cool off after a long, hot day of sightseeing with a cocktail or glass of wine at some of Shanghai's newest bars. La Vite is half restaurant, half watering hole, so you can nosh on Prosciutto pizza while sipping an earthy red or crisp, cold glass of white. Wine Plus Enoteca, not to be confused with Shanghai's other spots Enoterra and Enoteca, offers nearly 100 pages worth of options. Sixteen wines are available by the glass and hundreds by the bottle. If you can't decide on just one (or two…or three), Wine Plus offers a tasting menu of five.
On July 31, 2013

Sophie Friedman answered the question:

What are the best riverfront restaurants in Shanghai?

The best riverfront restaurants in Shanghai overlook the Huangpu River, which divides the city into downtown Puxi and more suburban Pudong. For a superb meal with an equally great view, book into one of these, Shanghai's best riverfront restaurants.

Sir Elly's
The Peninsula Hotel's Western fine dining restaurant sits on the 13th floor, offering sweeping views of the Pudong Skyline, the curve of the Huangpu river, and the Bund's colonial architecture. If the weather cooperates, the restaurant's terrace is just lovely. Servers are unobtrusive, but service is impeccable. The menu offers modern European cuisine, with a focus on seasonal ingredients. I could not get enough of the tiramisu soufflé; it comes with a silver spoon heaped with mascarpone which you dip into the soufflé so everything melts together. Throw in the espresso gelato on the side and you're in heaven.

8 1/2 Otto e Mezzo BOMBANA
This north Bund Italian restaurant is the sister to the acclaimed Hong Kong restaurant of the same name. Tucked down a quiet cobblestone street, in a sharp brick building, 8 1/2 Otto e Mezzo serves classic Italian dishes to Shanghai's most discerning diners. Everything on the menu is superb. Many of the dishes are heavy, and so I recommend ordering a few things and sharing amongst the table. One of my favorite lighter dishes is the burrata-stuffed ravioli, served with eggplant, Taggiasca olives, and cherry tomatoes. It's a deceptively simple dish with a wonderful array of flavors.

CHAR Bar & Grill
Hotel Indigo's top floor steakhouse looks more like a chic New York it restaurant than a classic steakhouse, but the cuts of meat say otherwise. The Clare Valley Fillet steak, for example, is a grain-fed beef with a marble score of three. You could easily go to CHAR and not eat steak, though; I was over the moon for the grilled black cod with confit of baby carrots, star anise and lime syrup. It's a fun dish, too; it's served with a little paintbrush so you can keep topping your fish with the delectable sauce. For dessert, the creatively presented cheesecake is a must-order (what it looks like is a surprise).

Mr & Mrs Bund
As popular with people coming home from the Bund's bars as it is with couples out for special dinners, Mr & Mrs Bund is the rare Bund-side restaurant that serves food until late. The menu is long, which can make ordering tough. The picnic chicken aioli, a char-grilled cold chicken breast with garlic mayonaisse, is always toothsome. Whatever you order, same room for dessert and pucker up for the Lemon & Lemon, a whole candied lemon that opens to reveal whipped cream, lemon curd, and lemon sorbet.

On July 31, 2013

Sophie Friedman answered the question:

What are the best riverfront restaurants in Shanghai?

The best riverfront restaurants in Shanghai overlook the Huangpu River, which divides the city into downtown Puxi and more suburban Pudong. For a superb meal with an equally great view, book into one of these, Shanghai's best riverfront restaurants.

Sir Elly's
The Peninsula Hotel's Western fine dining restaurant sits on the 13th floor, offering sweeping views of the Pudong Skyline, the curve of the Huangpu river, and the Bund's colonial architecture. If the weather cooperates, the restaurant's terrace is just lovely. Servers are unobtrusive, but service is impeccable. The menu offers modern European cuisine, with a focus on seasonal ingredients. I could not get enough of the tiramisu soufflé; it comes with a silver spoon heaped with mascarpone which you dip into the soufflé so everything melts together. Throw in the espresso gelato on the side and you're in heaven.

8 1/2 Otto e Mezzo BOMBANA
This north Bund Italian restaurant is the sister to the acclaimed Hong Kong restaurant of the same name. Tucked down a quiet cobblestone street, in a sharp brick building, 8 1/2 Otto e Mezzo serves classic Italian dishes to Shanghai's most discerning diners. Everything on the menu is superb. Many of the dishes are heavy, and so I recommend ordering a few things and sharing amongst the table. One of my favorite lighter dishes is the burrata-stuffed ravioli, served with eggplant, Taggiasca olives, and cherry tomatoes. It's a deceptively simple dish with a wonderful array of flavors.

CHAR Bar & Grill
Hotel Indigo's top floor steakhouse looks more like a chic New York it restaurant than a classic steakhouse, but the cuts of meat say otherwise. The Clare Valley Fillet steak, for example, is a grain-fed beef with a marble score of three. You could easily go to CHAR and not eat steak, though; I was over the moon for the grilled black cod with confit of baby carrots, star anise and lime syrup. It's a fun dish, too; it's served with a little paintbrush so you can keep topping your fish with the delectable sauce. For dessert, the creatively presented cheesecake is a must-order (what it looks like is a surprise).

Mr & Mrs Bund
As popular with people coming home from the Bund's bars as it is with couples out for special dinners, Mr & Mrs Bund is the rare Bund-side restaurant that serves food until late. The menu is long, which can make ordering tough. The picnic chicken aioli, a char-grilled cold chicken breast with garlic mayonaisse, is always toothsome. Whatever you order, same room for dessert and pucker up for the Lemon & Lemon, a whole candied lemon that opens to reveal whipped cream, lemon curd, and lemon sorbet.

On July 31, 2013

Sophie Friedman answered the question:

What are the best steakhouses in Shanghai?

Chinese businessmen (Chinese businesswomen are themselves also quite discerning) love a thick steak as much as their Western counterpart, and for that reason Shanghai has quite a few great steakhouses. Here's a roundup of three of the best.

CHAR Bar & Grill
On the top floor of Hotel Indigo Shanghai on the Bund, this steakhouse excudes cool while serving prime cuts of meat to its glittering clientele. Book early to secure a window seat and you'll have views of the Bund and the Pudong skyline, which stays lit up until 10pm. In addition to sublime steak, you'll find a plethora of decadent items like foie gras, lobster, and a to-die-for cheesecake.

The MEET
Across the river in Pudong, inside the Kerry Hotel, the MEET welcomes carnivores with its cushy banquettes and massive cuts of meat. The MEET is a traditional steakhouse gone contemporary; lots of reds and browns have been used, but it's done up in hunting lodge chic. Beyond meat, which of course plays a starring role in the menu, diners can order seafood and rich sides like truffle mac and cheese.

Roosevelt Prime Steakhouse
Tucked inside a lane in the French Concession, Roosevelt is Shanghai's all-American steakhouse, a den of masculinity that has managed to remain welcoming to women and even to kids. Service is superb, from the friendly, effusive owner who's happy to make suggestions to the very knowledgeable and sharply dressed staff. On the menu is steak—there are three cuts, sirloin, filet mignon, and rib-eye—and sides like Caesar salad, which is made tableside with extreme precision.



On July 31, 2013

Sophie Friedman answered the question:

What are the best steakhouses in Shanghai?

Chinese businessmen (Chinese businesswomen are themselves also quite discerning) love a thick steak as much as their Western counterpart, and for that reason Shanghai has quite a few great steakhouses. Here's a roundup of three of the best.

CHAR Bar & Grill
On the top floor of Hotel Indigo Shanghai on the Bund, this steakhouse excudes cool while serving prime cuts of meat to its glittering clientele. Book early to secure a window seat and you'll have views of the Bund and the Pudong skyline, which stays lit up until 10pm. In addition to sublime steak, you'll find a plethora of decadent items like foie gras, lobster, and a to-die-for cheesecake.

The MEET
Across the river in Pudong, inside the Kerry Hotel, the MEET welcomes carnivores with its cushy banquettes and massive cuts of meat. The MEET is a traditional steakhouse gone contemporary; lots of reds and browns have been used, but it's done up in hunting lodge chic. Beyond meat, which of course plays a starring role in the menu, diners can order seafood and rich sides like truffle mac and cheese.





On July 31, 2013

Sophie Friedman answered the question:

What are the best steakhouses in Shanghai?

Chinese businessmen (Chinese businesswomen are themselves also quite discerning) love a thick steak as much as their Western counterpart, and for that reason Shanghai has quite a few great steakhouses. Here's a roundup of three of the best.

CHAR Bar & Grill
On the top floor of Hotel Indigo Shanghai on the Bund, this steakhouse excudes cool while serving prime cuts of meat to its glittering clientele. Book early to secure a window seat and you'll have views of the Bund and the Pudong skyline, which stays lit up until 10pm. In addition to sublime steak, you'll find a plethora of decadent items like foie gras, lobster, and a to-die-for cheesecake.





On July 31, 2013

Sophie Friedman answered the question:

What are the best places to spot celebrities in Shanghai?

Although it's China's most cosmopolitan city, celebrity sightings in Shanghai are not nearly as common as they are in places like Hong Kong. The best places to spot celebrities in Shanghai is at the Bund's upscale bars, particularly after big events like Shanghai Film Festival, the Rolex Tennis Masters, and the F1 Grand Prix.

Both Bar Rouge and M1NT are well known for hosting celebrities. Naomi Cambell, Clive Owen, Adrien Brody, and F1 drivers Fernando Alonzo and Michael Schumacher have all made appearances at M1NT. Bar Rougue has seen the likes of Scarlett Johansson and Quentin Tarantino as well as Rolex Masters players and F1 drivers who make their way down the block from M1NT.




On July 31, 2013

Sophie Friedman answered the question:

What are the best places to spot celebrities in Shanghai?

Although it's China's most cosmopolitan city, celebrity sightings in Shanghai are not nearly as common as they are in places like Hong Kong. The best places to spot celebrities in Shanghai is at the Bund's upscale bars, particularly after big events like Shanghai Film Festival, the Rolex Tennis Masters, and the F1 Grand Prix.

On July 31, 2013

Sophie Friedman answered the question:

What are the best places to spot celebrities in Shanghai?

Although it's China's most cosmopolitan city, celebrity sightings in Shanghai are not nearly as common as they are in places like Hong Kong. The best places to spot celebrities in Shanghai is at the Bund's upscale bars, particularly after big events like Shanghai Film Festival, the Rolex Tennis Masters, and the F1 Grand Prix.

On July 30, 2013

Sophie Friedman answered the question:

What are the best hair salons in Shanghai?

Shanghai has a hair salon on nearly every corner, but these cater to locals and aren't quite up to Western standards. If you're in city and want a haircut, here are the best hair salons in Shanghai.

Reborn Star
The excellent English-language magazine selection at this small salon draws in both male and female expats. Owner Michael, who hails from Hong Kong and lived in the UK, oversees the snipping and styling of hair and is happy to make suggestions and answer any questions you may have. In addition to cuts, Reborn does perms and color.
429 Dagu Road near North Chengdu Road

Franck Provost
The name is French but the stylists come from all over. This chain has outlets across the city, including two in the former French Concession. Their light-filled Anfu Road space is a favorite of discerning local women and expats who crave a hairdresser who speaks English. There's a good magazine selection here, too, a must when you're getting snipped and sheared.
164 Anfu Road near Wukang Road

Contestarockhair
With outlets in Rome, Florence, New York, and Miami, Contesta's staff has plenty of experience working with western hair textures. The salon décor is heavy on the hip, with Polaroids on the walls and Pixies on the stereo. Although their main business is hair cuts, color, and straight and curly perms, mostly for women, there's a barbershop on the second floor. You can get waxing and nails done here, too.
733-4 Julu Lu near Fumin Lu

ID Hair
ID Hair has two outlets on leafy Nanchang Road, situated a block apart. Not all the stylists here speak English, so double check when you call to make an appointment. ID is a favorite of Shanghai's hipsters and fashionistas, and you'll see people walking out with mohawks. The salon is surrounded by boutiques and cute cafes, so you can while away the afternoon with a stroll.
274 Nanchang Road and 360 Nanchang Road, near Ruijin Road No. 2

On July 30, 2013

Sophie Friedman answered the question:

What are the best hair salons in Shanghai?

Shanghai has a hair salon on nearly every corner, but these cater to locals and aren't quite up to Western standards. If you're in city and want a haircut, here are the best hair salons in Shanghai.

Reborn Star
The excellent English-language magazine selection at this small salon draws in both male and female expats. Owner Michael, who hails from Hong Kong and lived in the UK, oversees the snipping and styling of hair and is happy to make suggestions and answer any questions you may have. In addition to cuts, Reborn does perms and color.
429 Dagu Road near North Chengdu Road

Franck Provost
The name is French but the stylists come from all over. This chain has outlets across the city, including two in the former French Concession. Their light-filled Anfu Road space is a favorite of discerning local women and expats who crave a hairdresser who speaks English. There's a good magazine selection here, too, a must when you're getting snipped and sheared.
164 Anfu Road near Wukang Road

Contestarockhair
With outlets in Rome, Florence, New York, and Miami, Contesta's staff has plenty of experience working with western hair textures. The salon décor is heavy on the hip, with Polaroids on the walls and Pixies on the stereo. Although their main business is hair cuts, color, and straight and curly perms, mostly for women, there's a barbershop on the second floor. You can get waxing and nails done here, too.
733-4 Julu Lu near Fumin Lu

ID Hair
ID Hair has two outlets on leafy Nanchang Road, situated a block apart. Not all the stylists here speak English, so double check when you call to make an appointment. ID is a favorite of Shanghai's hipsters and fashionistas, and you'll see people walking out with mohawks. The salon is surrounded by boutiques and cute cafes, so you can while away the afternoon with a stroll.
274 Nanchang Road and 360 Nanchang Road, near Ruijin Road No. 2
Next