What are the best luxury hotels in Shanghai?
Answers from Our Experts (1)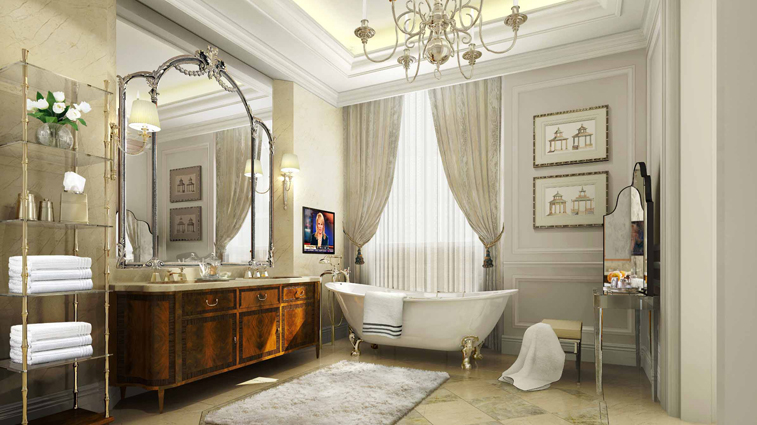 (c) Waldorf Astoria
If there's one thing Shanghai has in spades, it's upscale accommodations. Forbes Travel Guide's star-ratings rank the city's best top hotels, and the best luxury hotels in Shanghai are two that received a Five-Star rating—Waldorf Astoria Shanghai on the Bund and The Peninsula Shanghai.

Both hotels offer a Bund location, impeccable service, and gorgeous, plush rooms. What really sets both apart from the other luxury hotels in Shanghai is the in-room technology. At the Waldorf Astoria Shanghai on the Bund, rooms have energy-saving controls for the lights and temperature; when the room is empty, the lights go off and the temperature lowers automatically until someone returns and each is turned back on. The hotel has Wi-Fi throughout, as most do, but you needn't bring a computer to use it; every room has a Bluetooth keyboard that works with the room's LCD television, so you can check email and surf the net  on a big screen, from the comfort of your very luxe bed. At The Peninsula Shanghai, there are in-room controls for nearly everything, from checking the outside temperature to running a bath or drying your nails. Each room also has its own fax machine-cum-printer/copier. Free VOIP international calling makes it easier to check in at home or with the office.

Both hotels are fantastic, and I love different things about each. The Waldorf's history is long and rich—it was once home to the most exclusive men's club in Shanghai and, later, the city's first KFC. The Waldorf's restaurants, Pelham's and Wei Jing Ge, are superb, but the views from Sir Elly's at the Peninsula, particularly from the terrace, are absolutely knock out.