What are the best riverfront restaurants in Shanghai?
Answers from Our Experts (1)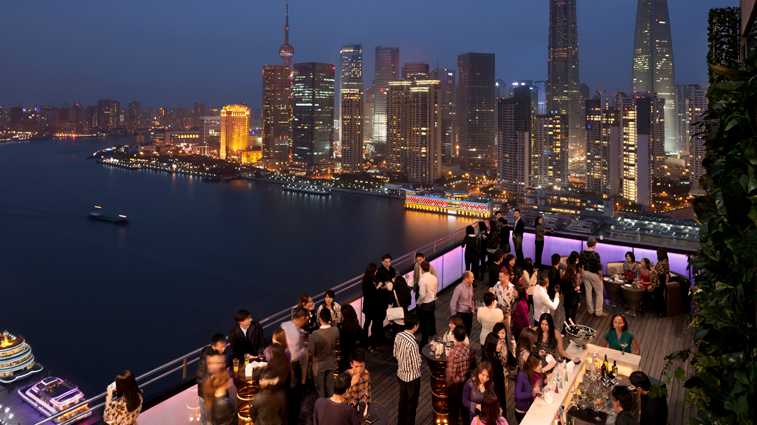 CHAR Bar & Grill's popular roof terrace. Photo courtesy Hotel Indigo Shanghai on the Bund
The best riverfront restaurants in Shanghai overlook the Huangpu River, which divides the city into downtown Puxi and more suburban Pudong. For a superb meal with an equally great view, book into one of these, Shanghai's best riverfront restaurants.

Sir Elly's
The Peninsula Hotel's Western fine dining restaurant sits on the 13th floor, offering sweeping views of the Pudong Skyline, the curve of the Huangpu river, and the Bund's colonial architecture. If the weather cooperates, the restaurant's terrace is just lovely. Servers are unobtrusive, but service is impeccable. The menu offers modern European cuisine, with a focus on seasonal ingredients. I could not get enough of the tiramisu soufflé; it comes with a silver spoon heaped with mascarpone which you dip into the soufflé so everything melts together. Throw in the espresso gelato on the side and you're in heaven.

8 1/2 Otto e Mezzo BOMBANA
This north Bund Italian restaurant is the sister to the acclaimed Hong Kong restaurant of the same name. Tucked down a quiet cobblestone street, in a sharp brick building, 8 1/2 Otto e Mezzo serves classic Italian dishes to Shanghai's most discerning diners. Everything on the menu is superb. Many of the dishes are heavy, and so I recommend ordering a few things and sharing amongst the table. One of my favorite lighter dishes is the burrata-stuffed ravioli, served with eggplant, Taggiasca olives, and cherry tomatoes. It's a deceptively simple dish with a wonderful array of flavors.

CHAR Bar & Grill
Hotel Indigo's top floor steakhouse looks more like a chic New York it restaurant than a classic steakhouse, but the cuts of meat say otherwise. The Clare Valley Fillet steak, for example, is a grain-fed beef with a marble score of three. You could easily go to CHAR and not eat steak, though; I was over the moon for the grilled black cod with confit of baby carrots, star anise and lime syrup. It's a fun dish, too; it's served with a little paintbrush so you can keep topping your fish with the delectable sauce. For dessert, the creatively presented cheesecake is a must-order (what it looks like is a surprise).

Mr & Mrs Bund
As popular with people coming home from the Bund's bars as it is with couples out for special dinners, Mr & Mrs Bund is the rare Bund-side restaurant that serves food until late. The menu is long, which can make ordering tough. The picnic chicken aioli, a char-grilled cold chicken breast with garlic mayonaisse, is always toothsome. Whatever you order, same room for dessert and pucker up for the Lemon & Lemon, a whole candied lemon that opens to reveal whipped cream, lemon curd, and lemon sorbet.