What is the best way to haggle in Shanghai?
Answers from Our Experts (1)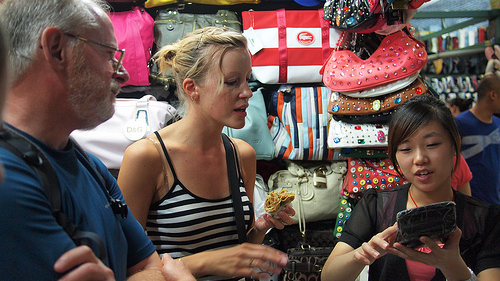 The best way to haggle in Shanghai is to decide ahead of time your absolute maximum price. Haggling is an art, perfected with practice. You can't go into a stall straight away and ask for a deep discount. There's a tug of war, a little good-natured ribbing, some relationship building; after all, in China, it's all about guanxi (connections).

Let's say you're at Taobao City—Shanghai's central fake market, across the street from JW Marriott. You've come here to buy half a dozen imitation silk scarves, for which you should not be paying more than 120RMB (approx. US$19).

Step 1: Examine the scarves, but don't look too interested, or the seller will pounce.
Step 2: Once you've decided to buy, ask for the price. You'll be quoted something inflated. Offer half.
Step 3: Seller will go down by a little bit, but stay firm; remember, in your head, you've already set your ceiling.
Step 4: Continue to tango with the seller. If you don't reach an acceptable price, it's fine to walk away, because…
Step 5: This will lead to the seller coming down to your price.

Since the haggling you'll be doing in Shanghai will be almost exclusively at markets*, with the exception of the pearl market you should assume that nothing you're purchasing is authentic. That doesn't mean they're knock-off—it just means that the cute tin cookie jars at the Dongtai Lu market are not antique, no matter what the seller says. Haggle well, and pay accordingly.

*You can also haggle at places like fruit stalls, but only if you feel you're being price gouged.