What are the best rooftop bars in Stockholm?
Answers from Our Experts (1)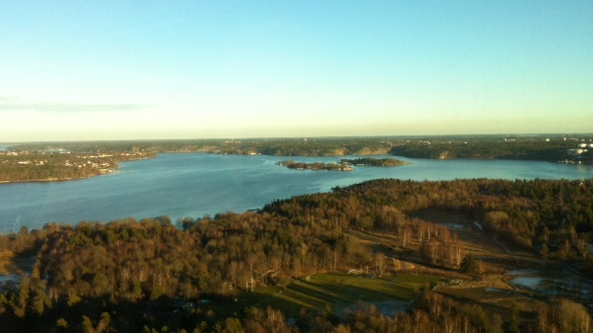 Photo by Sean Naughton, view from Kaknästornet
It is summertime... the time of the year when a Swede wouldn't be caught dead indoors! After a long and dark winter, Swedes prefer to do as much as possible outdoors. Daylight in Stockholm during the summers stretch far into the evening making it quite comfortable to sit outside at one of the many outdoor and rooftop bars in the city. Stockholm is a relatively flat city, geographically speaking, with not too many tall buildings... however, there are still a few places you can visit and enjoy a great view with a coktail in hand.
Probably the most famous is Gondolen, stretching above Slussen on the hill just south of Gamla Stan. A restaurant, as well as a first rate cocktail bar, they also have a roof top grill during the summer months. High atop of the old tax building (known locally as Skrapan- "the skyscraper") is Himlen, which means "heaven", and offers great views of the cool Södermalm district. There are a few other laid back bars found on the heights of Södermalm, overlooking Gamla Stan and downtown Stockholm, including the popular bars at Södra Teatern and the summery terrace at Sjöfartshotellet.
Downtown Stockholm doesn't have many tall buildings, but you do have a bit of a view from the rooftop bars at two hotels. The classic Sky Bar, atop of the Royal Viking Hotel, as well as the Spa Bar at Selma City Spa at the top of the Clarion Sign Hotel. The Royal Dramatic Theatre (Kungliga Dramaten) has several restaurants as well as roof top terrace which, while not high up, does have great views of Nybroviken harbour.
Finally... perhaps a bit touristy, though with arguably the best views in Stockholm, is the tower Kaknästornet with Sky Bar at the top. Happy cocktailing!