Where are the five best places to eat in Stockholm?
Answers from Our Experts (2)
Dining in Stockholm can be rather expensive, but we like to think it's worth it when the experience includes inventive cuisine and impeccable service. Here are our Forbes Travel Guide's editors' picks for the best five places to eat in Stockholm:

1. Mathias Dahlgren. Consistently serving the best food in the city, at least according to the international critics, Mathias Dahlgren also boasts one of the best locations: it's set inside the Grand Hotel, with views across the bay to the Royal Palace. Reservations are essential here.

2. Fredsgatan 12. One of the most creative restaurants in the city, Fredsgatan 12 (known as F12 to locals) is renowned for its 11-course tasting menu, where ingredients are selected according an ancient farmers' seasonal almanac from 1666. The result? Complex dishes that are F12 stock in trade, such as 'The Swell of the Sea' (langoustine on rice bread, with dill and ginger) and 'The Cooling Shade' (duck liver with white peach lemonade and toasted seeds). Just be sure to make a reservation well in advance.

3. Hermans. The city's best all-veggie option, Hermans serves up buffet-style vegetarian food ranging from simple pasta salads to rich Indonesian stews, as well lasagnas, casseroles and tasty desserts.

4. Frantzén-Lindeberg. From the specially designed Olby chairs to the inventive seasonal dishes, dining at this internationally acclaimed restaurant is a true dining experience, A duo of chefs — Björn Frantzén and Daniel Lindeberg — take diners on an gastronomic journey lead by the ingredients at their eponymous restaurant.

5. Esperanto. Described as a treat for all the senses, Esperanto offers a pan-European, ingredient-driven cuisine that reflects the season. In summer, typical dishes include raw Greenland shrimp with cucumber and frozen horseradish or a dessert of buttery licorice cookies with frozen beetroot, summer berries and whipped cream.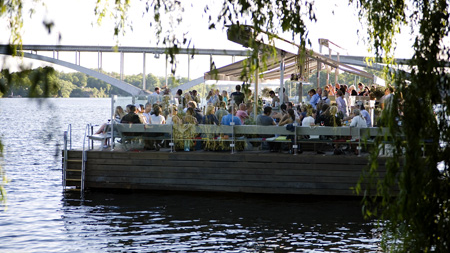 Mälarpaviljongen on Kungsholmen gets my vote. Though I was in Stockholm five days, I found myself returning here each and every one of them because it is such a sublime experience. Strictly a summer favourite, it is a lakeside café by day and on a balmy summer evening this place becomes one of Stockholm's most popular bars with live music nightly as the sun sets late into the night. A large floating pontoon has extended the bar into Lake Mälaren, where you can knock back a glass of rosé while enjoying superb views of the Summer Night City. Mälarpaviljongen can get very busy when the weather's fine and the pontoon can only hold a limited number of people, so arrive early to avoid queues. The restaurant menu is full of fresh favorites, beautiful burgers and lovely desserts and the wine list is truly superb and not overpriced. A delicious treat and the surreal setting makes the food taste all the more heavenly.