Where is the best shopping in Stockholm?
Answers from Our Experts (4)
Whether you're a fan of designer fashion or modern furniture, you'll find it in Stockholm. Here are the areas Forbes Travel Guide editors' top picks for the best shopping in Stockholm.

Stockholm's premier fashion shopping street is the pedestrian-only Drottninggatan, where you can find everything from big name brands to second-hand stores. However, there are also big shopping malls and department stores dotted around the city, including Nordiska Kompaniet (which boasts popular international brands), Store Stockholm (which specializes in small Swedish designers) and PUB (which has a heady mix of both — and is the city's oldest department store).

Head to any city center stand and you'll find cheesy souvenirs varying from Viking statues to cuddly reindeers. But the best souvenir to pick up in Stockholm is designer housewares. You'll find them at stores like DesignTorget, Room and Asplund, which selling truly innovative, useful and stylish things for the home. Forbes Travel Guide editors recommend hand-blown glassware by chic designer label Kosta Boda.

Hötorget (Hay Market) square is one of the city's most popular shopping hubs, with an outdoor market selling hot food, books, flowers and arts and crafts, plus an indoor market selling fresh produce. However, Stockholm has other great city market options, including Östermalmshallen (a historic hall selling meat and fish, cheese and sweets) and the minimalistically titled 'Street' – where designers and artists sell their handcrafts. At Christmas, you'll also find a festive market in Stortorget Square.
This depends on what you're after! Stockholm is extremely trendy and fashionable and each neighborhood is focusing on different trends. For high end boutiques Östermalm will be the right place for you. For vintage shopping, head to Södermalm and Lisa Larsson while in Vasastaden you can find delightful antique shops. Below is a quick guide to Stockholm's shopping.

Department Stores

Nordiska Kompaniet/NK

NK is Stockholm's most luxurious department store. Here you will find Swedish and international fashion brands as well as jewelry, interior design and cosmetics.

MOOD Stockholm

This newly opened mall accommodates everything from great shopping to restaurants, juice bars and a day spa. Moreover, you can get help from the concierge service with everything from babysitting to gardening.

Ahlen's

Ahlen's is one of the leading retailing companies in Stockholm. At Ahlen's you can find a mix of fashion, beauty and interior design usually to a very nice price.

High End boutiques

Stockholm Market

At Stockholm Market you kind find a nice mix of designer brands and accessories. Missoni, JBrand, YSL and Sophie Gyllenhammar are just a few of the names you can discover.

Nathalie Schuterman

This high-end boutique offers a nice mix of exclusive international brands. Browse between men's and women's clothing as well as accessories.

Sara Clausin

Sara Clausin is located at Södermalm in Stockholm. The store offers a wide variety of hip brands in different price categories. Shoes, bags, clothes, dresses and jewelry are among the things you can buy here!

Nitty Gritty

Nitty Gritty at Södermalm offers a personal mix of brands cheap or expensive, international and Swedish. Men's and woman's wear, shoes, skincare, hairdresser, fragrances, accessories are among the items you can find in the store. If you come to Stockholm in May you will have the opportunity to visit the pop-up taqueria by popular "El Taco Truck" which is located within the store.

Biblioteksgatan

Pedestrian Street from Norrmalmstorg to Stureplan well known for it shopping. At COS, Filippa K and Mathilde you can find Swedish designs. Apart from that you can also check out international brands such as Burberry, Ralph Lauren and Stella McCartney at the same street.

ACNE

Not only the hottest brand in Sweden but also abroad! Denim, shoes, and bags- you name it. If you're dressed in ACNE you can't go wrong.

H&M

Fashion and quality to the best price! It is impossible to walk out empty handed from here.

Svenskt Tenn

The legendary interior design company Svenskt Tenn has had great recognition around the world. Probably most famous for their Josef Frank patterns. Perfect place where you can buy small gifts to bring back home.

Nordiska Galleriet

Fantastic place to look at or buy interior design. Great mix of designers and a broad variety of items.

Oscar & Clothilde

Oscar & Clothilde is located just a minute away form Stureplan. This interior design store offers a great blend of home decorations to different prices.
The best stores in Stockholm are spread out all over the city. The following list will help you find out where you should go.

Nordiska Kompaniet
This department store is a Stockholm classic and a guarantee for quality. This is where you find everything from perfume to food, from Swedish brands like Filippa K to Barbour and Ralph Lauren. It is right in the middle of the city, on Hamngatan.

Jus
With its smart blend of Swedish and international designers (Comme des garcons, BLK DNM, nice accessories like rings from Horisaki…), Jus is the favorite for many female fashionistas.

Natalie Schuterman
High fashion (and high prices). At Natalie Schuterman, you will find dresses, bags and shoes from brands like Balenciaga, Dolce & Gabbana, Michael Kors and Phillip Lim.

Krukmakargatan
Krukmakargatan and its neighbouring blocks on Hornsgatan are one of the best shopping streets in all of Stockholm. Nitty Gritty is the city's best store for sophisticated hipsters of all genders. Right beside is the store of the local menswear brand Our Legacy, which have become popular during the last few years. On the same block, there's Papercut – a must if you are interested in fashion magazines, dvd:s and books. A bit further down the street is Brandstationen, a store for used furniture (it's worth a visit just for the building itself). Brandstationen is an offspring to Judits and Herr Judit, two popular second hand-stores just around the corner on Hornsgatan. Judits is for women. Herr Judit is for men (and here you can find everything from today's fashion to used Barbour coats).

SOFO/Skånegatan
This part of Södermalm is called Sofo (South of Folkkungagatan), and this is where you find everything from Nudie jeans store to the clothes/books/stuff-store Grandpa and surf/preppy-store 6/5/4. The record store Pet Sound is one of the city's few remaining, and it has always been one of the best (even when competition was much harder). Urban Deli on the corner Skånegatan/Nytorget is the most popular hang out in the area, and you can get a lot of local specialities there.

Götgatspuckeln
Götgatan is one of the main streets on Södermalm, and the part between Slussen and Medborgarplatsen is only for walkers and bikers (beware!). Here are a lot of good stores. A few of them are in Brunogallerian, but also look for Hattbaren – which is a shop for everything you might want to put on your head.

Norrlandsgatan
Going camping, or trail running? If you need stuff from Salomon, North Face or Norrøna you find all those brands beside each other. Naturkompaniet is very close on Kungsgatan. They sell everything from clothes from Fjällräven to sleeping bags and tents.

Sivletto and Unionville
If you want quality denim or retro clothes, this is where to go. Sivletto is situated in an old garage, so the door can be hard to find and you have to take a spiral stair to get down to the store. It started out as a rockabilly store but now sell a lot of wonderful heritage clothing and accessories. They have everything from vintage clothes to brand new stuff, but always with that classic touch. Unionville is an offspring to Sivletto which concentrates on quality denim.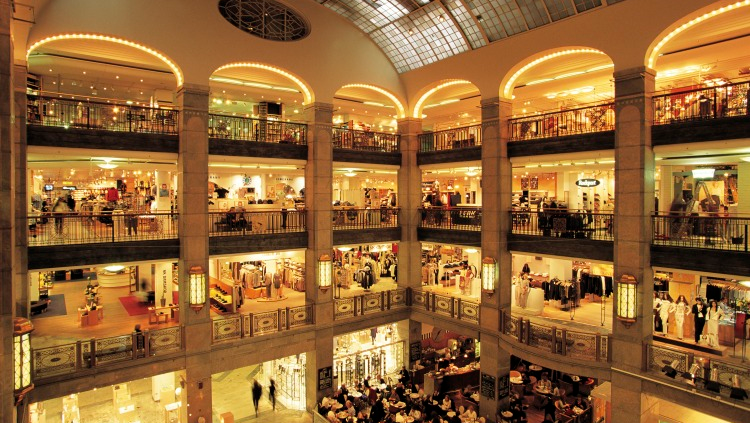 Photo: Jeppe Wikström, Stockholm Visitors Board
Where is the best shopping in Stockholm? Well...that depends on what you are shopping for! But here is a list of some popular things to shop for in Stockholm and where to find them:

High-end fashion. The mecca for posh fashion is the NK department store, which is Stockholm's version of Harrods, Barneys or Galeries Lafayette. Besides fashion, they also offer beauty, food, books, flowers, interior design and more. Nearby you will find the newly opened Mood Stockholm, a shopping center filled with high-end boutiques and restaurants. Also worth noting is another nearby shopping center: Sturegallerian.

Funky. Less posh, more street? Head to the island of Södermalm, especially the SoFo neighborhood. A play on NYC's SoHo, this stands for south of the street Folkungagatan. This area has a very laid-back vibe and you can find some great stores selling fashion, vintage, music and design. Also some fun cafés, bars and restaurants!

Swedish designers. Swedes have made some real inroads of late in the world of fashion with some labels (Acne, Filippa K, Whyred, J. Lindeberg, Wesc, etc.) becoming internationally famous. Besides the abovementioned SoFo, the best place to find these designers is on the pedestrian street called Biblioteksgatan...a stone's throw from NK.

Interior design. Swedish design has become very popular around the world. Explore the Östermalm neighborhood to find some wonderful design stores, especially the streets Birger Jarlsgatan, Grev Turegatan and Nybrogatan. The store Svenskt Tenn has become synonymous with upscale Swedish design.

Food items. These days, with all of the restrictions, it can be a bit tricky to take food home with you. However, if you want to go through the trouble or just want to buy local produce during your stay, head over to the indoor food market Östermalms Saluhall. A great place for lunch as well! Another good place? The basement level of the NK department store has a great grocery store filled with Swedish goodies.

Souvenirs. You have to, of course, take some knickknacks home to family, friends and co-workers...whether cheesy or sublime. On the island of Gamla Stan (the medieval heart of the city), you will find the street Västerlånggatan. This is the perfect place to find Stockholm postcards and T-shirts, Viking-horned helmets and stuffed moose. If you are looking for something less cheesy, my personal tip is to check out the gift shops at different museums where they have some great Stockholm mementos to take home with you. A good example of this is Moderna, the modern art museum.

Happy shopping! The Swedish economy thanks you!