What are the best restaurants in Vail?
Answers from Our Experts (2)
Vail and Beaver Creek satisfy foodies almost as much as they satisfy serious skiers. Matsuhisa, Kelly Liken and Elway's are just a few of the big-name restaurants — and exquisite dining experiences — you'll find here. We recommend the Forbes Travel Guide Four-Star restaurant Mirabelle, located in Avon's Beaver Creek Resort. Step inside the restaurant's 19th-century cottage to find bright, cozy rooms and modern French and Belgian fare like North Sea Dover sole meunière. Chef Daniel Joly's focus is on fresh, seasonal foods, so don't be surprised to see his menu stretch from wild salmon sashimi to sauteed sweetbreads. And there are plenty of Colorado-raised and locally harvested ingredients too. Mirabelle is the perfect place to celebrate a special occasion, even if that occasion is merely the last night of your vacation.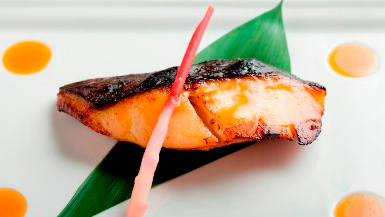 Miso Black Cod, Photo: Nobu Group
Vail likely has the best assortment of great eateries of any ski town in North America, but even here several stand out. For anniversaries or special occasions, the number one choice is Kelly Liken. This is the eponymous flagship of the former Top Chef finalist, whose modern American cuisine focuses heavily on ultra-fresh, ultra-local ingredients in specialties like elk carpaccio. Larkspur is a local favorite – don't miss the salad with signature croutons made of pan-fried mashed potato cubes. The Game Creek Club is a private on-mountain lunch club atop the gondola that opens to the public for dinner. You need to take a custom sno-cat to get there but it is worth it, for a fine dining take on game and Colorado cuisine. One of the few hidden gems in Vail Village proper is La Bottega, an Italian enoteca serving lots of wines by the glass and delicious small and large plates, good for dinner or just an après ski snack. Flame in the Four Seasons hotel may be the best high-end steakhouse at any ski resort, with exquisite dry aged meats and house-made salumi. Last winter Vail embraced Peruvian-Japanese fusion when famed chef Nobu Matsuhisa opened an outpost of his LA Matsuhisa here, featuring his trademark signature dishes such as rock shrimp tempura and miso black cod.