What are the best attractions in Vancouver?
Answers from Our Experts (3)
These are just a few sights and highlights you could explore while staying in Vancouver:

Capilano Suspension Bridge
The Capilano Suspension Bridge is one of Vancouver's most popular tourist attractions. It offers a brilliant mix of history, culture and adventure and is a must-see for anyone visiting Vancouver. It is the oldest attraction here and was originally built in 1889. It stretches 450 feet across and is 230 feet (70m) above the Capilano River. The newest addition to the park is the Treetops Adventure which includes seven suspension bridges through the evergreens, elevating you 100 feet above the forest floor. Educate yourself and your family through guided tours or the Kids' Rainforest Explorer program and Living Forest exhibit. There's music to be enjoyed and a beautiful gift store offering handmade native crafts, paintings, jewelry and homemade Canadian fudge!

Museum of Anthropology
Located at the University of British Columbia, the Museum of Anthropology is renowned for its collections, research, teaching and public programs. The architecture of the building itself is simply spectacular, being uniquely situated on the cliffs of Point Grey. The Museum is expanding its facilities 50 percent, further creating opportunities for the public, research, teaching and employment.

Van Dusen Botanical Gardens
This 22-acre garden in the heart of Vancouver has grown to international stature since its creation in 1975. The Van Dusen Garden boasts over 255,000 plants, representing more than 7,300 varieties from around the world. The ecosystems represented range from tropical South Africa, the Himalayas, the Canadian arctic and, of course, the Pacific Northwest. Vancouver's mild climate means these gardens are a site to see at any time of year and promises not to disappoint.

Dr. Sun-Yat-Sen Chinese Gardens
This gorgeous classical Chinese garden is the first of its kind outside of China; it is an authentic representation of an age-old garden tradition which found its roots during the Ming Dynasty (1368 AD-1644 AD). The design of the garden is based upon the harmony of four elements: rock, water, plants and architecture. They strive to achieve a perfect sense of harmony symbolized by the ying and the yang. The Garden is a 15-20 minute walk from downtown. You'll know you're close when all the street lamps are red and topped with dragons!

Aquarium and Stanley Park
Stanley Park is a 1,000 acre metropolitan oasis and only a 15-minute walk from the Shangri-La Hotel Vancouver. The 8.8 km sea wall and the numerous park benches offering stunning ocean and city views are only a small sample of the various natural beauties the park offers its visitors. The Vancouver Aquarium is home to nearly 70,000 marine and mammal specimens and is also one of the world's largest marine research centers.




My top five picks for don't-miss attractions in Vancouver are:

Granville Island
Start in the Granville Island Public Market, where you can pick up a baguette, some local cheese, fruit, pastries, and more for a picnic overlooking the water. Visit the artist studios (and Vancouver's only sake maker) along Railspur Alley. Check out the funky shops in the Net Loft. Then, for a different view of the island and the surrounding downtown area, rent a kayak and paddle around False Creek.

Stanley Park
On a sunny day, there's no place better than Vancouver's 400-hectare (990-acre) urban green space. Rent a bike and circle the seawall for great views of the surrounding mountains and ocean. If you're interested in aboriginal culture, make sure to see the nine towering totem poles at Brockton Point, and check out the summer-only Klahowya Village, where you can experience First Nations storytelling, dance, and art.

Museum of Anthropology
For an in-depth look at British Columbia's First Nations culture, visit this modern museum on the University of British Columbia campus. The totem pole hall is spectacular.

Vancouver Art Gallery
Along with frequently changing exhibits of classic and contemporary art, Vancouver's small but well-curated art museum has an excellent collection of works by British Columbia artist Emily Carr; if you want to know what B.C.'s forest looks like on a foggy winter day, check out Carr's paintings. Check out the gallery's calendar of special events, too, from guided exhibition tours to the monthly FUSE art parties.

Dr. Sun Yat-Sen Classical Chinese Garden
Fifty-two master craftsmen from China's garden city of Suzhou constructed this serene cluster of walkways, ponds, courtyards, and traditional buildings on the edge of Chinatown. Take a tour (included in the admission price) to learn about the garden's history and about Chinese garden design. In July and August, the garden hosts a Friday evening concert series; also look for special events in January or February to mark the Chinese New Year.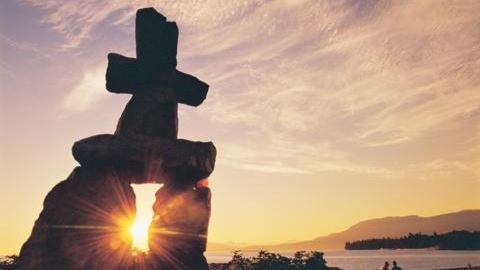 Much of Vancouver's architecture is meant to complement that natural beauty of the city – hence the abundance of skyscrapers with reflective glass, giving Vancouver one of its nicknames, The City of Glass. Notable attractions include the nine First Nations totem poles at Brockton Point in Stanley Park, the impressive gates of Chinatown, and a few legacies from the 2010 Winter Olympics, including the waterfront Olympic cauldron and a symbol of the Games embodied in a stone Inukshuk sculpture at English Bay. A few popular, if quirkier, attractions include an authentic steam clock in Gastown, Gassy Jack, which attracts a crowd on the hour and the "Expo ball," a perfectly round, mirrored structure that sits at the end of False Creek, and is a fully operational science attraction by day and a curious illuminated orb at night.