Where can I go to watch sports in Washington D.C.?
Answers from Our Experts (2)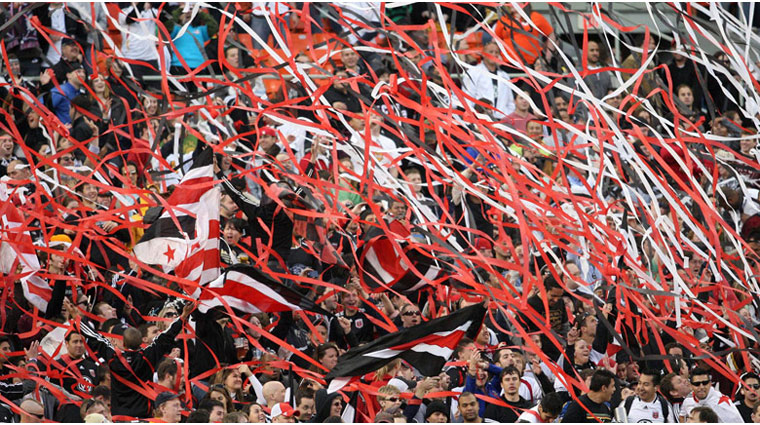 ©DCUnited
Politics aside, nothing brings out raucus conversation quite like sports in Washington, D.C. Before the Baltimore Ravens came to town, the Redskins were all the city had. Games are filled with diehard fans that paint their entire bodies maroon and yellow. Some of the greatest football players were Redskins, including Joe Theismann, Sean Taylor and Sonny Jurgensen. After moving from their longtime home at JFK Stadium in Washington, the Redskins set up shop at FedEx Field in Landover, Maryland.

The D.C. United soccer team may not have the fan base of the Redskins, but it's easier to score tickets and the team is garnering a following. The team plays in RFK Stadium — the old home of the Redskins.

The aptly named Washington Capitals attract the hockey crowd in this city and its surrounding areas. A decent team in the NHL, the Caps — as they are known — play their home games at Verizon Center in the heart of the city. Hockey great Peter Bondra led the Capitals for more than ten years, with a brief stint in Detroit. More recently, the Caps won their first-ever President's Trophy for having the best record in the league during the regular season.

Washington D.C.'s pro-basketball team, the Wizards also play at the Verizon Center. For years, the Wizards went by different names in different cities, including the Chicago Packers, Chicago Zephyrs and Baltimore Bullets before settling in D.C. as the Wizards. Famously, Michael Jordan became a Washington Wizard after his long stint with the Chicago Bulls.

Last, but certainly not least: After a long history of teams transferring out of the nation's capital, Washington finally has a baseball team — the Nationals. They aren't the best in the league, but they're working their way up there. In 2005, the Montreal Expos packed their bags, moved to D.C., and changed their name to the Washington Nationals. Talk about a bad break-up. In just over five years, the Nationals have transformed Washingtonians into baseball fans. Win or lose, Nationals Park has been a big hit with fans. The 41,546-seat ballpark features an innovative design of pre-cast concrete, steel and enormous glass windows. The park includes a 4,500-square-foot high-definition scoreboard, 66 luxury suites and great restaurants, such as Ben's Chili Bowl and Hard Times Café — all D.C. institutions. Conveniently located next to a Metro subway stop and close to the Capitol, the $611-million structure was built to please with comfortable seats, large bathrooms and easily accessible concessions
For watching sports on TV, try Elephant & Castle Pub on Pennsylvania Avenue or Fado Irish Pub.