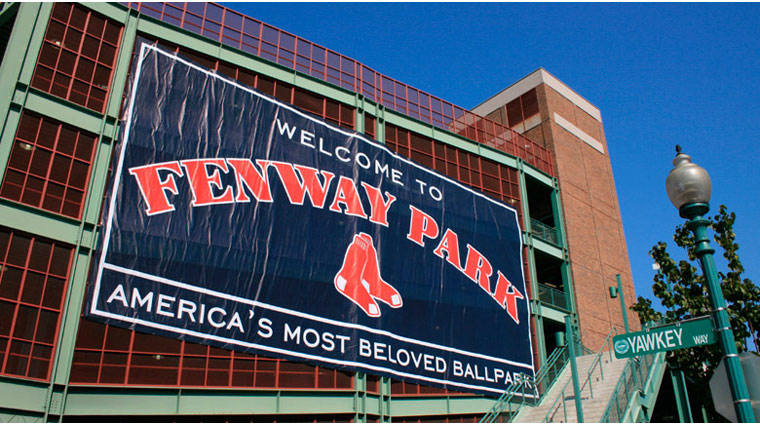 Boston may be a small city, but it is filled with endless sites and activities. Whether you're here to taken in historical sights or feast your way through the wide variety of cuisines and restaurants you'll find here, the list of things to see and do in Boston is long. Here are five of our favorites:

1. Take a stroll. Boston is one of America's most walkable cities (and you might miss something if you're traveling by car) so ditch your wheels and hit the pavement. Begin with a cruise down Newbury Street for some of the best shopping around. The shops closest to the Public Garden tend toward luxury fashion and jewelry (think Chanel and Cartier), while those at the Massachusetts Avenue are decidedly more entry level (including independent music store Newbury Comics and Urban Outfitters). In between is a mix of mass market fashion (Banana Republic, True Religion, American Apparel) and independent boutiques.

2. The Esplanade. One of Boston's most delightful sights is actually free. The Esplanade is a swath of green space that skirts the Charles River for miles offering jogging paths, ball fields and picnic spots.

3. The Freedom Trail. Boston's famed features 16 official sites spread along a 2.5-mile trail marked by red bricks embedded in the sidewalks. If you stick to the trail, this attraction is also free (though entering some of the historic buildings will cost you a buck or two).

4. Fenway Park. This legendary spot is more than a baseball stadium, it's a temple to America's favorite game. Even if you're in town when the Red Sox are off-season, you can take a tour of this grand old ballpark, built in 1912 and lovingly restored. (Though you'll have to wait until the Boys of Summer are in residence to sample a famous Fenway Frank.)

5. Faneuil Hall Marketplace. One of the city's top draws, Faneuil Hall is filled with restaurants, shops and kiosks (if you're looking to pick up a souvenir, this is the place to go). But this historic site is more than just a place to buy a keychain: The hall is remembered as the site of town meetings that produced the policy of "no taxation without representation."
On January 23, 2014

Michael Austin answered the question:

What are the best places in Boston to get wine by the glass?

In Boston, dining options abound and Bostonians love their wine, but two restaurants in particular are upping their by-the-glass game by using the Coravin System to pour special tastes. At Forbes Travel Guide Four-Star L'Espalier, wine director Lauren Collins collaborates with chef Frank McClelland to make wine pairing simple in practice, but complex in every other way. In other words, the wine should taste good to you first and foremost, and then it should also match whatever food you are enjoying. Collins and McClelland search far and wide for great wines, constantly tasting new offerings yet purchasing less than one percent of what they taste. As Collins is fond of saying, "It is our job to kiss all the frogs so we can bring you the prince." Sorellina, sister restaurant of Mooo, is another Boston gem with a great wine-by-the glass program. The restaurant's Italian-centric wine list features nearly 40 wines by the glass — from sparkling to white, to red and dessert styles. They always stock Italian and American standards while also offering wines from more obscure corners of the wine world.

On August 5, 2013

Melanie Nayer answered the question:

What are the best events this weekend in Boston?

Summer is one of the best times to visit Boston. With so much to do outside in the city, you'll find plenty of things to occupy your time.

Summer weekends in Boston are when the North End (Boston's Little Italy), hosts its annual feasts. Join the procession of the Saints, feast on the best neighborhood fare, and enjoy live music from Friday to Sunday in the North End.

If you're hoping to get out on the water, grab a ticket for a Boston Harbor Cruise. You can enjoy everything from whale watches to sunset sails. The weekend sails typically book up fast, so reserve your spot ahead of time to ensure you get a day at sea.

The SoWa Open Markets are every Sunday in the South End during the summer months, and where you can find some great local art, organic foods and endless stalls of clothing, jewelry and crafts.




On August 5, 2013

Melanie Nayer answered the question:

Should visitors rent a car in Boston?

Leave the car in the parking lot when you visit Boston. If there's one thing Boston is good for, it's a good walk. The city isn't set up on a grid like New York or Chicago, so driving around is difficult if you aren't familiar with the city streets. Boston has a great subway system, but walking the city is really the best way to explore it.

Pick up a visitor's map from any tourist attraction spot along the Freedom Trail and you'll get a walking map, or ask your hotel concierge for a walking map and to highlight some of the best historical attractions along the way. You can always take a cab or the subway back to your hotel at the end of the day, but while you're here, enjoy the fresh air and scenery and take a walk!

If you want a speedier way around the city, Boston recently introduced Hubway - the city's bike-sharing system. You can pick up a Hubway bike at dozens of locations around the city. The Hubway system works on an annual Membership, monthly Membership, 3-Day Pass or 24-Hour Pass, and allows you to access bikes whenever you want them (except for winter months, when the program shuts down). The cost includes unlimited trips that are less than 30 minutes in duration, but longer rides incur additional usage fees. Please review our Pricing page for additional information.


On August 5, 2013

Melanie Nayer answered the question:

What are quirky local customs in Boston?

Every city has its own special way of doing things, and Boston is no different. When you're here, there's a few things to be sure you're in-the-know on, so you don't get caught off guard:

If you hear quacking, it's OK to quack back. The quacking isn't just from the ducks swimming in Frog Pond, but it's from the Duck Tours that parade around Boston every day. Each Duck Tour rider gets their own "quacker", so they can quack at people during their ride. It's part of the fun, so just quack back - everyone else does!

If you're planning to take in a game at Fenway Park while you're visiting Boston, be sure to loosen up your vocal chords ahead of time. Aside from screaming for the Red Sox, you'll join the masses in the seventh-inning stretch song: "Sweet Caroline." The Neil Diamond favorite has been a staple at Fenway for generations, so make sure to sing along!

You also might notice a few ghastly tour buses making their way around town. Don't be scared - it's just the graveyard tours. Boston's cemetaries house some of the most prominent figures from our fast - including Sam Adams, John Adams and even Mother Goose! The graveyard tours are a favorite, quirky way to see the city and learn about some of Boston's most prominent historical figures.

On August 5, 2013

Melanie Nayer answered the question:

What are the best festivals in Boston?

If you're visiting Boston during the summer months, you won't want to miss the festivals in the North End.

Starting mid-July and running every weekend through Labor Day, the North End of Boston (otherwise known as Little Italy), pays respects to one of the patron Saints by honoring them with a feast for all the senses!

The festivals take place from Friday to Sunday in various parts of the neighborhood (just follow all the signs and you'll find them). Live music plays around the clock, and you'll also find carnival games for the kids, as well as food carts featuring some of the North End's favorite delights. Enjoy canollis, calzones, arancinni balls, fried clams, lobster rolls and much more. When you hear the band start to play, get your dollar bills ready. Throughout the weekend, the band will grace the Saint being honored as its statue parades through the streets of the North End. It's customary to pin a dollar on one of the streamers that flows from the saint. The Feast of Saint Anthony is the largest and most popular festival in the North End, typically taking place the last weekend of August.

Other festivals in Boston typically occur on the Esplanade or at City Hall Plaza. Here you'll find everything from Harborfest - a weekend celebration of live music; to Earth Day and Life is Good festivals, celebrating our planet and everything that makes it wonderful

On August 5, 2013

Melanie Nayer answered the question:

What are the best antique shops in Boston?

Antiques are one of the most shopped for items in New England. The pieces you'll drum up will last you a lifetime, and the memories you have from your antiquing adventures will only add to the enjoyment of your new found treasure.

One of the best antiquing opportunities is the Berkshires, Mass., near the Forbes Five-Star Blantyre Resort. Stockbridge and Lenox, just two hours driving from Boston, are known for their unique antique stores. Nestled in between Lenox and Stockbridge is the town of Great Barrington, where antique stores line the streets and one-of-a-kind gifts are easy to find. While you're here, don't miss a stop into the Norman Rockwell museum. The basement of the museum is where you'll find all the magazine covers that Rockwell designed.

In the city of Boston, head into the North End and take a walk down Salem Street. Here you'll find many vintage and antique shops, offering everything from antique jewelry to antique kitchen appliances and electronics. Polcaris Coffee Shop is where you'll find some of the oldest (read: vintage!) baking supplies and kitchen utensils. Stop in here for some fresh roasted beans, and pick up a few centuries-old ravioli presses and tea kettles. These stores are open during the weekdays and on Saturdays, but only a few are open on Sunday.

On August 5, 2013

Melanie Nayer answered the question:

What are the best neighborhoods in Boston?

Boston is divided up into neighborhoods, each one of them with a unique personality. Spend a day exploring the various Boston neighborhoods you're sure to find one that fits you best.

Seaport/Waterfront: This area of Boston is fast becoming one of the most talked about in the city. The Seaport area is home to some great new restaurants, including Ming Tsai's newest place, Blue Dragon. Stop into the Institute of Contemporary Art and peruse the latest exhibitions from local artists, including paintings, sculptures and short films. If your schedule fits, the ICA is free to guests every Thursday from 5 to 9 pm. The Seaport district is also where you'll find the ferry boats to Provincetown in Cape Cod.

North End: Boston's North End, also known as Little Italy, is where you'll find the city's best Italian restaurants and cafes. Come here for dinner or mid-afternoon coffee and pastry. While you're here, make sure to stop by the Old North Church and Paul Revere's House.

Beacon Hill: Home to the Boston Capitol Building and Suffolk Law School, Beacon Hill is one of the oldest and most expensive neighborhoods in Boston. Take a walk through the cobblestone streets and admire some of the city's famed landscaped garden boxes and historical homes. Stop into No. 9 Park or Mooo for a star-rated dinner while you're here.

South End: The South End is one of the trendier neighborhoods of Boston, and home to some of the city's newest restaurants. You'll also find some great boutiques and in the summer, one of the largest farmer's markets in the city.

Back Bay: Boston's Back Bay is home to shopping, bars and restaurants galore! Newbury Street and Boylston Street is where you'll find most of the action. Be sure to visit Forbes Five-Star Mandarin Oriental, Boston and the Four Seasons Boston while you're here.

On July 16, 2013

Kaitlin Madden answered the question:

What are the best fine-dining restaurants in Boston?

There are a few uncontested cornerstones of Boston's fine dining scene. The places you go when you've got something to celebrate.

1. Menton. The most upscale of the Barbara Lynch Gruppo, Menton, recently nabbed Top Chef winner Kristen Kish as it's head chef. 'Nuff said. The restaurant is prix fixe-only, offering a four course option, as well as the more extensive chef's tasting menu.

2. L'Espalier is another Boston institution. The French restaurant, helmed by chef Frank McClelland, is the only AAA Five Diamond-award winning restaurant in the city. While L'Espalier is prix-fixe only during dinner hours, those who want to sample the cuisine without the hefty price tag can opt for the a la carte menu served during lunch, or sit in the salon for a selection of small plates and cheeses.

3. O Ya is one of the true gems of the Boston fine dining scene. The Tim Cushman- run restaurant, which has been recognized by James Beard, Frank Bruni, Zagat and more, is the hands down winner for the best Japanese cuisine in Boston (if not in the country).

On July 11, 2013

Kaitlin Madden answered the question:

What are the best places for brunch in Boston?

Whether you prefer brunch to be a social affair, or you're more of the role-out-of-bed-and-go type, come Sunday morning, Boston's restaurants have something for you.
One of the most popular places for brunch in the city is Stephanie's on Newbury. It's perennially packed, especially in the summer, when the sidewalk patio is open. For those who like to people watch over their eggs, though, Stephanie's can't be beat.

Right around the corner, on Boylston Street, you'll find a row of bars-turned-brunch spots that are decidedly more laid back. Pour House, Dillon's, or Whiskey's are all solid, inexpensive bets.

Looking for a greasy spoon? Mike's City Diner, on Tremont Street in the South End, can't be beat. Know before you go: Mike's is cash-only.

On July 8, 2013

Kaitlin Madden answered the question:

What are the best sports bars in Boston?

If there's one thing Boston has no shortage of, sports bars is that thing. They're practically as revered in this town as the teams fans gather there to cheer for. Here's a quick rundown of some of the icons and new favorites:

1. Game On. The bar is IN Fenway Park, so it's a must-visit for Red Sox fans.

2. The Greatest Bar. This one is across from the TD Garden, and, despite the fact that it's four floors, it's not unusual to find it jam-packed with Bruins and Celtics fans on game nights.

3. Jerry Remy's Seaport. This bar is a crowd-pleaser. It's got walls of televisions for diehard sports fans, plus a wall of windows, a beautiful outdoor deck and a new venue and décor give it more in the way of atmosphere than the typical sports bar.
Next