What are the five best amenities at Four Seasons Hotel Boston?
Answers from Our Experts (2)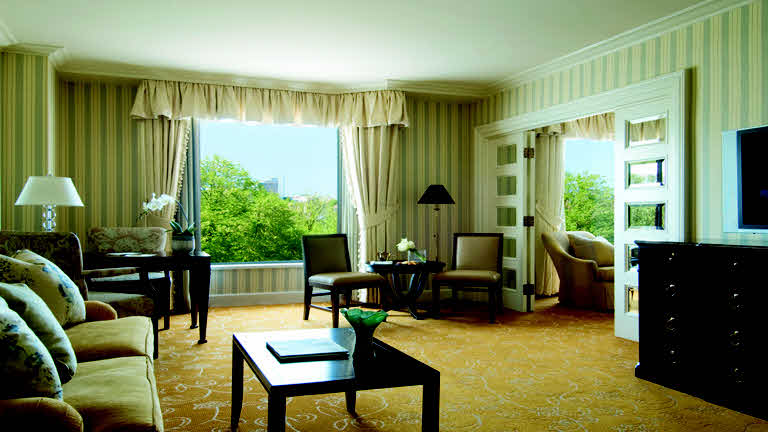 © FourSeasons/© Vitale, Pete
Four Seasons Hotel Boston is known to go out of its way to make you happy. Just ask the concierges, who are often tasked with securing hard-to-get sports tickets or luxury items typically on yearlong waiting lists. Certain special amenities at Four Seasons Hotel Boston can make any guest crack a smile, including:

1. Free coffee. Jump start your day with free coffee, tea, pastries and fruit served in the lobby from 5 to 8 a.m. on weekdays, and from 5 to 10 a.m. on weekends.

2. "Oh dear box." Even the most seasoned traveler forgets something every once in a while, which is why we love Four Seasons Boston's "Oh dear box." The "box" has everything from gym socks to dinner jackets, and can be accessed on request from the concierge.

3. The health club. The gym at Four Seasons Hotel Boston is a standout amenity for hotel guests. The gym is open 24 hours a day with your keycard, and the locker rooms and pool are open from 6 a.m. to 10 p.m. daily. The locker room has a steam and sauna area, and the pool (while not very big) features amazing views of the Boston Public Garden. You can also unwind in the whirlpool (located in the pool area), or sate a post-workout craving by ordering food poolside.

4. Kids' amenities. Four Seasons Hotel Boston believes if the kids are happy, the parents are happy, so it does all it can to appeal to children. At check-in, kids are given a stuffed animal from the front desk staff, and there's always a kids amenity in the room (no matter what level of room you book), filled with books, cookies, puzzles and games.

5. House car. Traveling in style is typical of Four Seasons guests, and that holds true at Four Seasons Boston. The hotel offers a complimentary Mercedes to all guests on a first-come, first-served basis. The house car will take you anywhere in the city when it's available. If you need the car service at a specific time, the concierge can arrange that as well, so you won't need to worry about whether the house car will be available.
1. House car. Complimentary house car drop-off service is available within two miles (3.2 kilometers) of the hotel. Reservations can be made via the concierge.

2. Business center. The 24-hour business center features state-of-the-art equipment including kiosks with touch screens, PC and Mac computer stations, wireless Internet, a color printer/copier and scanning capabilities.

3. Complimentary coffee and pastries in the lobby. Coffee, specialty coffee, tea, pastries and fruit are provided in the lobby from 5 to 8 a.m. weekdays and 5 to 10 a.m. weekends.

4. Cookie making classes. Complimentary cookie making classes for children ages 4 to 11 are offered each weekend. For guests participating in the Kid-Kation package, the ice cream man is also available to visit rooms for make-your-own sundaes.

5. Newspapers may be delivered daily to guest rooms. This includes access to same day editions of over 1,000 international newspapers.