What are the best restaurants in Boston?
Answers from Our Experts (3)
There are many gastronomical geniuses that call Boston home, and lucky for the locals and visitors, they've added their restaurants to the roster of the best restaurants you can find there.

Chef Barbara Lynch is at the head of some of Boston's best dining. The Forbes Travel Guide Five-Star Menton offers a comfortable but upscale fine-dining atmosphere and fine French cuisine with choices like poulet with red grape, Vidalia onion and Yukon potato on the four-course prix-fixe dinner menu. Or try the chef's tasting menu with seasonal selections like Maine shrimp, Grimaud Farm duck or poultry consommé. If you're a Top Chef fan you'll have an extra special treat as Seattle victor Kristen Kish serves as the chef de cuisine.

Chef Lynch is also at the helm of Four-Star No. 9 Park. French and Italian influences are at play here, so expect entrees ranging from a Colorado lamb loin with green and pistachio pesto to a Giannone Farms chicken with a Burgandian escargot pithivier.

If you want the best in fresh fish, and why wouldn't you in New England, book a table at chef Ken Oringer's Clio. The Forbes Travel Guide Four-Star restaurant especially highlights fresh seafood in dishes like monkfish osso bucco and miso marinated Nova Scotian halibut. But if you want it raw, you can dine at the separate sashimi bar, Uni.

At Rialto, chef Jody Adams serves up seasonal fare with Mediterranean flair. Dine on the regional Italian food at the Four-Star restaurant with dishes like smoked grilled branzino with artichokes, spring onions, leeks and razor clams. Chef Adams also offers a four-course prix-fixe menu that changes each month and focuses on a different region of the world.

Back Bay's L'Espalier is a dining experience you must have. Proprietor and chef Fran McClelland's Four-Star restaurant features contemporary New England and French-influenced cuisine with plenty of options with three-course prix fixe, seven-course degustation and chef's tasting menus available. While the menus change seasonally — and daily, the butter-poached lobster with sugar pumpkin mousse and Maine mussels is just an example of the superb dishes.

If you're looking for one of the best selections of wine in town, and the delectable food to pair with it, then you'll feel at home at Meritage. Chef Daniel Bruce is a master at pairing local ingredients with the 12,000 bottles the Four-Star restaurant has. Need help deciding between the 850-plus varietals? The menu is divided between sections like full-bodied whites and fruity reds to lead you in the right direction — or ask the staff, who really know their vinos, to help you make the right selection for your mood.
Certainly Uni and Clio — that's one of the reasons to stay at The Eliot Hotel. Clio if you want to just be loud; Uni for the best sashimi. Oishii Boston — chef Ting [San] is probably the best sushi chef bar none. He does a smoked hamachi that comes smoking tableside that's just awesome.

Across the street, I love Myers+Chang — just great casual Asian food. Tiger's Tears is awesome here — you really do cry. I think Stella is a great bar scene. Great food and it's always busy. Toro is fantastic. You've got to get a porron and drink the champagne right from the porron. I love Via Matta. It's got great Italian food. The chicken liver crostini is awesome.

And the best burger in town — if not the country — is the burger at Radius. And if you want New England, go to Summer Shack. Another great pizza — and food — is the lobster pizza at Scampo.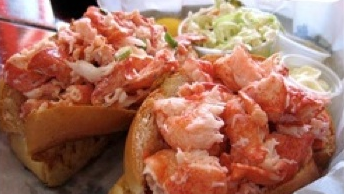 Deciding where to eat when you're in Boston is a serious task. After all, New England is known for its seafood and in Boston, there's plenty to be had.

Start your food frenzy on the waterfront with a lobster roll, crab claws or fried oysters from one of Boston's favorite casual "seafood shacks", The Barking Crab. For seafood in a more formal settings, you'll want to make reservations at some of the Forbes-rated restaurants in town, such as the Four-Star waterfront restaurant Meritage. Oenophiles revere this Rowes Wharf eatery for its wine selection — you're sure to find just the right bottle from its stock of 12,000.

Beacon Hill: Visit Mooo, the steakhouse at XV Beacon. The bar menu has à la carte appetizers and entrees, while the main menu is known for its more robust offerings, like steak and sides. Get here a little early and enjoy a specialty cocktail from the bar. Just around the corner from Mooo is No.9 Park, a Forbes Four-Star restaurant with stunning views of Beacon Hill and the Boston Common. Don't leave No. 9 Park without indulging in the cheese course!

Fort Point: This up-and-coming neighborhood may not be your first idea of a fine dining destination, but Menton is changing that mindset. This Five-Star restaurant from famed Boston chef Barbara Lynch is equal parts glamorous and comfortable. Lynch's signature skill in the kitchen shines in French dishes that are best experienced through the seven-course chef's tasting menu; for a smaller appetite (or budget), you can also choose from a four- or seven-course prix fixe menu.

North End: The North End is Boston's Little Italy, and where you'll find the best Italian restaurants and cafes. Enjoy traditional Italian dishes at many of the North End restaurants, but don't fill up before you have dessert. The cafes and pastry shops in the North End are legendary. After your meal, join the masses at Modern Pastry or Mike's Pastry and enjoy a few cannolis or a bowl of gelato.

Back Bay/South End: The trendy Back Bay and South End neighborhoods are where you'll find a little bit of everything. Sushi restaurants sit next to bakeries and diners. Make reservations at L'Espalier, Asana at the Mandarin Oriental, Boston, Clio or the Capital Grille for a more formal dining experience. The best tea in Boston is served weekends at The Bristol Lounge at the Four Seasons, Boston.

Cambridge: Rialto is a trendy spot located in Harvard Square. Half the fun of a visit to this popular Four-Star restaurant (besides the joy that comes with its seasonal Mediterranean fare) is taking a stroll through Harvard Square to enjoy live music and street shows before or after your meal.