What are the five best things to do with kids in Boston?
Answers from Our Experts (3)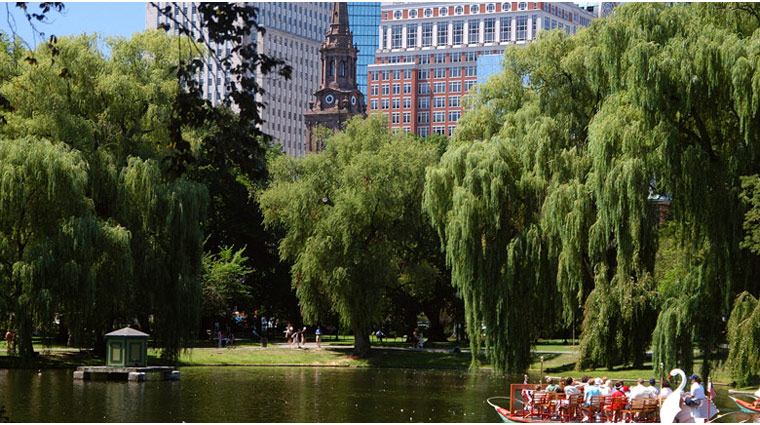 The Public Gardens iStock/sphraner
Boston is filled with lots of historic sites and rich history, but that doesn't mean it's boring for kids. Here are five of the best things to do with kids in Boston:

1. The Children's Museum. You won't find any "do not touch" signs at this museum. It prides itself in letting kids be kids, and tries to impart a few life lessons in the process. There are good learning exhibits (including the popular recycling display), as well as fun stations such as Airplay, where kids have the opportunity to play Blue Man Group PVC instruments (without the blue guys). Also worth checking out is the real, 100-year-old Japanese house, with a futon bed, tatami floors and (kids love this) old-fashioned toilet.

2. The New England Aquarium. One of America's first modern aquariums, its main draw is the Giant Ocean Tank in the center of the building. With a spiral pathway running along its sides, you can spy a huge variety of sea life at all different depths as you stroll.

3. Boston By Little Feet. This 60-minute walking tour is designed especially for 6- to 12-year-olds (accompanied by an adult). It follows the Freedom Trail and explores local architecture and history. Plus, every younger walker gets a free Explorer's Map and Guide.

4. Duck Tours. Your kids will get a kick out of riding in this half-truck, half boat vehicle known as a Duck. Your tour will begin on land, cruising past some of the city's major attractions, such as Boston Common, Public Gardens, the Big Dig and Faneuil Hall Marketplace. Then — and your kids will love this — the Duck transforms into an amphibious vehicle and dives into the Charles River for more sightseeing.

5. Boston Common Frog Pond. This natural mud pond sits in the middle of the beautiful Boston Common. During the summer, it's flooded with kids running around and cooling off in the spray pool. Come wintertime, it transforms into a classic-looking skating rink. And when your little ones tire of the pond, they can run over to the adjacent Tadpole Playground.
1. Children's Museum. Just a short distance from the hotel in Fort Point Channel, this world-renowned museum is best identified by the giant 40-foot Hood Milk Bottle that stands outside its waterfront entrance. The indoor, innovative, hands-on and meaningful exhibits include the new balance climb, the recycle shop, the construction zone and the Japanese house, a real two-story house from Kyoto, Japan — Boston's sister city.

2. Museum of Science. Located on the Charles River just minutes from the hotel, the Museum of Science features exhibits that promote learning through inquiry and play. These include a planetarium, the only domed IMAX movie theater in New England and a two-story Van de Graaf generator capable of producing 2.5 million volts of electricity.

3. New England Aquarium. A waterfront landmark, the New England Aquarium houses a 200,000-gallon "Giant Ocean Tank" in which sharks, sea turtles, eels and tropical fish swim by museum-goers, who press up against the glass for an up-close look. Other marine galleries contain piranha, sea otters, and three species of penguins. Seal shows, an IMAX Theater and whale watching cruises are also offered.

4. Duck Tour. Tour the city's famous landmarks like never before aboard an amphibious Duck Boat, with a trained ConDUCKtor as your guide. From the city streets to the Charles River, this fun-filled experience is wholly one-of-a-kind — with quacking encouraged!

5. Faneuil Hall. Often called the "Cradle of Liberty," Faneuil Hall has been a marketplace and meeting hall since the 1700s, and was the site of many famous speeches. Today, it is the bustling home of street performances, stores, souvenir shops and restaurants. Quincy Market offers endless food, including some of Boston's best pizza and clam chowder.
The five best things to do with kids in Boston are:

1. Children's Museum

2. Museum of Science

3. New England Aquarium

4. Narrated Harbor Cruise

5. Boston Duck Tour